Where to be when the countdown starts
The end is near… and that means fireworks, resolutions, and lots of Champagne! Thumbs up if you've picked out your party outfits – now's the time to find your perfect entrance to 2015 with our big list of New Year's Eve options! 
Countdown with everyone
There are plenty of events surrounding Marina Bay Singapore Countdown 2015, one of the biggest New Year's Eve party in the city. Head to the Promontory at Marina Bay for Celebrate With The World 2015, with live music by local artistes and game stalls reminiscent of vintage Singapore. Or, celebrate Singapore's 50th birthday early on The Float at Marina Bay with local celebrities at CELEBRATE SG50.
Catch the 3D projections of Singapore through history on the Fullerton Hotel Singapore and the Merlion (from the 26 to 31 December 2014, 8pm-12am) and the grand finale right before the NYE countdown. Don't forget to make a wish on a Wishing Sphere at one of the 31 wishing stations around Singapore and see it cast afloat amongst 25,000 others to form a giant number '50' in the Bay's waters.
KU DÉ TA's Sky Bar
Baby, you're a firework
Nothing rings in the New Year like a killer firework display. If you love the view from the top, the best seat in the house is at KU DÉ TA's Sky Bar. Looking for beats to match those bubbles? Add some glitter to your outfit and step into KU DÉ TA's Club Lounge for Glitterati New Year's Countdown Extravaganza 2015, as resident DJs Ya5th, Suren and Styluxtakut pick up the tempo and start the year on the perfect note. Pre-sale tickets are $148nett and day sales are $198nett (including one glass of Champagne).
Cover charge for Sky Bar is $48nett from 6pm-9pm or $98nett after 9pm, inclusive of a glass of Champagne. For ticket enquiries e-mail Sky Bar at [email protected] and the Club Lounge at [email protected] or [email protected] for table reservations.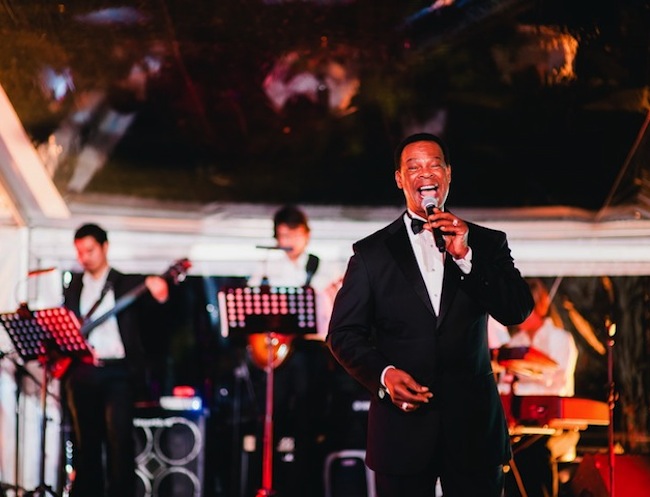 Donny Ray Evins
All that glitters
The fireworks aren't the only stunner on NYE. Dress to the nines and have a super-swanky evening at Capella Under The Stars in Bob's Bar. It'll be a star-studded affair with entertainment by award-winning Las Vegas act, Donny Ray Evins and tunes by DJ Mr Best, famed for playing at the biggest red carpet after-parties (The Golden Globes, The Emmys and The Academy Awards).
Tickets are $258++ for adults ($158++ for children aged 11 to 18) and include all performances, canapés, free-flow beer, wine and cocktails plus a Champagne toast at midnight. For reservations, contact Suzette Simon at 6591 5089 or e-mail [email protected].
Siloso Beach Party
Five for 2015
Why settle for one party when you can party at five? Make your way Sentosa and party until daybreak at the legendary SIloso Beach Party 2014. Skivvy down to your beachside essentials, dance to non-stop trance and electro-house music as an international DJ line up plays across the Main Arena, Azzura, Wavehouse, Mambo and Coastes Bikini Bar and Sand Bar.
Tickets can be purchased online and early bird tickets cost $48, $58 from 1 December and $68 from 25 – 31 December 2014 ($98 for a VIP pass).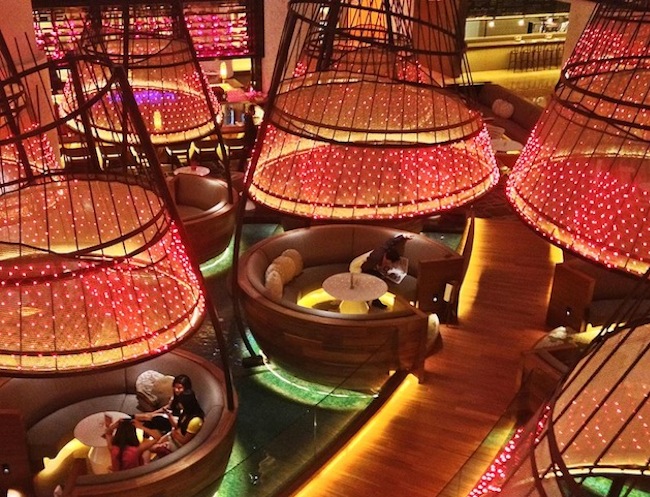 The Atrium at Pan Pacific Singapore
Go retro
Greet the New Year with a cheeky little blast from the past at Pan Pacific Singapore's The Atrium, where you can expect 70s and 80s hits, live dancers and magic acts. It'll be raining balloons, 50,000 of them to be exact, at the stroke of midnight – brace yourself!
Packages are available for groups of two to 16 people ranging from $388++ to $2588++, which includes the choice of wine, spirits or Champagne, canapés and a post-midnight light supper. Standing only tickets are $88 per person (including two drinks). For reservations and enquiries, call 6826 8240 or email [email protected].
Loof
Chic and casual
For those who prefer an intimate affair away from all the hustle and bustle, hit up The White Rabbit as they host DJ Zimmer Glimmer from 9pm. For a touch of sophistication, head to The Black Swan's The Powder Room for a glass of bubbly and music by DJ Daryl Chan. Don't want to miss out on the fireworks? Make a private reservation at Loof or Overeasy and spend an intimate evening sipping on cocktails and revel with uninterrupted views of the Marina Bay.
For reservations or enquiries at The Black Swan and The Powder Room, email [email protected] or call 8181 3305. Email [email protected] or call 9721 0536 for The White Rabbit; contact Loof at [email protected] or 9773 9304. Bookings for OverEasy can be done via [email protected] or 9129 8484.
Top Image: Marina Bay Singapore Facebook