We spoke to five international schools in Singapore about how their bilingual programs work, the role of parents, and why a bilingual education is so important.
The day is coming when your kids have to start school in Singapore, and you've probably heard the term 'bilingualism' thrown around more than once. By now you've probably weighed up the pros and cons of local schools and decided (whether by choice or by circumstance) to take the leap towards international schools instead. But if, after taking a look at the fees and location, you're still not sure what sets these schools apart, it can be a good idea to add 'bilingual program' to your list of criteria. After all, in this globalised world, learning a second language is an increasingly important skill.
There's no denying the benefits of bilingualism for kids. Other than having double the arsenal of words and concepts under their belt, there's an ongoing buzz around 'the bilingual edge', with attributes such as increased creativity and advanced problem-solving skills being linked to bilingualism. But, the fact remains that learning two languages, especially the one you don't speak regularly, is hard. That's why it's important to enroll your child into the right program.
So how can kids gain this 'edge'? One of the most effective ways to implement a bilingual immersion program is by using the target language as the instructional language. For example, using Chinese to teach classes to English speakers. But should schools be the sole developer of a child's character and education? Or do parents have to put in a little elbow grease too? We turned to the experts to get their take on parental involvement in bilingual education, the benefits of bilingualism, and how different schools give their students the 'edge'…
Tina Stephenson-Chin, EtonHouse
Tina from EtonHouse (top image) believes that when it comes to language learning, you should give them the best of yourself.
"In EtonHouse pre-schools and primary schools, children are immersed in an integrated bilingual environment with an English and a Mandarin speaking teacher at all times, or they may opt for other Asian and European languages. With both language acquisition and cultural immersion, students become truly bilingual, globally-focused and culturally competent. Children are much more likely to be successful if the language they learn comes directly from the people they love the most, especially when one parent speaks one language and another parent speaks a different language. I am conscious my son is learning from every word I say. It is vitally important that he gets quality input or he will pick up bad habits which will be very difficult – if not impossible – to correct."
Huali Xiong, Canadian International School
CIS works on integrating culture into spoken language.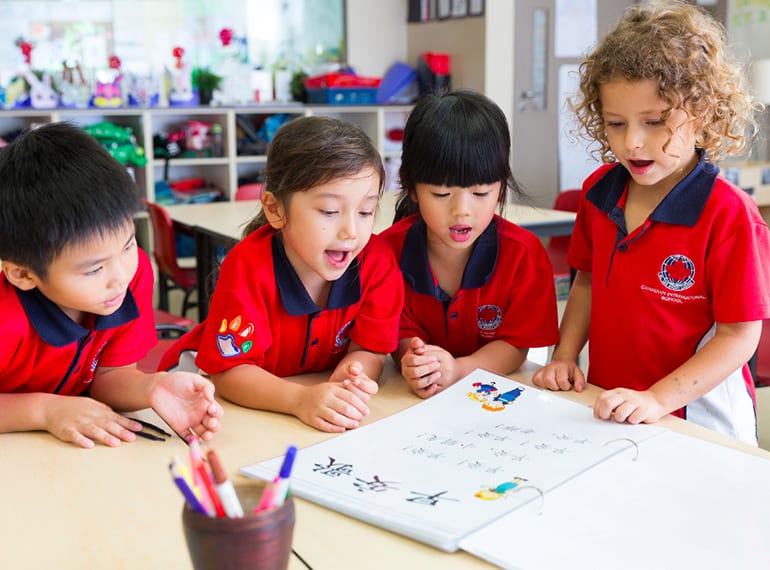 "As one of the first international schools in Singapore to offer a Chinese-English bilingual programme, we are a leader in providing students with a high quality education in both languages. Our programme is fully aligned with the IB PYP and available to students in Junior Kindergarten to Grade 6. Students are taught by native speakers of each language and attend classes in either English or Chinese on alternating days. Throughout the programme we place a strong focus on integrating culture (values, history and even how to think in a respective language) because speaking a language without understanding its culture has very little real world value. After Grade 6 there is a specific pathway for students to maintain their Chinese in Secondary School and the IB MYP. As teachers we have found 'public opinion' gives students an excuse for not trying hence parents should avoid saying things like 'learning Chinese is hard and boring' in front of their kids. Instead, you should try to appear interested in Chinese and encourage your child to teach you some phrases. Then use them in real life situations such as ordering lunch at a hawker centre!"
Laura Munaro, GESS
GESS believes learning any language should be meaningful to the child.
"At GESS, we encourage our students to deepen their roots and find their wings through the acquisition of languages and the understanding of different cultures. From Grade 1 we offer the IB curriculum delivered in English, or the German curriculum delivered in German. Starting in August 2018, we will be offering a German-English bilingual track in Kindergarten. In order to support our multicultural community, GESS also offers a Language Enrichment Programme (LEP) in more than 10 languages such as Danish, Dutch and Mandarin to help students maintain fluency in their mother tongues. Our students have displayed confidence in communicating and a well-developed sense of global citizenship. This is supported by language learning and displayed through collaborations such as the bilingual opera, Snow Queen, which our English and German-speaking pre-primary students worked together on for their final exhibition. We believe that learning any language should be meaningful to the child and integrated into daily life. As partners in their children's language development, we encourage parents to talk to their children, share experiences, ask questions and support their children's answers and interests. If children are interested and motivated, they will never be bored with learning languages."
Alan Fu, Hillside World Academy
Hillside believes that success in today's globalised world calls for more than just the acquisition of knowledge in any one language.
"In HWA, the children are true bilinguals. All subjects and activities are conducted in both English and Chinese and we have an English teacher and a Mandarin teacher stationed within class at all times along with language support programs to support children through their learning path. Success in today's globalised world calls for more than just the acquisition of knowledge in any one language. As such, Hillside World Academy offers a dual-language immersion programme and a multi-cultural environment from the earliest stages of a child's education. Our students have the best possible head start to becoming a thinking global citizen and a caring bilingual world leader."
Xiomara Cruz, Stamford American International School
Stamford American International School grooms its students to become bilingual, biliterate and bicultural.
"Research indicates that students are able to achieve a high level of language proficiency when there is a long-term commitment to the language that wants to be acquired and when that language becomes the medium of instruction. In Stamford's English/Mandarin Bilingual Program, our students have the opportunity to access content in some subject areas through the use of both languages (50% in English/50% in Mandarin). In addition, students in the bilingual program enjoy a daily foreign language block focused on obtaining proficiency in all language domains. Students in the bilingual program (PreK-G5) are taught the same curriculum as monolingual classes with the only difference being the language of instruction. We believe children raised as bilingual will become global citizens of the world as it helps them learn and communicate with others, especially in a global community like Stamford with over 65 nationalities."
Top image: EtonHouse