Photography: Ron Lach via Pexels
If your older kids have started gaining more independence, or the little ones just enjoy doing a runner at the playground, try these kids' smart watches and wearable trackers that'll help you keep an eye on them.
Heading out with the kids for fun activities is always a blast, but let's face it, that mini heart attack when they wander off in a crowd? It's every parent's nightmare! Safety is key, and thank goodness for technology making it easier. Kids' smart watches and wearable trackers are absolute game-changers. Whether it's a smart watch or a GPS tag on their gear, these gadgets help you breathe a sigh of relief, knowing you can locate them in a snap if they dart away or even when they're out and about on their own. Just grab a handy app on your phone, and you're all set! Here's a lowdown on some Bluetooth-linked and international trackers and devices that can keep your kiddos safe and sound.
Best kids' smart watches and wearable GPS trackers in Singapore
1. myFirst Fone R1s
The myFirst Fone R1s is like the Swiss Army knife of smartwatches for kids! It's got everything packed into one cool gadget. Wanna keep an eye on your little one's heart rate? Check. Customise your kid's watch face with fun wallpapers? Absolutely! But wait, there's more: this watch isn't just for telling time. It's got 4G voice calls, video calls, and texting, making it super easy to stay connected. And parents, relax! With real-time GPS tracking, you'll always know where your kiddo is. Plus, it helps them hit those fitness goals and even has a class mode to minimise distractions. Safety first with its one-touch SOS feature! Oh, and did we mention it's an MP3 player too? Talk about having it all right on your wrist!
Price: $249.07
2.Tick Talk 4
Hey, heard about a smartwatch for kids? Check out the Tick Talk 4 – it's a game-changer for parents wanting to keep an eye on their little ones. It's packed with cool stuff like GPS tracking, SOS alerts, and tons of parental controls. Not just for safety, it lets parents stay in touch through video calls, texts, and more. Plus, it's got fun extras like a music player, activity tracker, and dual 5-megapixel cameras. And style? Comes in three awesome colours any kid would dig. The Tick Talk 4's perfect for kids aged 5 to 12!
Price: $189.99
3. Loop Spacetalk Kids Smart Watch Phone
Loop is the newest, most wallet-friendly 4G smartwatch for kids from Spacetalk! This bad boy has it all: GPS tracker, phone features, SOS button, and even a school mode—all jam-packed into one awesome watch. With its lighter design and mega comfy strap, your kiddo's all set to chill. Keep an eye on your little one's adventures with the GPS feature. It comes in four cool colours and offers a whopping 13 strap choices, so your kiddo can flaunt their style. They can chat, text, or call straight from the watch, staying connected wherever they roam. Sturdy gorilla glass and a flexi-strap mean it can handle all sorts of kid-level adventures. And guess what? No social media or web browser—just a safe digital space for your little superstar to shine.
Price: $179
4. Tezilon Smart Watch 4G
Smartwatches don't come cheap, and when you're getting one for the kiddos, it better be waterproof! 'Cause the last thing you need is for the watch to conk out in the rain. Tezilon Smart Watches are waterproof and pack a bunch of cool features to keep an eye on the kiddo's whereabouts anytime, anywhere. They've got messaging, phone and video calls, GPS real-time tracking, and SOS emergency calls—totally handy! Plus, they've got some fun stuff like a high-definition camera, touchscreen controls, and a soft silicone hand strap in bright colours.
Price: S$139.99
5. Little Tikes Tobi Robot Smart Watch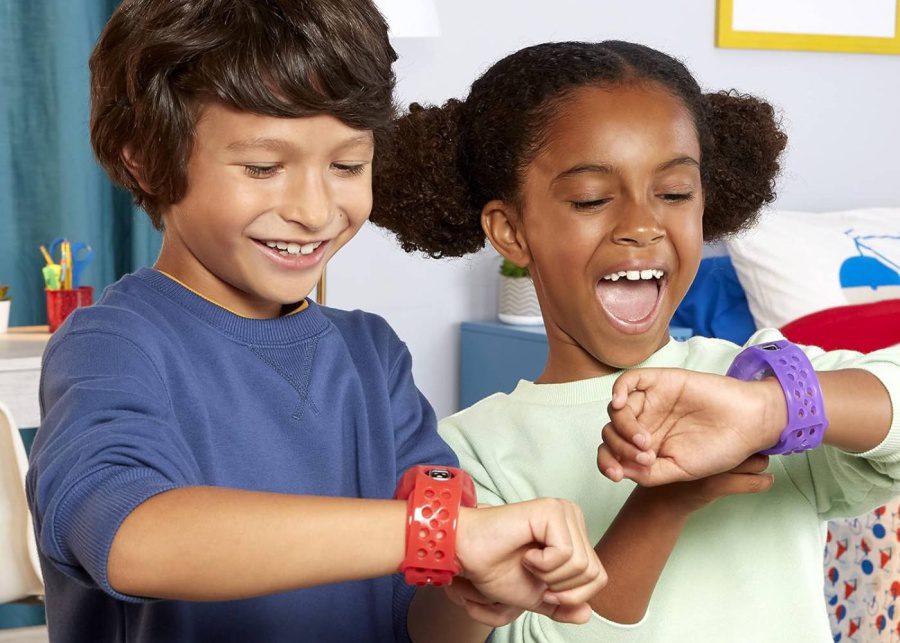 The Little Tikes Tobi robot smart watch is a blast for your little one's wrist! Packed with two cameras, this interactive robot doubles as a fun-filled gadget. It's not just a watch—it's a game-changer for kids aged 5 to 8. Your kiddo can dive into games, watch videos, snap selfies, and even track steps with its built-in pedometer. The touchscreen adds a tech-savvy touch to their playtime. Parents can breathe easy with handy parental controls to ensure a safe and controlled experience. From entertaining games to snapping selfies, this smartwatch is an awesome companion for the little tech enthusiasts!
Price: $37.11
6. Buddy Watch
The Buddy Watch 2023 is the ultimate sidekick for your little champ! Packed with a camera, distance tracker, GPS, and more, it's way more than just a watch. Your kiddo can count steps, track sleep, and stay connected with Wifi, Cellular, Bluetooth, and GPS. With 8GB storage, it holds all those awesome memories and tunes! Plus, it buddies up with iOS, Android, and Windows devices—total friendship goals! With these cool tricks, the Buddy Watch 2023 keeps your kiddo connected, active, and ahead in the tech game!
Price: From $99.90
7. Vívofit jr. 3
The latest Garmin watch isn't just for tracking where your kiddo goes; it's all about keeping up with their fitness adventures every day. This watch helps you and your kiddo track steps, sleep, and how active they've been. Plus, it's not all serious stuff — kids can unlock cool adventures and games from the Garmin Jr app and dive into the epic moments of Black Panther and other Marvel Avengers characters. It's also great for tracking time spent doing sports and other activities. But here's the best part—kids can take on Toe-to-Toe step challenges and get into friendly competitions. How cool is that? And, in case of an emergency, the watch has an ICE (In Case of Emergency) widget that's got your kid's emergency contact info ready to go. Safety first, fun later!
Price: $139
8. Jiobit
The Jiobit Gen 2 – Tracker for kids is like the superhero sidekick every parent dreams of! It's small, lightweight, and tough as nails. This thing can handle whatever your kiddo throws at it. With a battery that goes on forever, you won't be scrambling for a charger every few hours. It's sneaky too — attach it to your kids' clothes, shoes, or backpack, and it's good to go! The Jiobit Gen 2 keeps you in the loop with smart alerts and location history, so you know where your little adventurer's been. Plus, its GPS tracking works nationwide, no matter where they wander. And hey, it's even resistant to water—perfect for those unexpected rain dances or clumsy spills. This tracker's got your back!
Price: from $124.01
9. imoo Watch Phone Z6
The imoo Watch Phone Z6 is like a superhero gadget for kids! It's got all the cool stuff your kiddo needs to stay connected. With its 2-way phone and video calls, chatting with mom or dad is a breeze. Plus, you can send texts, voice messages, emojis, pics, and even short vids—how cool is that? And get this, the camera flips for those awesome shots! Want to keep tabs on your little explorer? Real-time locating's got you covered. When it's learning time, just flip on 'Class Mode' for distraction-free school hours. Oh, and did we mention it's swim-proof? Ready for cannonballs and underwater adventures! This watch phone is like a fun-packed, safety-ready buddy for your kid's wrist!
Price: $347.23
And there you have it! 9 awesome kids' smart watches and tracking devices to keep a tab on the littlies at all times.