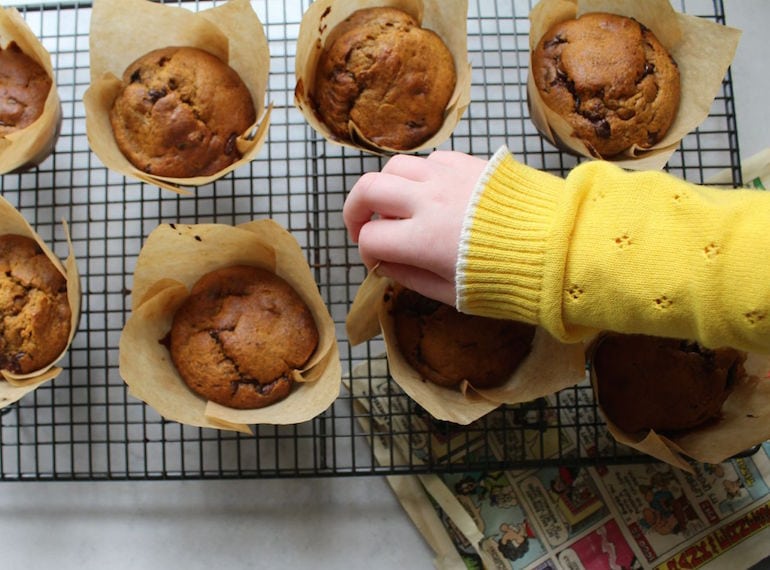 Ph
Want to add some homemade snacks for the kids to your weekly menu plan? These banana and chocolate muffins are super easy, and perfect for popping into your kid's lunchbox (you'll want some too, of course). Use up ripe bananas in these fluffy and chocolately muffins, which contain coconut oil, not butter, and maple syrup instead of sugar. You can whizz the whole mix up in a food processor, including mashing the bananas, meaning the muffins can be cooking away in the oven in minutes.
Ingredients
(Makes 9)
3 ripe bananas
200g plain flour
1 tsp baking powder
1 tsp bicarbonate of soda
1 tsp vanilla extract
75ml maple syrup or honey
1 egg
3 tbsp coconut oil
100g dark chocolate chips
Method
Takes 35 minutes
1. Preheat the oven to 180°C/350°F/Gas mark 4 and grease and line a muffin tin with nine cases.
2. Get the kids to peel the bananas, break them up and pop them in a food processor. Pulse briefly to mash them.
3. Sift the flour, baking powder and bicarbonate of soda into a mixing bowl then add to the bananas in the processor bowl.
4. Add vanilla and maple syrup to the bowl, crack in the egg and measure in the coconut oil. Whizz the mixture to combine.
5.  Remove the blade and stir in the chocolate chips with a metal spoon.
6. Divide the mix between the muffin cases then bake in the preheated oven for 30 minutes. Allow to cool in the tin for 10 minutes then eat warm while the chocolate is still melted or cool on a wire rack and pack in a lunch box. Keep in a tin – best eaten within two days or you can freeze them and defrost for lunchboxes or the school run, as needed.
Like this recipe? Here are more ideas we think you'll enjoy: 
Make a rainbow salad in a jar for school lunch
Easy homemade sausage rolls
Lunchbox ideas for kids using Singapore's local ingredients
Learn how to make healthy snacks for kids
This recipe was originally published on Modern Family Food. Follow Modern Family Food on Instagram and Facebook for more recipe inspo!
Photography courtesy of Emily Kerrigan.