Image: Kathy from Empowa
You've been through pregnancy and birth. Now what happens? Kathy from Empowa shares with us why a postpartum doula might be just want you need to navigate new parenthood.
Remember those heady days of being pregnant for the first time or planning to start a family? We seemed to spend so much time worrying about our growing bellies, changing bodies, and the do's-and-don'ts of pregnancy. And, of course, nervously preparing for birth. Preparation for the new baby revolved mainly around searching baby stores for products marketed at new parents and newborns, without really knowing what we needed, and googling frantically about sleep schedules and breastfeeding. What if there was a person you could call to help you navigate all of this postpartum anxiety? Enter Kathy, a postpartum doula who can help with (almost) anything and everything along your pregnancy, birth and postpartum journey.
Hi Kathy! Thanks for chatting with Honeykids today. Can you tell me a little about yourself and your family?
I'm originally from England, and I moved to Singapore in 2011, chasing my corporate career. I used to be a work-alcoholic in a very male-dominated corporate environment. Life was all about travel, working hard, playing hard and meeting those numbers. In 2014, I realised that the love of my life had been right under my nose for nearly twenty years! Doing the same job as me, working for the same company as me, and I followed my heart to Bangkok to be with him. We got married, and our daughter, Quinn, was born in Thailand in 2017. We've always travelled a lot (unsurprising as our relationship started with a commute between Singapore and Bangkok every week!) Our family moved back to Singapore in 2018, and have soft hearts for animals in need. We now have three rescue cats and two crazy Singapore Special dogs!
Can you share more about your journey to becoming parents?
Lots of people ask us why we only have one child, given that I clearly love kids, and the truth is we have had quite a tricky journey to parenthood. When my husband and I got married, we immediately started trying for a family. But it wasn't easy. Our first pregnancy resulted in a miscarriage at 11 weeks. Our second pregnancy also resulted in a miscarriage at 11 weeks. Then again, in May 2016, our third pregnancy also resulted in miscarriage.
As you can imagine, we doubted our ability to have a biological family together. Luckily for us, a long overdue holiday a couple of months later lead to us being fourth time lucky! I can't begin to tell you how emotional our 11-week scan was that time around! Our house is so wonderfully chaotic, thanks to our daughter and our fur babies. Our hearts are full, and my vacuum cleaner couldn't cope with more mess.
How did having a baby affect you?
After our rainbow baby, Quinn was born, we decided to move back to Singapore. Having left with a suitcase, I was coming back with a husband, a baby, two cats and a full container of "stuff" (mostly baby stuff!). I had changed considerably since I moved to Thailand; I wasn't a corporately driven career woman anymore. I knew deep down that I was suffering from long-term depression and anxiety. With hindsight, it's not surprising considering all I'd experienced between 2014 and 2018.
My anxieties were palpable. I would have eczema flare-ups and also scary thought patterns. For example, I couldn't use a pushchair for Quinn. In my head, I was convinced I would push my daughter into oncoming traffic or down a storm drain. My brain acknowledged that these thoughts were nonsense, but at the same time, I still couldn't truly trust myself. So, we simply didn't bother with a pushchair. I used baby carriers until she could walk, which she was doing independently (and happily!) from an early age. When the only options are a sweaty baby carrier with mum or walking on your own, I think she tended to enjoy the walking option!
What inspired you to create Empowa and become a postpartum doula? How did you gain so much knowledge and experience?
I think I looked for ways to grow and help other people as a means to heal myself; at least, that is what it felt like at the start. My own doula (in Bangkok) told me about a training course in Singapore for Postpartum Doulas, which sounded amazing. Two very dear friends travelled over to train with me, and we undertook the four-day intensive course together. One of these friends is now a sleep expert. I completed my training and did many more hours of volunteering than I needed to. I gained experience with different families from so many wonderful backgrounds, but I couldn't see how to make it a business. It felt more like a "calling", not a business model.
Fast forward to 2020 and the pandemic, and I simply knew the time was right to devote myself to being a postpartum doula full-time. Families needed support. Nuclear families were being born all over Singapore without support, without grandmothers, grandfathers, siblings, aunties or cousins being able to attend to the parents' transitional needs. New mothers were birthing babies on their own, and new fathers were feeling equally lonely and lost at sea. New parents were coming home with a newborn baby and no support network.
I knew that I could help bridge that gap until the world wasn't quite so crazy anymore and families could be reunited again. I describe my services as: "Imagine your mum, or your best friend, coming over a few times a week, to make you drinks and snacks, to make sure you're recovering ok and help with whatever needs doing. Imagine, on top of that, a professional certified in infant and postpartum care training who also happens to make a wicked cup of tea. That's me!"
What does a postpartum doula actually do, and why would a family need one?
It's always easier to answer the antithesis of this question – what we don't do. We don't do anything "medical". So I won't change someone's c-section dressing or diagnose a baby's symptoms. Having said that, we obviously see an awful lot of scars and symptoms; it's part of the job (and thankfully, I'm not squeamish!). Postpartum Doulas are experts in the 'normal'. I can say if something looks 'normal' or not, and if it doesn't look or sound 'normal', I immediately refer my clients to an appropriate professional.
I've been developing my referral list of over 200 partners since 2018, thanks to the Pregnant & Popped network I have created. We host baby fairs for mums in Singapore, where you can find help from lots of different experts all under one roof – our next one is happening in November! So what does a Postpartum Doula and Infant Care Specialist actually do?
1. Modelling healthy parenting behaviours (including calming a crying baby and sleep settling!)
I have the training and capabilities to look after your baby, to enable you to rest and recoup, but we are also trained to model and demonstrate healthy parenting skills. Much of my time with clients is about demonstrating to them how their new lives can be manageable.
For some families, it is often basic instructions on bathing, feeding, nappy changing and swaddling. I love teaching these things and more, but when I'm with a family for four hours at a time, multiple times a week, the real support comes from modelling behaviours to them—showing parents how a Postpartum Doula stays calm when a baby is crying. How we move with purpose, but not with panic. Demonstrating how we settle a baby to sleep when we realise they are overtired and how we can create an environment that optimises sleep for everyone in the household.
2. Feeding patterns, guidance, pumping and latching
Feeding is embedded into almost everything we do, and not just for the baby. My main priority is to ensure the family is physically and emotionally capable of feeding their baby. This often translates into a lot of breastfeeding guidance, help with latch, position, pumping etc., but also extends into bottle feeding and the emotional attachments we have to feeding. It is not my job to judge how people feed their babies; it is my responsibility to ensure they are fully informed and supported.
So, breast or bottle, I am your support person! This goes hand in hand with also ensuring the parents understand their nutritional needs for recovery. I often shop and prep snacks to ensure they have the energy to transition to the new life of being parents.
3. Emotional support for the whole family
The truly intangible part of the job is the emotional support. There are specialists in Singapore that can individually provide all of the above, but they are not with you in the trenches; they are not with you when your baby cries or when you, yourself, want to cry. A Postpartum Doula has experience and training in providing personalised care and emotional connection. So we are often the person that identifies the early signs of postpartum depression or anxiety, that can be there to listen, refer and support you through what is, let's face it, the toughest transition of any woman's life.
Can you share tips or advice for new mums?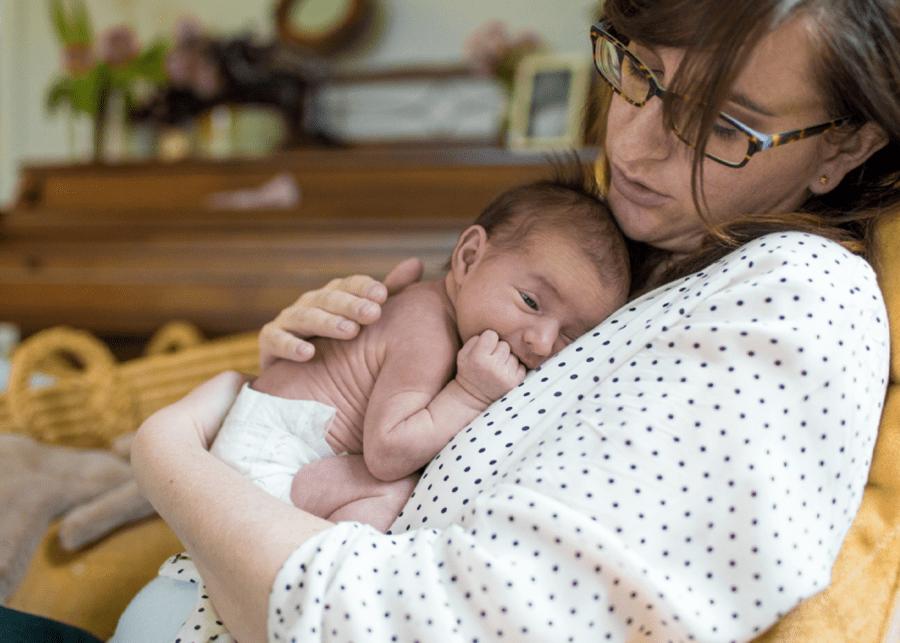 Start a bedtime routine as soon as you get home from the hospital. Keep it super simple. Doing the same things at the same time every bedtime will quickly help to reset their circadian rhythm (which is entirely back to front when they are born!)
Get outside with your baby for a morning walk at the same time every day. Routine and sunshine are the two most important ways to help reset your baby's circadian rhythm, not to mention the benefits for mums recovering from or trying to avoid postpartum depression. Because our bodies are still recovering and our pelvic floor muscles are not at their optimum for quite a few months, remember to keep a good posture as you walk. Wear good walking shoes, and don't over-exert yourself.
What's next for Empowa?
The future is all about demystifying postpartum support and finding ways to inform more people about the support and guidance available. We are actively working with different employers to provide support for parents going back to work. We believe employers have a duty of care to understand their employees' needs when they become parents.
It's wonderful if employers can provide solutions by having employee wellness programmes in place that include Return to Work support. With Empowa, this support not only covers some of the mental strains we often feel when our lives are stretched between work and family but also many practical aspects. For example, how to choose the right infant care, if and when you should be pumping for breastmilk, how to overcome obstacles to breast pumping at work and introduction of solid foods for a working parent. We do this in the form of corporate membership schemes, individual consultations and group webinars.
Tell us more about Pregnant & Popped, THE Baby Fair for Mums
Embedded into all that we do is the dissemination of information and connecting with like-minded perinatal professionals throughout Singapore to ensure families know what they deserve! In April 2022, Empowa hosted the first Pregnancy & Popped THE Baby Fair for Mum,s and it was a huge success, so much so we are scheduling this amazing event every six months.
Pregnant & Popped THE Baby Fair for Mums is all about the Mums. It's not just about cute onesies, or teddy bears and burp cloths; it's truly about mums! We want to help in finding the right support during pregnancy, birth, postpartum recovery and the transition to motherhood. It's a weekend dedicated to bringing expert drop-in clinics, talks and companies face-to-face with pregnant and postpartum families to guide them through their physical and emotional changes. At the core of the event are services such as Women's Physios, Nutritionists, Osteopaths, Chiropractors, Fitness Experts, Doctors, Doulas, Consultants and Counsellors. Now with over 30 Pregnant & Popped Partners, every event is an amazing example of how much support is available! We work hard to bring that support and guidance to new families in ways that are meaningful and genuinely useful.
Thank you to Kathy at Empowa for sharing her story with us! You can reach Kathy at empowa.sg