Pregnant and got a million and one questions? Half of them being super awkward? You've come to the right place. We ask the mums who have been there and got the t-shirt for their take on all things birth...
If you're reading this, chances are you're anticipating the birth of your baby (congrats!). You might be feeling a mixture of excitement (to be welcoming your baby into the world) and all-out fear (the birth). Or, is that just me? Either way, you're likely to have A LOT of questions. Some might be easy ones; what's the best pump out there? Others might be a little more, how should we say, awkward? Yep, let's be honest, birth is messy, and there are loads of things mums-to-be want to ask but just don't know how to. If that sounds familiar, you're in good company, and we're here to help! So, as a mum of one (soon to be two), I'm taking on some of the most embarrassing birth questions, with the help of other HoneyKids mums, to save you the red face when asking them.
Quick note. We are by no means medical experts, so this is all based on our own personal experiences, and we know every single birth is different. Remember, as awks as it might seem to you, your medical practitioner has heard (and seen) it all before, so ask away. But hopefully, this should help as a starting point!
GIVING BIRTH IN SINGAPORE – ALL YOUR EMBARRASSING BIRTH QUESTIONS ANSWERED
1. Should I wax 'down there' pre-birth?
This was one that was heavily debated by mums to be when I was having my first baby. So, what is the norm? And, does it matter either way? Turns out, there's no norm, and nope it doesn't. If you want to wax, it's perfectly safe to do so at any stage of your pregnancy. The big caveat here is that it might be a bit more painful for mums-to-be because your skin is all the more sensitive. Good practice for your pain threshold, though, right?!
2. Will I poop during labour?
Possibly one of the biggest fears for so many mums-to-be out there: pooing during labour. What will the nurses think? And that's before we've even thought about hubby! But ask any Mum who's been there, and you'll probably get the same answer: you really won't care either way. Some mums are not even sure whether they did or didn't! Everyone in the room has seen it all before. Okay, maybe not hubby, but trust us, he will be too preoccupied with everything else going on to even notice. So, don't avoid eating during labour for fear of poo. Yes, it sounds gross, but it's nature. As the baby moves down during labour, the head will inevitably put pressure on all those other organs, so if it happens, it happens. No dramas – promise.
3. I'm terrified! Will I tear, and will I need stitches?
This is another question on many minds, and not due to embarrassment perhaps, but just the thought of pain and the prospect of how things will be in the nether regions post-birth. Will she ever be the same again?! Roughly 95% of first-time mums face a tear, but don't let that terrify you. Tears vary massively, and the majority will be small, superficial tears that will heal in no time with a few stitches and cause minimal discomfort. Stitches are usually dissolvable, too, so you don't need to worry about them. Trust us; when you see your little darling, everything else pales into the background.
4. When will I be able to have sex post-birth (and will I/my husband even want to?!)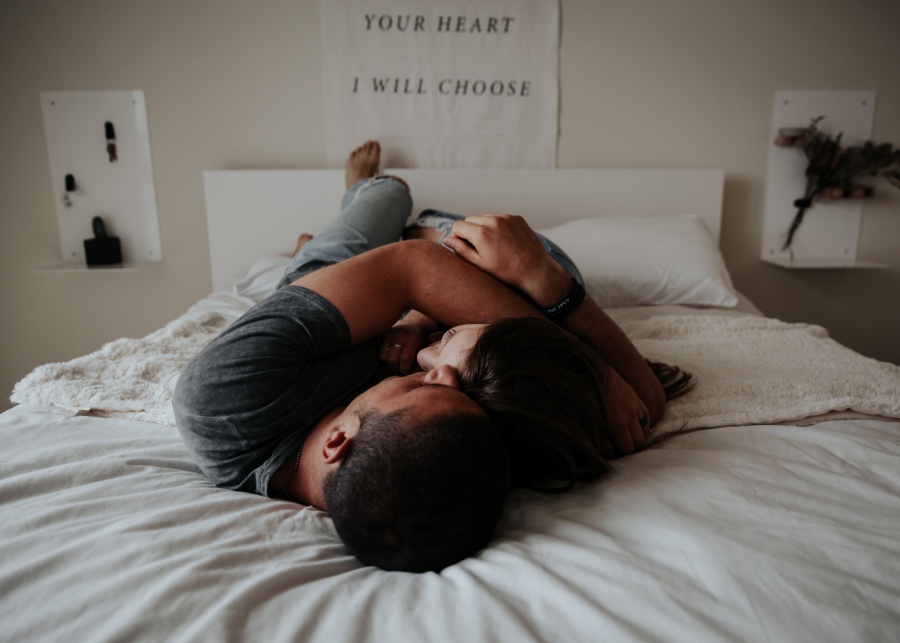 Yes, there's always that dreaded fear of no longer being attractive to your other half or no longer even wanting to enter a convo about getting intimate post-birth, especially with a new bub demanding all your attention. But we say be kind to yourself, and don't even stress worrying about what life post-baby will look like. Hubby will think you're incredible for bringing another human into the world and be in awe, so if anything, you'll be even more attractive. Sometimes, they might be a bit traumatised post-birth from what they've seen (remember you can't actually see what's going on, they might choose to!), and that's totally normal too. Give yourselves time, talk, and be honest with each other. There's no right answer to this, only what's right for you.
5. What will it actually look like when my waters break? What if it happens when I'm out?!
First up, don't be terrified. For most, it's a far cry from those movie drama moments of gushes of water, so don't worry. However, if that does happen, you can be reassured that if you are out and about, everyone will want to help. Who doesn't want the accolade of helping a pregnant woman in labour? More likely than not, it will be a trickle. So if you're heading out in those later weeks, you can always pack a sanitary pad just in case. For many, the waiting game for the waters to break is just that. I waited and waited and waited, and eventually, when I was fully dilated, my doc chose to break my waters for me. I didn't realise that was a thing beforehand and probably would've been a bit more clued up in hindsight (plus, not agreed to having them broken, but that's another story!)
6. What's the mucus plug? It sounds grim!
Yep, it's not the nicest of names we'll admit, but it's not as awful as it sounds. Some often refer to it as 'the show', and it pretty much does mean that showtime is not too far away (although it could still be days, so don't get too excited). But what does it look like? We're all pretty blasé with our periods, and the mucus plug isn't any more shocking than this; it just looks a bit different. It's generally a small sticky, jelly-like pink mucus. Although you'll always lose your mucus plug, many can't even tell whether they have or haven't, showing that it's really not that bad!
7. What should I wear for labour?
Maybe not an embarrassing birth question in the same way, but this is perhaps one that you think is a bit silly to ask alongside all the other medical questions on your list. You'll get a hospital gown on the ward, but it's up to you whether you opt for that or something else. To be honest, although it's a question now, it's probably the last thing on your mind in the midst of labour. It's better to be prepped with things to wear post-birth if you're really gunning for an IG-worthy snap or just thinking practically of things that are comfy and easy for breastfeeding post-birth.
8. How much will I bleed post-birth?
I remember seeing sanitary pads on the hospital bag checklist for baby number 1 and being really confused. I had no idea about bleeding post-birth, so it wasn't even on my embarrassing questions list to begin with. After birth, there is bleeding, but again it's the last thing on your mind. Although it varies from birth to birth, many mums describe it as a very heavy period over the first few days as it usually contains clots from birth. If you've had a C-section, it's likely to be less. Bleeding will decrease, but it can last from 4-6 weeks postpartum, so don't be concerned (and stock up on sanitary pads!)
And remember, ask away!
Hopefully, the above has helped answer a few embarrassing birth questions you might be having and made you realise that you're very much in the same boat as millions of women around the world who are also frantically Googling all sorts during that third trimester can't sleep stage. Just remember, the team supporting you at the hospital won't be phased by any questions, so feel confident to ask away. You've got this mummy!
Have we missed any? DM us your questions, and we'll be happy to answer them!