Hey mums! Are you fed up of razor burn and stubble? Chuck away the razors: we've got a list of the best places to de-fuzz in Singapore, whether you're looking for a short or long-term solution.
Heading for a beach getaway any time soon and can't be done with shaving your legs every day? Or just need to leave the kids at home and steal some time for yourself, all in the name of sanity… and vanity? We hear you! Without further ado, we present the lowdown on some of the best hair removal salons in Singapore to de-fuzz. Here's wishing you a smoother day!
Laser/IPL
Supersmooth
Put the razor down, because according to Supersmooth, the future is fuzz-free. Its laser hair removal is suitable and safe for all skin types and skin tones, including those of us who are blessed being brown. Using diode lasers, it skips your skin and heads straight to the follicle to eventually prevent hair growth. Do it on your pits, legs, bikini line… you name it, these guys will do it.
Level 2 Robinson Square, 144 Robinson Rd, Singapore 068908, www.supersmooth.com.sg
SkinLab
This medi-spa uses the popular I2PL to permanently remove hair by targeting melanin in the hair shaft to remove the roots, preventing them from re-growing. Skin Lab's great if you're looking to remove hair on larger areas, such as your back, as well as removing thicker and darker hair. Heads up: this treatment might sting a little.
Seven locations around Singapore, www.skinlabmedspa.com
Wellaholic
With affordable prices and an online reservation system, hair removal is made easier and quicker with Wellaholic's Super Hair Removal (SHR), using the latest non-laser technology. Their SHR treatment is less painful than IPL and is suitable for all skin types and skin tones. The best bit? After paying for 12 sessions, Wellaholic offers Lifetime Maintenance Mode – you can go back any time (with a gap of at least four weeks) to touch up the areas that need touching up for a nominal fee.
Five locations around Singapore, www.wellaholic.com
EstheClinic
Say goodbye to red, itchy bumps that you've grown accustomed to post-shave and head over to EstheClinic for their permanent hair removal solution: IPL. It's a painless, fast and safe treatment with technology solutions from France. It destroys the hair through the absorption of light by melanin (natural pigment) without damaging the surrounding tissue. Do note that IPL is not suitable for our fair-haired or red-haired friends.
Central, 72 Tras Street, Singapore 079011; East, 424 Joo Chiat Road, Singapore 427643; West: 3 Lorong Liput, Holland Piazza #02-02, Singapore 277725, www.estheclinic.com.sg
Waxing
STRIP
The self-proclaimed Ministry of Waxing, STRIP has beautifully pruned over three and a half million bushes (their words, not ours!). They claim top spot on our list for the best Brazilian wax in Singapore – it's painless, brisk, efficient and hygienic. Prices start from $16 for the bikini line.
15 outlets island-wide, www.strip.com.sg
Benefit Brow Bar
Tame your brows at Benefit's Brow Bar – it's the quickest and most pain-free wax you'll have in your life. Worried about the shape of your brows changing? All of the aestheticians are trained to follow the same technique so you'll wind up with beautifully bold brows that suit your face shape in no time. Get your 'tache waxed here too. A brow wax is $26, a lip wax is $17, and a chin wax is $19.
12 outlets island-wide, www.benefitcosmetics.com
Sugared
Sugaring is an ancient technique of hair removal – yep, rumour has it even Cleopatra used this method of removing hair. It's 100% natural: the sugar paste is made of water, lemon juice and sugar and it's moulded into a ball and spread over the skin and gently removed, taking with it any fuzz. The best bit: it exfoliates at the same time.
Bukit Timah, 733, Bukit Timah Road, Second Avenue Junction, Singapore 269748; Katong, 79 East Coast Road, Singapore 428784; Downtown, 22A Keong Saik Road, Singapore 089129; Upper Thomson, 225A Upper Thomson Road, Singapore 574357, www.sugared.com.sg
Cecilia Westberry
One of the best waxing spots in town, Cecilia Westberry has been in the business for more than six years. The salon is known for its fast and efficient hair removal treatments, and with two convenient locations to boot, what's not to love? A Brazilian wax starts from $48.
Holland Village: 6 Holland Close, #01-20, Singapore 271006; Orchard, 501 Orchard Road, #04-08, Wheelock Place, Singapore 238880, www.ceciliawestberry.com
Blush Wax
If you're a first timer to the world of waxing, Blush Wax will make you feel right at ease. We've heard amazing things about their handmade coconut scrub – goodbye ingrown hair! At $48 for a first-time Brazilian trial, this salon delivers without burning a hole in your pocket.
Orchard: 220 Orchard Road, Orchard Midpoint, #04-12A, Singapore 238852; Raffles: 7B North Canal Road, Singapore 048820, www.blush-wax.com
Pink Parlour
Pink Parlour is a kitschy full-blown day spa, offering treatments from spray tanning, brow tinting, underarm whitening… but the real winner is its affordable waxing services. It offers everything from full-body waxing to underarm, upper lip, bikini and Brazilian. Prices range from $15 for lip to $200 for full-body waxing.
Five locations island-wide, www.pinkparlour.asia/sg
Threading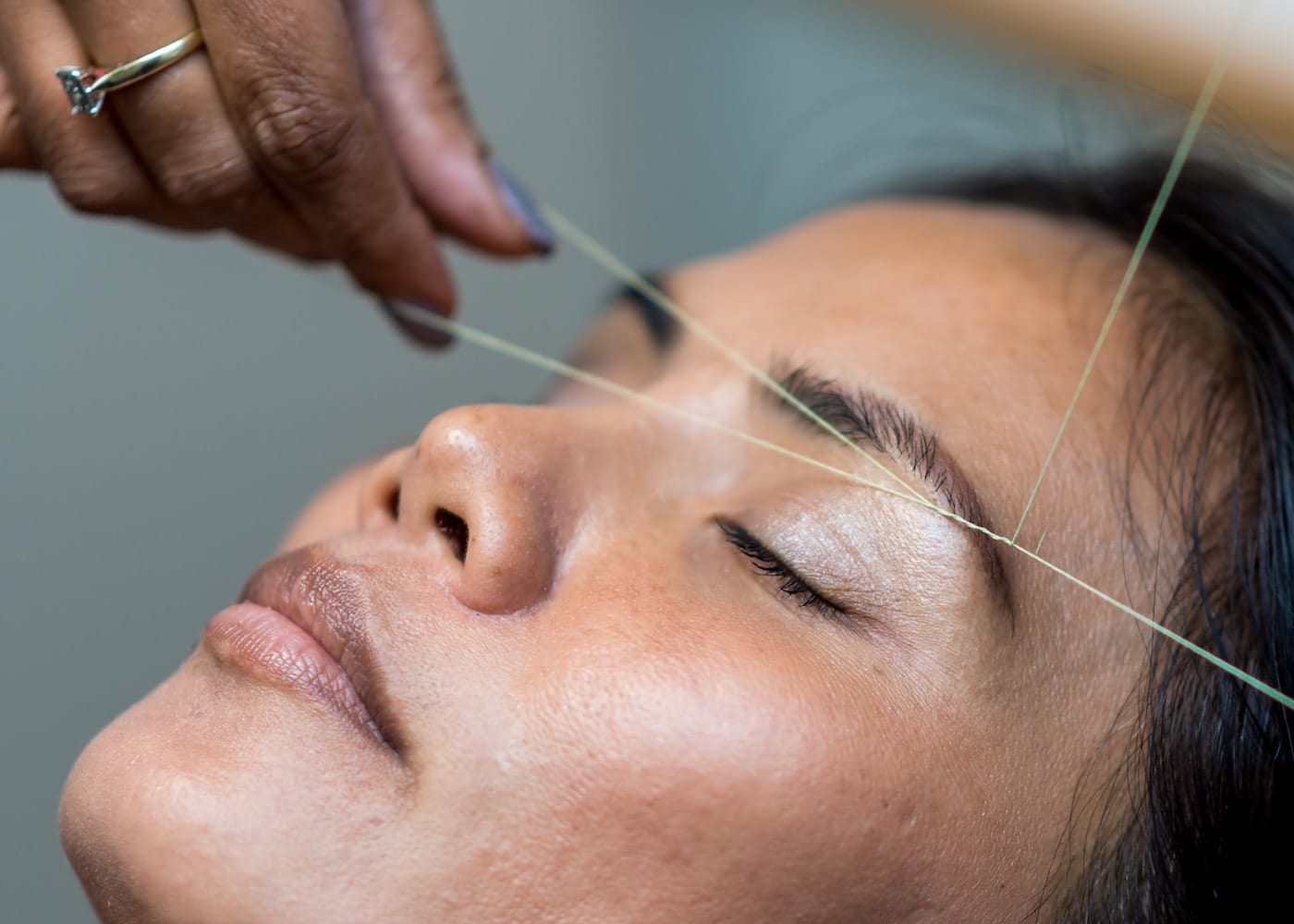 Browhaus
Offering threading for your eyebrows, upper lip, chin – basically your whole face if you prefer to go that way – Browhaus is one of the leaders for threading in Singapore. Get that extra fuzz tamed for cleaner and shapelier brows.
12 outlets island-wide, www.browhaus.com
Rupini's
The name Rupini translates to "beauty" in Tamil… and this is exactly where you go to get pretty. Its menu of treatments including full body waxing, but the salon is known for its quick, efficient and on-point threading services. The place to go if you want brows on fleek.
Little India: 24/26 2nd Floor Buffalo Road, Singapore 219791; Yishun: 925 Yishun Central, #01-217, Singapore 760925; Orchard: 220 Midpoint Orchard, #01-04, Orchard Road, Singapore 238852, www.rupinis.com
Gooday Beauty Salon
This one is a Little India secret. Established in the 1980s, it's where everyone has been going for threading for years. Efficient and painless, these guys will have your eyebrows precisely threaded in 15 minutes or less.
101–105 Serangoon Road, Singapore 218006
Mai Indian Salon
Get your brows cleaned up at Mai's Salon in the East. Eyebrow threading is professional, quick and reasonably priced. Stick around for any waxing services, too.
50 East Coast Road, #02-31 Roxy Square, Singapore 428769
Like this story? Here's more we think you'll enjoy:
How to ace Little India with the kids in tow
Beauty and make-up tips for time-poor mums
Fantastic facials for all skin types and budgets!
Polished to perfection: mum-and-kid mani-pedis we love!
Don't forget to subscribe to our weekly newsletter and follow us for fun moments on HoneyKids Instagram!