Photography: cottonbro studio via Pexels
Plant-based milks are not regular milk, they're cool milk! If you're looking for dairy-free alternatives, we've got you covered…
Are you constantly running to the loo after consuming dairy milk? You might be lactose intolerant. Or, you've decided this is the year of healthy and sustainable living – good for you! In any case, milk alternatives are the way to go.
Now, we know what you're thinking. Will it taste the same? Can I still get the good stuff from regular milk if I switch to plant-based milk? We have the answers to your questions (and more) in this guide…
What you need to know about plant-based milk alternatives
What are plant-based milks?
Simply put, plant-based milks are alternatives to your good old dairy milk. They can be made out of legumes (soy), nuts (almonds, cashew, hazelnuts, pistachios), grains (rice, oats), and even fruits. The ingredients are soaked for hours before being pressed to strain the liquid, AKA the milk. The milks can then be sweetened, flavoured, or left unsweetened.
Psst, did you know that plant-based milk has been around for centuries? Soy milk dates back to mid-1930s China, while Southeast Asia predominantly uses coconut milk in their cooking.
Why should you choose plant-based milk over regular milk?
There are a few reasons why you ought to make the switch to plant-based milk. You may be allergic to dairy or lactose intolerant, which means your body lacks the lactase enzyme that helps break down milk products. If you're looking to start a vegan or plant-based diet, these milk alternatives should be up your alley as they're cruelty-free, and you're saving the environment. Another benefit of plant-based milk is that it has a longer shelf life. This means you won't be contributing to food waste.
What should you look out for when selecting plant-based milks?
As with everything, not all plant-based milk products are created equal. Take a look at the ingredients list when you're out milk shopping. Check for added sugar (even when they're listed as unflavoured) and thickeners such as vegetable gums. Most non-dairy milk also contains extra minerals and vitamins, which is what you want.
The best plant-based milk alternatives for families in Singapore
1. Oatside
Oat milk
If you're looking for one of the best oat milks on the market, then Oatside is a great bet. This Singapore-based brand doesn't include artificial flavours, gums, emulsifiers, or preservatives. Its maltiness and creamy texture are all thanks to Australian oats and natural mountain spring water. There are three variations to choose from; note that the chocolate hazelnut variant is priced slightly higher than the other two.
2. Bare Coco
Coconut milk
Besides being used in cooking savoury dishes, coconut milk can also be used in sweet treats. Ice cream, smoothies, milkshakes… you name it; this versatile milk is a wonderful replacement. Keen to try it? Then get your hands on Bare Coco's ready-to-drink beverages, which are made of handpicked coconuts sourced from Vietnam. The brand is halal, 100% vegan, gluten- and cholesterol-free, and does not contain nuts or preservatives.
3. BamNut Milk
Bambara groundnut milk
Here's a milk alternative you've probably never heard of. BamNut Milk is made of Bambara groundnuts, a type of legume found in West Africa but also grown in countries such as Malaysia and Indonesia. This plant-based milk contains proteins, calcium, and vitamins B1 and D2, which makes it an excellent replacement for dairy milk.
4. The Vegan Milk
Almond, cashew, hazelnut, oat, soy milks
Who would've thought healthy food choices and self-care could go together? The folks at  The Vegan Milk do, and that's how this homegrown brand came to be. It features a range of non-watery plant-based milks sold in reusable glass bottles. The adventurous types should try Golden Milk, which is made with fresh turmeric. Who knows… you might just like it.
5. Oatbedient
Oat milk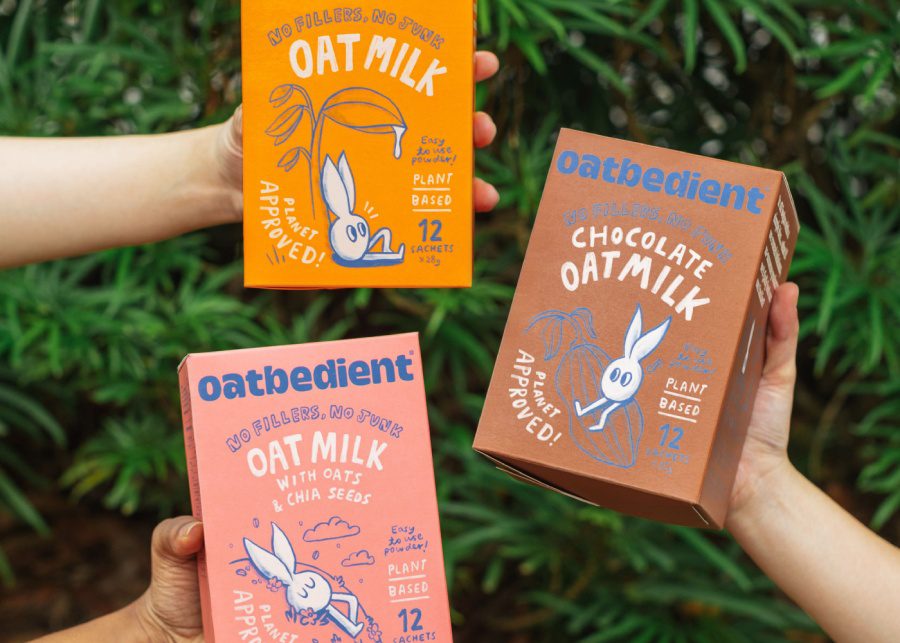 One can never have enough oat milk, which is why we have Oatbedient in this list. However, there's something unique about this local brand's products – they're powdered beverages that come in sachets. Say what? Yes, you read that right. All you have to do is add hot water, stir, and enjoy. Psst, purchase three boxes and above, and stand to receive limited edition stickers – perfect for the kiddos!
6. Snappea
Pea milk
Don't underestimate the power of peas, Snappea claims. This plant-based milk is made of non-GMO Canadian peas, which are packed with massive nutritious power. Even if you have allergies, Snappea is safe for consumption. Who says these tiny beings are not exciting and delicious?
7. 137 Degrees
Almond, macadamia, pistachio, walnut milks
Almond milk is another popular plant-based milk as it contains good fat that helps lower bad cholesterol levels and is said to aid in weight loss. Curious? If you are, grab 137 Degrees' almond milk range. It's naturally nutty and sweet with no sugar added, so you can enjoy it without feeling guilty. The brand has pistachio, walnut, and macadamia milk too.
8. Plenish
Almond, cashew, hazelnut, oat, soy milks
Plenish's plant-based milk products don't contain many ingredients, but that doesn't make them any less delicious. Additionally, the brand received a grade A rating from Nutri-Grade, so you know its claims are true. Plenish's range includes cashew, hazelnut, and soy milks, which means if you don't like one flavour, you have other options to choose from. Neat!
9. Australia's Own
Almond, coconut, macadamia, rice milks
Rice milk? Really? Yes, it's a thing, and no, you don't have to be afraid of them. Australia's Own organic plant milks are full of the good stuff – no artificial colours, flavours, or preservatives to be found here. Caffeine addicts should go for the barista range, which gives you that perfect, cafe-quality cuppa from the comforts of your home.
Continue your healthy lifestyle with our list of plant-based meal recipes too!