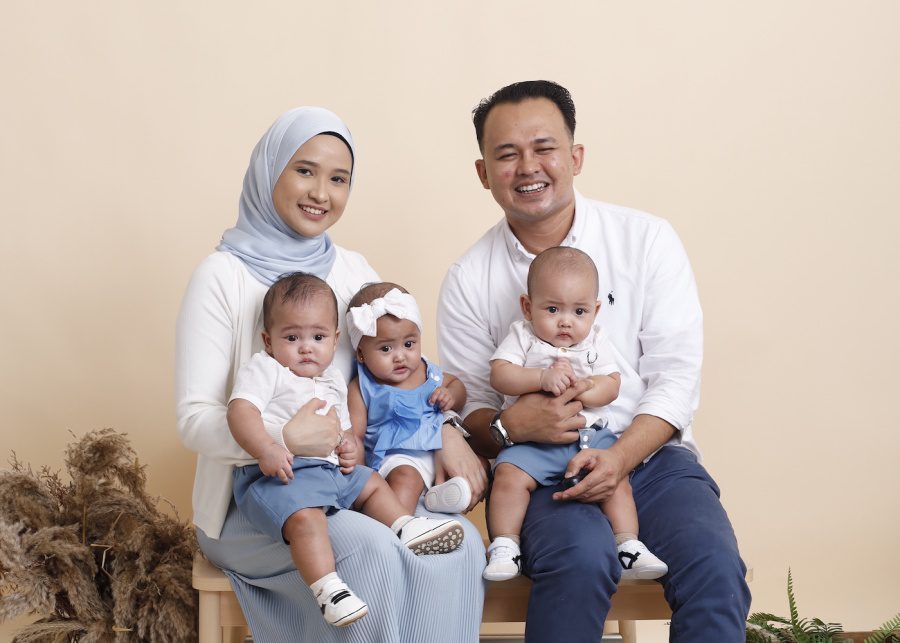 17 November is World Prematurity Day, which aims to raise awareness of the challenges and burden of preterm birth and premature babies, often called 'preemies'. We speak to mother of three, Zarith Sofea, who gave birth to her triplets at 32 weeks.
Did you know that in Singapore, about 1 in 11 babies were born prematurely in 2017? Babies born before 35 weeks of gestation (often referred to as 'preemies') are at greater risk of chronic health issues such as hearing and sight problems, delayed development and cerebral palsy. That said, the majority of preemies can go on to live relatively normal lives!
Due to their complications, preemies are commonly subjected to long hospital stays before they can be discharged. Parents of preemies face a difficult period of having to leave their babies in the care of doctors and nurses – but many stories give us hope. Keep reading as we speak to Singaporean mother of three, Zarith Sofea, who gave birth to her triplets at 32 weeks!
Hi Sofea! How did you find out you were pregnant with triplets?
After six years of trying for a child, my husband and I finally went to Thomson Medical for an Intra-uterine Insemination (IUI) fertility treatment in June 2022. I was given an injectable medication for five days prior to the IUI procedure. During my next appointment, my doctor performed an ultrasound to monitor my ovaries and follicles' development. However, she discovered a polyp, which was a growth of 1.3cm in my uterus.
I was devastated beyond words. We were unable to continue with IUI treatment due to the risks that could result in miscarriage. My doctor recommended undergoing surgery to remove the polyp, but I was reluctant to proceed with the surgery. After much discussion with my husband, we made the decision to seek a second doctor's opinion. We requested for a referral to KK Women's and Children's Hospital instead.
Here comes the plot twist.
I went for my first appointment at KKH about a month later and underwent an ultrasound and urine test. I recalled informing my doctor that I missed my period and confidently asserted that it was partly caused by the (IUI) injectable medication I had previously. When the urine test result came out, lo and behold, my hCG was positive! Turns out I was naturally pregnant. Words can't describe how we felt! So when my confirmation ultrasound showed that I was five weeks pregnant and carrying TRIPLETS, I was floored. Neither side of our family has twins or multiples. There were a lot of emotions involved.
How did you prepare for the birth?
We planned for an elective delivery via Caesarean no later than 35 weeks. With such a high-risk pregnancy, I had many ultrasounds and had known from the beginning that one of my triplets was smaller than the other two. This is called 'Selective Growth Restriction'. We were informed of the slew of risks trying to carry these three babies to term. Some of them included preterm labour (likely at around 26-28 weeks). Our doctor recommended a devastating solution: Selective Fetal Reduction, which meant aborting one of the fetuses, but would result in a lower risk of preterm birth and decrease the risk of miscarriage. We decided against it because we wished to keep all three babies. I knew someone once who had the same situation. She didn't reduce and gave birth to healthy triplets.
How did the labour go?
I was scheduled for a C-section at week 35. At week 32 of my pregnancy, I had a regular check-up with my gynae. I wasn't expecting to dilate since it was too early to give birth, but I was surprised when she told me I was 3cm dilated. I was taken to the delivery suite for further monitoring. Throughout the night, I experienced irregular contractions during my 24-hour labour. However, my contractions intensified the following day. I was then scheduled for an emergency C-sect due to low-lying placenta (placenta previa) and preeclampsia, a hypertensive disorder that can happen during pregnancy and postpartum.
I felt deflated and fearful. This was not what I envisioned and definitely not what I had prepared for.
Miraculously, my triplets were born one minute apart and weighed 1.5kg, 1.7kg and 1.9kg respectively. The girl was the eldest out of the two boys. They had to stay in the Neonatal Intensive Care Unit (NICU) for five days before being transferred to the Neonatal Nursery where they were held for 30 days.
They were placed in an incubator and treated with phototherapy for jaundice. The sight of my triplets being wired and tubed up broke my heart. It was emotionally challenging – I remember crying in the toilet thinking that we'd never leave. We learned to cherish every moment and had faith that they would progress and be ready to go home when they reached certain health, growth and development goals.
Tell us how you felt going home for the first time after giving birth without your babies.
Being discharged from the hospital and heading home without my triplets was the most depressing moment. I felt like I was leaving half of myself behind in the nursery. I tried to get into the best mindset I could. Longing to hold my triplets and getting to know them seemed like eternity. But one little bonus: I had some time to rest and recover so that I could be the best, healthiest parent I could be for my babies.
So when we finally received a call from the Neonatal Nursery that our triplets were ready to be discharged, we were relieved and overwhelmed with joy.
What helped you cope during such a difficult time?
I scheduled regular visits to the nursery to get involved in my triplets' routine of feeding, changing diapers, and soothing them. Pumping also helped me gain some control and saved my sanity. Although I wasn't having the typical newborn experience, I was getting up every three hours to pump. I felt a sense of accomplishment when pumping, knowing that I was contributing to my baby's growth and development.
When was the first time you felt that you and your husband Shah were finally 'out of the woods' and in a good space to resume regular life?
Becoming a parent is a life change. The first three months were occupied with adjusting to parenthood, new babies, and a new lifestyle. As soon as our triplets were 4 months old, we felt the need to take a break from our babies. We thought, "Hey! Let's go for a short date!" Our triplets were left in the care of my in-laws and my helper. I think it's important for my husband and I to get away and reconnect, but as the end of my maternity leave gets closer, I'm getting nervous about leaving them behind for the first time. But I also believe it would be the best time for my in-laws to bond with our triplets.

What does your daily routine look like these days?
A solid morning routine is necessary for a consistent daily schedule. I typically wake up around 6.30am and immediately start my simple morning routine which includes feeding, diaper changes, bathing, dressing up and playtime. At 9am, my triplets will take their morning nap.
Getting all three to nap at once can be a challenge. There are times when my boys sleep while my daughter is fully awake and vice versa. In order to keep my daughter entertained, I will either read some flashcards or listen to some songs which eventually leads to her falling asleep. I will then have a quick breakfast before one of them starts crying. During the time span of 12pm-4pm, the triplets will be having lunch, playtime, changing diapers, feeding, and taking their second nap. At 6pm, I will give them a bath and prepare their milk. Their bedtime routine usually starts around 7.30pm. After they're asleep, I will have my dinner with my husband and have some 'me' time before going to bed.
Who would you say are part of your support system?
I am thankful for the unwavering support from my family and friends. The constant help from my family in taking care of my triplets has been invaluable, allowing me to adjust to motherhood. They helped feed, change and soothe them at times. The newborn stage was the hardest. We split up night time duties between my mom, my helper and myself to ensure we got enough rest. For example, I would take the first shift from 9am to 1am, and then either my mom or helper would take the second shift from 1am to 5am. The situation improved when the triplets were 4 months old.
My mummy friends are the ones I always look up to when I have baby-related questions. They have also supported me through some of the most challenging (and sleep-deprived) days of my life, and have given me the space to still be me during a time when motherhood feels so all-consuming.
What are your hopes and dreams for your babies?
My greatest hope and dream as a parent is that my triplets are happy and healthy. My daughter was the one who was diagnosed with Selective Growth Restriction during gestation, but she's all healthy with no complications now. I hope their lives becomes all that they want it to be – to dream big and achieve success in life. My aspiration is for them to see their father as their role model. If it is something they desire, work towards it. I want them to have everything they hope for. Work hard and stay true to who they are. People along the way will try to knock them down but I hope they always stand up for what they believe in and remain strong. Finally, I hope my triplets will continue to love, care for, and protect each other for a lifetime.
What advice would you give to other parents who have just given birth to preemies?
Take your time to adjust to parenting and get to know your babies. Don't try to be perfect ­­­– there is no perfect parenting! Surround yourself with people who will support you. Most importantly, practice self-care as a new mom. You need to get adequate rest and stay hydrated. Don't be afraid to ask for help when you are in need of some sleep or 'me' time.
Thank you Sofea, and happy World Prematurity Day to all preemies and parents with preemies!
Our hearts also go out to the mothers, babies (premature and otherwise) and families that have been affected by the tragedies in Gaza. We hope for peace to be restored in that region, and around the world, as soon as possible.