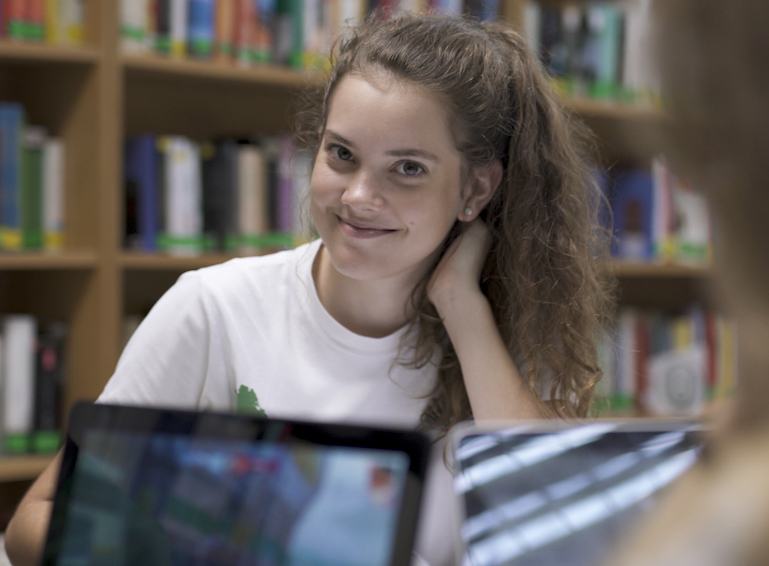 We've been talking to some of Singapores best international schools for their advice on how best to help our teens choose the perfect overseas university...
In between trying to tip your teenager out of bed before noon, explaining to them that they can't afford driving lessons (much less a car) and also attempting to keep the cupboards full for extended periods of snacking, there's another thing that parents of older kids really need to get to grips with: choosing a university for the next step on their further education path. Luckily, not only do we have a whole fleet of global universities joining us at this weekend's HoneyKids International School Fair with HSBC to get advice on this hot topic, but we've also been speaking to some of Singapore's top international schools for their wise words on navigating life beyond high school.
GESS – Thomas Walton, University Guidance and Careers Counsellor
There are so many university options – how do I start my search?
I tell my students that stage one of a university search should focus on deciding what degree course to study and where they might want to spend their undergraduate years. For both aspects, finding a 'good fit' should be at the heart of their thinking. Try this five-step approach to get them started:
Step One: Choosing an undergraduate course – Talk about course interests with teachers, parents, guidance counsellor and if possible graduates from school who are pursuing similar courses at university. High school academic subjects need to support a course choice, but passion and curiosity are just as important for a good fit.
Step Two: Finding universities that are a good fit –  Devise a list of relevant criteria ranked in order of importance. Websites such as www.university.which.co.uk/advice/choosing-a-course/top-things-to-look-for-when-comparing-uni-courses  can help make selection criteria easier. Identify factors such as location, academic entry requirements, course content and accommodation options (amongst others).
Step Three: Research – Take a look at university websites and search tools (www.digital.ucas.com is a good one) and begin the process of evaluating universities that match interests and personal selection criteria.
Step Four: Use a criteria-based evaluation – This helps narrows down a search to a manageable list. Refine this list to focus on universities (and courses) for which seem to be a good fit.
Step Five: Start planning stage two of your search – Visit as many shortlisted universities as possible. Aim to visit the halls of residence, academic buildings and social facilities. Open days, campus tours and taster lectures are great if you can coincide a visit. 
Go to HoneyKids School Selector for more on GESS
GEMS World Academy – Jonathan Cox, Secondary Years Deputy Principal
How can I help my child narrow down options and figure out what is the best fit for them and their future path?
Choosing the right pathway for your child's move from High School to University and beyond can be a nerve-racking affair. But it needn't be. One of the great things about education nowadays is that there are so many different routes and very few dead ends. The most common concern that parents have, is that (at the grand old age of 15!) their son or daughter doesn't know what they want to do. Actually, this makes choices relatively straight forward.
Start with what they are good at, look at what they enjoy and pick those subjects. It has become a cliché that most of our children will be doing jobs that don't even exist yet, but like all clichés, it is based on a degree of truth. Flexibility, emotional intelligence, a sharp intellect and communication skills are some of the most employable skills and any good degree programme will develop these.
If your child does know what degree/career they want to pursue, you should still start with these two questions:
    

What are they good at?

    

What do they enjoy?
Once you have answered these, then go on to question 3:
    

What do they need?
I have worked with countless students who have nursed a 'lifelong' ambition to be an engineer or doctor – only to find that their science and maths grades are terrible! There may still be a pathway to their career of choice, but it may not be a direct line. Or it might just be that the 'lifelong' ambition needs some readjustment. After all, we all want our doctors to be great scientists and our engineers to be outstanding at maths for very obvious reasons!
I remember very clearly sitting opposite a family where mum and dad were both doctors. They told me with great confidence that their daughter also wanted to be a doctor. I noticed the daughter's eyes drop slightly and asked her if that was true. She looked up and said, 'No, I want to study design.' Mum looked aghast. 'You never told me that.' she said. The daughter looked at her and replied very simply, 'You never asked.'
And this leads me to my final point. Above all else, LISTEN TO YOUR CHILD.
Go to HoneyKids School Selector for more on GEMS
Singapore American School (SAS) – Tina Forbush, Director of College Counseling 
The university application process can be quite rigorous – any pointers for navigating this?
Navigating the college research and application process may seem daunting at first, but it can be a meaningful learning opportunity if students time it correctly and break it down into its component parts. The process gives students the opportunity to reflect, engage in research, synthesize information, write, and have great conversations. But resist the temptation to start too early: this process is best begun in the middle of junior year. Once students have reached that point, they should take the following steps:
Engage in rigorous self-reflection – 

Parents can prompt students with questions like: "How do you like to study? How do you spend your free time? What kind of people do you enjoy? Where in the world do you hope to be?" Evaluate what matters before you start thinking about university names.

Once students know what they want, it's time to do some homework – 

They need to research each university carefully. At this point, families should ask: "Are you admissible? Would you be happy and successful at this school?"

Work closely with the high school college counselor or university advisor – 

Students should ask lots of questions; this is, after all, their process. Do not hire an independent counselor unless your school lacks a counseling department – 

your school counselor should be able to provide all of the resources you need.

Create a balanced school list – 

this means having at least two or three schools to which the student is likely to be admitted.

Plan ahead – 

The summer before senior year is a great time to identify application deadlines and requirements. Then it's time to draw up a calendar for getting the applications and essays done. Make sure to leave time for revision on the planning calendar.
Most importantly, stay open-minded! There are thousands of universities out there, and every student will have wonderful options if they apply appropriately.
Go to HoneyKids School Selector for more on SAS
EtonHouse International School @Orchard – Alec Jiggins, Principal
Is it important to visit the 

universities

 we have on our shortlist before making the final decision?

The importance of visiting universities on the shortlist before making the final decision is very subjective, as it is highly dependent on the parent's personal preference. However, often times, we tend to associate universities in terms of their prestige and standing, as opposed to a physical location and what the university life entails. Besides, due to the growing momentum around online learning, in 20 years, the university may no longer be just brick and mortar.
That said, there are benefits to visiting a university because it allows the parents a glimpse of the facilities the universities have to offer. Parents can also keep a lookout on the intangible student experience in the university during the visit. For example: What are the support systems available? What are the extracurricular activities available? Does the university have an established cultural exchange programme? What is the percentage of international students and where is their country of origin? However, parents can also easily retrieve information about the university online, or talk to people via Skype or at university fairs.
Here are some practical tips for parents on shortlisting and choosing universities:
Look at courses that suit your child's interests
Do not just look at the modules that are offered in the first year, rather look through the 

modules taught across the entire duration of the course

Consider how easy it would be for your child to move between programmes, in the event

your child does not enjoy the chosen degree and wishes to change 

Shortlist no more than four universities.
Pick a university that is aspirational for your child, and one that i

s realistic, based on your child's ability. It is also advisable to have a second choice lined up.
Go to HoneyKids School Selector for more on EtonHouse International School @Orchard
Nexus International School (Singapore) – Peter Hart, Head of Secondary
My child has never lived away from home: do you have tips for helping with this transition?
Leaving the family home is always a very important time in the lives of young people and of course their parents! However, whilst parents often grieve over the huge gap that has been left, their offspring are off having the times of their lives and coping with the demands of living alone.
Children will feel homesick, so it's important to stay connected with each other so they still feel a part of the family (cue the family WhatsApp chat).

One of the biggest new challenges students face is to manage time and organise all their social and academic activities. Encourage your child to get into the habit of keeping a planner, noting down deadlines and commitments so they feel on top of things.

Budgeting is always an issue and it can be fantastic fun to challenge your 18 year old to live off a limited budget before they go away, to see if they can indeed buy food, clothes and entertainment whilst leaving plenty of money to buy text books!

Perfecting a few simple dishes in the family kitchen prior to departure can be a real money saver: pasta, stir-fries and rice-based dishes are cheap, tasty and easy to make.

Encourage your child to take time to socialise and make friends. It is important to have someone to confide in and support you. Universities have highly skilled pastoral teams who are always available for chat.
Go to HoneyKids School Selector for more on Nexus International School (Singapore)
The HoneyKids International School Fair with HSBC
For lots more info on all things university related, do come along to our upcoming International School Fair, where you'll get to meet over 10 universities from around the world. So, if you have a child who is due to graduate to further education in the coming years, this really is your one-stop shop to get all your questions answered in one place, on one day. Don't forget to RSVP!
Like this story? Here's more you might find useful:
Choosing, applying and prepping for uni
Are our teenagers ready for the big wide world?
Raising a teenager in Singapore
Keeping cool under exam pressure