Photography: Bigger Bolder Baking
Extended circuit breaker = more time to perfect your baking skills. Here are the recipes we've tried and loafed.
Team Honeykids and Honeycombers have been spending a lot of time in the kitchen lately, so we thought we'd share our favourite recipes for at-home baking. Because aside from WFH duties and helping the kids with their HBL, what better way to spend your stay-in days time than to #quarantinebake? Not only is baking a great family bonding activity, but the end result means we get delicious bites out of it, too – huzzah!
Nutella mug brownie
Try this brownie-in-a-mug recipe if the fam likes their brownies chewy and hazelnutty. The good news: you don't need heaps of supplies – just all-purpose flour, eggs and some Nutella. Amateur bakers rejoice, as this recipe doesn't require much skill (or time) to whip up, either. I've made this three-ingredient brownie (pictured top) multiple times and it's amazingly easy. Just mix up the ingredients in a mug and pop it into the microwave. Seriously dough, could brownie-making get any easier? And there isn't much washing up to do, which is always a plus in our books.
Raspberry blondies
For the uninitiated, a blondie is the white chocolate version of your typical brownie and we think you need them in your life. Honeykids editor, Amy has been loving this recipe for raspberry blondies: "They're so easy… and so moreish, too! I love how the steps are so simple, which means the kids can easily help out along the way. They also love to help eat them!" Gather the little ones for a home baking sesh to make these sweet bites, guaranteed to lift everyone's mood. They're the perfect afternoon snack – and equally satisfying when hiding from the kids…
Flourless chocolate cake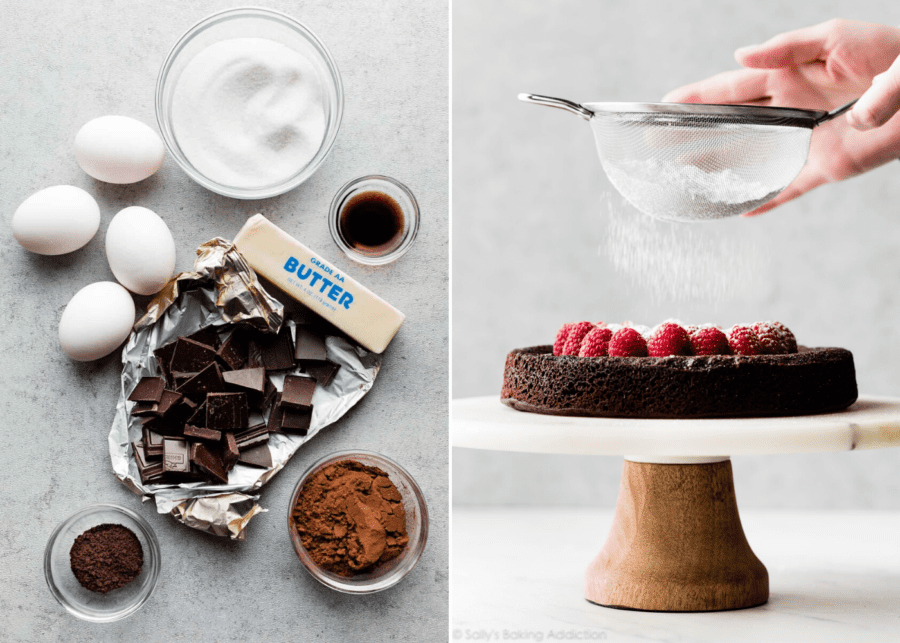 No flour? No problem. Give this flourless chocolate cake recipe a go. For those who can't have gluten in their diet, this is also naturally gluten-free. "Rich, fudgy and decadent, it's everything you could ever want in an indulgent chocolate dessert," says Honeycombers editor, Benita. "You can easily leave out the espresso powder and mocha whipped cream if you don't have them." Mmmm, we can't pass up an easy-to-make chocolate cake, and we're pretty sure the kiddos will be all over this, too!
Banana bread
If you can't stop seeing banana bread on your social feeds, we reckon it's a sign to make your own. Besides, it's an excellent way to use your overripe bananas. "It's like the whole fam chooses to let them overripe on purpose so there's enough banana bread bread to go around," shares Honeycombers senior writer, Nicole. She recommends the 'Best Banana Bread' recipe for busy mums. "Your batter's done in four quick steps. And I love putting my own spin on the recipe by adding peanut butter and chocolate chips, along with pecans or walnuts."
Traditional scones
Honeycombers' talent manager, Angela, has a homemade scones recipe from her grandmother that will satisfy all your pastry cravings – just add lashings of jam. Mix half a cup of double cream and half a cup of water before adding a whisked egg in. Then, mix two cups of self-rising flour, two tablespoons of sugar and a pinch of salt. Add two parts of this into the first mixture to make your dough. Cut them into circles and bake at 220 degrees for 10 minutes to make 10 to 12 scones. Her tip? "The key to these scones is a light touch. Make sure to only knead the dough until it comes together, and your scones will be light and fluffy!"
Want more at-home baking action with the kids? School of Perfect Bakes is offering three complimentary online baking classes during the circuit breaker period. Swing by the website for the deets!