This easy island holiday is just a stone's throw from the Red Dot
It's been a few years since Bintan has beckoned. With all the private pulau's popping up all around Singapore, you can spread yourself very thin on the island-hopping front with only seven long weekends a year! But sometimes it's good to get back to basics and dispense with all the driftwood palaces and barefoot luxe in favour of some solid family fun that doesn't have us on permanent Insta-duty and missing moments with the kids. And so it was that our entourage headed off to Bintan for a bit of a breather at the Angsana Resort. Not only did we come back refreshed, but we fell for the charms of Bintan again. Here's why:

Nature on your doorstep
Nothing beats waking up to the sound of waves and a view of the ocean and swaying palms (okay maybe silent kids and no sound would be better, but that's not going to happen). We could buy good-looking scenery and surround-sound designed by nature in Bali, Vietnam or Phuket. But at the Angsana, we've got beach frontage and expansive views at a fraction of the price. Each morning for the duration of our stay we get out of bed, into our swimmers, head out of our apartment and walk a few metres to a beautiful, calm beach just metres away. No Camilla kaftans required here. Flip-flops and sarong are optional if you're keen to go from beach to breakfast in one languid move.
Powder soft sand
We'll take sinking our toes into fine grains of sand over a reflexologist. And a sprawling, smooth stretch of seashore is all the kids club we need. The beach fronting the Angsana is wide, flat, safe and perfect for castle building, shell collecting, raft construction, book reading, suntan improving, frisbee throwing, impromptu family sprinting, ice cream devouring and constant swimming punctuated by drinks that keep coming – sans alcohol pre-lunch and booze enhanced thereafter (us, not the kids). Our main occupation most of the day is finding 'sand dollars' – little round shells with a regular pattern that pass as seaside currency. The kids quickly go about setting up shop in the sand buying and trading as mermaids and sharks.
Boredom is banished
If you want to get to page two of that new holiday read you picked up then you need a kids club. After many hours playing in the kid-friendly pool at Angsana (complete with communal inflatables perfect for kids to capsize their parents with – watch out bikini top), then testing the waters at the beach, then heading back to the pool again, we become prune-like and thirsty. While we hit the sand for some quiet time, the kids head off to the Angsana Kids Club for children aged three to 10 years old. It's open daily and the program includes activities such as baking, face painting, sand castle building, sand art, art T-shirts, cap painting, Riau dancing classes, pool games, and something cool called 'Pirates of Bintan'. They also arrange chaperoned nature walks to learn about the native plants, trees and wildlife and plan excursions to the Conservation Lab to see turtles being released. The weekend we stay, the Lion Adventures team is in residence (you'll find them there a few times a year), offering a huge range of activities for kids aged six to 16, including jet-skiing, survival camp, fishing, and kite flying.


Perfect for families
Bintan is a bit of a no-brainer is this regard. Taxi to ferry. Ferry to Bintan. Transfer to hotel. It's got to be the fastest and easiest way to move a family with young kids off the Red Dot and into holiday-mode (unless you count Sentosa). Our digs at Angsana are spacious, clean and comfortable, we have a beach on our doorstep where the kids can venture into the water unassisted, the pool is perfect for littlies, there is pizza on the menu at the beach bar, dancers perform during dinner the buffet dinner at the main restaurant and there is a kids club to keep them entertained when watersports and beachcombing no longer do. What more could you want? A bonfire? Fireworks? Yep, well we got that too! Our last night at the Angsana consisted of a delicious and atmospheric barbecue on the beach followed by marshmallow toasting over an open fire for the kids, and a 10-minute explosive spectacular in the night sky. This is the kind of barefoot luxury we like.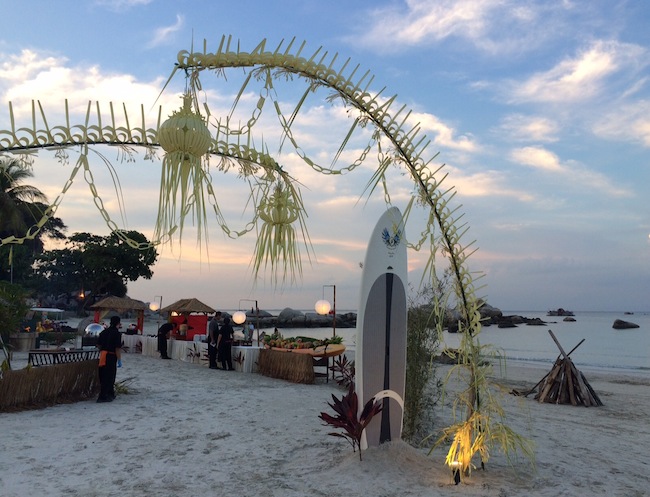 Angsana Bintan is offering a Live For Family Fun package which allows children (under 12) to play and eat for free. Contact Angsana Bintan for pricing. Package inclusions:
• Daily breakfast for two adults and up to two kids
• Return land transfer by coach between Bintan ferry terminal and Angsana Bintan
• Kids under 12 years old dine for free
• Complimentary extra bed or baby cot upon request (subject to availability)
• One 90-minute spa session for two adults at Angsana Spa
• Non-motorised water sports for two adults and up to two kids: kayak, body board, surf board, snorkelling set