Your ULTIMATE guide to great kid-friendly Sunday brunches in Singapore – with free-flow food!
We've given you the run-down on the best boozy Saturday brunches in Singapore to enjoy sans kids (assuming the rug rats are being looked after by someone else, elsewhere). And you're more than sorted with our guide to the best kid-friendly restaurants in Singapore. But we all know the best of the free-flow bubbly runneth over at these SUNDAY brunches in Singapore. Need to take your kids along? No prob. There are plenty of hotels and restaurants in Singapore that will indulge the little ones while you concentrate on all-you-can-eat and drink. Cheers to that!
Family-Friendly 5 Star Hotels
Beach Road Kitchen at JW Marriott Hotel Singapore
Sunday brunch at Beach Road Kitchen features an Italian spread of pizzas, pastas and cheeses, and we love it. The floor-to- ceiling Charcuterie and Cheese display and Vertical Salad Bar is absolutely mesmerising and chock full of delicious fresh food. There's something for everyone from seafood antipasti to truffle pizza and local faves like seafood laksa broth, as well as rib eye roast and tomahawk steak fresh from the grill. The best part? There's a kid's room with a TV and a special activity area where the kids can be kept happy munching on ice cream sandwiches while decorating mini pizzas and cupcakes. It's unsupervised, however, so be prepared to pull up a chair.
Where: JW Marriott Hotel Singapore South Beach, 30 Beach Road, Singapore 189763; www.marriott.com
When: Sun, 12-3pm
Cost: Adults $108++, kids $44++.
Sunday Brunch at Barnacles by the Sea, Shangri-La's Rasa Sentosa Resort & Spa
Barnacles by the Sea at Shangri-La's Rasa Sentosa Resort & Spa opens exclusively on Sundays to deliver the ultimate kids' brunch experience. Set in a stunning waterfront location, the little people will be endlessly entertained by activities such as magic shows and balloon sculpting – with an occasional guest appearance from a real live bunny! While the booze isn't as free flowing as some other brunch locales, you'll be busy feasting on Alaskan king crabs and succulent roast meats. Top up an extra $20 for pool access and you'll be able to take a leisurely swim afterwards. (Psst, call ahead and you might even be able to squeeze the littles into the super cool toots club with treehouse slide, club activities and outdoor playground, all meals included!)
Where: Barnacles by the Sea, Shangri-La's Rasa Sentosa Resort & Spa, 101 Siloso Road, Sentosa, Singapore 098970; www.shangri-la.com/rasasentosa.
When: Sun 12 – 3pm
Cost: Food only $118++; one kid under 11 free with every paying adult, $48++ for each additional child.
La Brasserie at The Fullerton Bay Hotel
La Brasserie has it all… the holy trinity of brunches – free flow, kids' room, and, most importantly, it's supervised. That's right, you can actually take your time savouring those lovely freshly-shucked oysters and bouillabaisse while somebody else keeps a close eye on your children. The kids definitely do not miss out with their kid-friendly fare of mini-burgers, fries and nuggets while watching movies and doing crafts. Plus, they're occupied the moment they walk in the door with a free puzzle, while you get all the French pastries you could dream of. Scoop up some crepes and macarons while you create your ultimate Bloody Mary, and you're basically in brunch heaven. Also check out Town's Sunday Champagne Brunch at nearby The Fullerton Hotel for a more local flavour instead (yup, they have a supervised kids' room too – is there anything this place can't do?)
Where: La Brasserie, The Fullerton Bay Hotel Singapore, 80 Collyer Quay Singapore 049326; www.fullertonhotels.com
When: Sat, Sun 12 – 3pm.
Cost: Ruinart 'Blanc de Blanc Champagne $168++, Veuve Clicquot $138++, soft drinks $98++; kids 6 –11 yrs $34++ (Sat), $44++ (Sun)
The Kitchen Table at The W Singapore
For lovers of relaxed tropical style and funky tunes, the W Singapore Remix Sunday brunch will hit the spot. Snap up a spot in the strikingly designed yet casual dining room, or in the exotic outdoors. The Kitchen Table restaurant boasts themed stations such as the Seafood Fridge, Carving and Grill and Ready to Wok & Roll. And this will have the kids rubbing their little hands together in delight: there's a FAIRY FLOSS MACHINE along with the chance to decorate their own muffins and pizza. While there's not a lot else to entertain kids except kid-centric food, you get complimentary access to the WET pool and take a dip post-feast as the DJ beats kick in. Detox. Retox. Repeat.
Where: The Kitchen Table, The W Sentosa Cove, 21 Ocean Way, Singapore 098374; www.wsingaporesentosacove.com
When: Sun 12:30 – 3pm; free flow ends at 2:30pm.
Cost: Bubbly Remix – Taittinger champagne, wine and cocktails $168++, Cocktail Remix – wine and cocktails $148++, Cool Remix – fizz only $128++; kids 7-11 $68++, kids 4-6 $48++.
The Knolls at Capella
A breathtaking brunch spot is the Knolls at Capella, with its stunning Sentosa location and its first-class nosh. It's a veritable feast of Mediterranean inspired delights, much of which are created "a la minute" by a crew of uber-talented chefs. Worth a special mention is the seafood spread, in particular the super-fresh sushi and sashimi. The kids will marvel as the chef whips up crepes before their very eyes, and the gelato selection is a welcome healthier option than the usual ice cream offering. For the parents, it's a nice touch that staff serve the well-stocked international cheese board direct to your table (no need to lift a finger except to call for a Champagne top-up). With all that energy you've saved, you might just manage a boogie to the live band.
Where: The Knolls at Capella, 1 The Knolls at Sentosa, Singapore 098297; www.capellahotels.com
When: Sun 12:30 – 3pm
Cost: Vintage Billecart Salmon Champagne, wine, beer and cocktails $258++, wine, beer and cocktails $178++, all alcohol except champagne $148++, soft drinks only $128++; kids 7-12 yrs $78++, kids 4-6 yrs $48++, kids under 4 free.
The Edge at Pan Pacific Singapore
The Pan Pacific Singapore lives up to its 'theatrical Sunday Champagne brunch' catch phrase. Hmmm, things could get messy with our bubbly of choice, Veuve Clicquot, on tap. Lucky there is plenty of scrumptious sustenance to line your stomach. Think prepped-to-order Peking Duck and a decadent caviar bar. The best part is that you hand over your table number when ordering and the waiters deliver piping hot deliciousness direct to your table. The local offerings such as spicy laksa and Indian curries are up there with the best we've tasted. Music to our ears – there's a dedicated kids corner. Plonk them there for some kid-tertainment and a DVD or two (save up their TV quota for the week to stave off any guilt).
Where: The Edge, Pan Pacific Singapore, Level 3, 7 Raffles Boulevard, Marina Square Singapore 039595; www.panpacific.com.
When: Sun 12 – 4pm
Cost: Veuve Clicquot Rosé Champagne, house wines, beers and cocktails 208++, all of the above with Veuve Clicquot Brut Yellow Label Champagne 188++, juices, soft drinks, coffee and tea, $128++; kids 6-11 yrs $64++, kids under 6 free.
Mezza9 at the Grand Hyatt
Mezza9 at the Grand Hyatt embodies nine distinct dining experiences to titillate your taste buds under one roof. The quality and variety of the buffet is second to none. With a food mantra 'thoughtfully sourced, carefully served', you can indulge in fresh sustainable seafood (love those freshly-shucked oysters) and premium free-range and grass-fed meats with a clear conscience. Don't go past innovative specialty items such as the nitrogen gin fizz made a la minute and the seriously moreish roasted pig. It's culinary theatre at it's very best. Oh and did we mention the kiddos get pencils and colouring-in sheets to keep them occupied while you make multiple trips to the oyster bar? Love this place! If it's still a little out of your price range, check out Pete's Place for a cheaper (but no less delicious) all-you-can-eat Italian option.
Where: The Grand Hyatt, Mezza9 restaurant, 10 Scotts Road, Singapore 228211; www.singapore.grand.hyattrestaurants.com
When: Sun 12 – 3pm
Cost: Perrier-Jouët Grand Brut champagne, wines, beers, mojitos, bloody marys $148++, juices, soft drinks, coffee/tea $118++, kids 3-12 yrs $59++, Kids under 3 free.
Café Swiss at Swissotel
Craving some European fare? Rock up to brunch at Café Swiss in your Sunday best and be treated to a complimentary cocktail in the spirit of Swiss hospitality. You'll get to tuck into cold cuts, smoked fish, homemade duck rillette and poached Greenland shrimp under the natural skylight and indulge in a swiss cheese fondue that the kids will keep coming back to. There's even a live station for you to get your fill of home-made sausages grilled to juicy perfection. If you're hankering after Italian instead, Prego serves up a Seasonal Sunday Brunch with free flow Moet and Chandon Imperial Champagne or Prosecco with a live pasta and risotto bar.
Where: Café Swiss, 2 Stamford Road, Swissôtel The Stamford, Level 2, Singapore 178882; www.swissotel.com
When: Sun 12:30 – 3:30pm
Cost: Free-flow sparkling and house wines $118++, free flow beer $113++, $88++, kids 6-12yr $44++
Melt Café at the Mandarin Oriental
The Mandarin Oriental has the champas brunch scene all wrapped up – check out our Saturday Brunch article, where we waxed lyrical about the La Dolce Vita soiree. The Sunday offering at Melt is every bit as delish (and wallet-friendly) as the La Dolce Vita version, but it offers a more relaxed alfresco vibe which is eminently better suited to families. To top it off, kids even get their own specially prepared brunch corner at Little Fan Land where they'll get to colour, watch videos and paint in between trips to the mini-buffet. Almost sounds better than the roasted wagyu cuts and outdoor BBQ zone where you can watch on in amazement at the barbie masters flame-grill your meat and seafood. Yummo.
Where: Melt Café, Mandarin Oriental, 5 Raffles Avenue, Singapore 039797; www.mandarinoriental.com
When: Sun 12 – 3pm
Cost: "R" de Ruinart Champagne, wines, beer, cocktails, juices and soft drinks $178++, Ruinart Blanc de Blanc Champagne, wines, beer, cocktails, chilled juices and soft drinks $128++, juices and soft drinks only $118++. Kids 10-12yrs 78++, kids 7-9yrs 48++.
The Line at Shangri-La Orchard
The Shangri-la on Orchard has a classic ol' world feel, and the Line restaurant has had a light, bright refurb. As the sommeliers fill your flutes, tuck in to some seriously good a la carte eggs and traditional breakfast nosh. This brunch spread is right on the mark when it comes to quality and variety of produce. There's not a taste that can't be satisfied. The venue is good for older children that can be trusted to wander the grounds on their own. When brunch wraps up, you'll probably find them chilling in the orchid garden which houses over 32 hybrids of orchids and a changing seasonal collection.
Where: The Line at Shangri-La hotel Orchard, 22 Orange Grove Rd, Singapore 258350, Lower Lobby, Tower Wing; www.shangri-la.com
When: Sun 12 – 3pm.
Cost: Champagne, wines, and draft beer, $178++, just soft drinks $118++; kids 6 – 11yr $59++.
Colony at Ritz-Carlton
You will be floored the moment you waltz in to the Ritz-Carlton Vintage Champagne Brunch. The setting in the Colony is a grand affair, and the hits just keep on coming, with the welcome addition of local iconic dishes such as chilli and pepper crab. Just to whet your appetite, current menu highlights include freshly shucked oysters, king crab legs, wagyu beef wellington with truffle sauce, herb grilled 'live' lobster, and Colony laksa with homemade lobster ball (keep an eye out for new menu items). The cheese board is arguably the best in Singapore with over 50 French farmhouse cheeses. Even with a dedicated kids' selection, you'll have to peel the kids away from the live conservatory kitchens where they'll be enthralled by chefs preparing food right in front of their eyes.
Where: Colony, the Ritz Carlton Millenia Singapore, 7 Raffles Avenue, Singapore 039799, www.ritzcarlton.com
When: Sun 12 – 3:30pm
Cost: Moët & Chandon Grand Vintage Blanc 2009, Moët & Chandon Grand Vintage Rosé 2009, wines and beer $192++, soft drinks and fruit flavoured sparkling mineral water $142++; kids 6 – 12 yrs $96++, kids 3 – 5 yrs $48++.
Kwee Zeen at Sofitel
Sofitel's rolling out the Buffet d'art Français Sunday Brunch with an endless stream of French cuisine, foie gras and Taittinger at Kwee Zeen. There's over 20 ateliers for you to buzz to and from until your plates are piled high with Garde Manger, La Pecherie with caviar and roasts from the French carver station. Finish off brunch with some irresistible sweet and savoury French pastries – magnifique! Fancy Italian instead? Check out Il Lido's Saturday Prosecco Brunch for some hearty homemade Italian staples. And yes, complimentary pool access is inclusive with all brunches – perfect for cooling down when the food and drinks are done with.
Where: Sofitel, 2 Bukit Manis Road Sentosa, Singapore 099891; www.sofitel-singapore-sentosa.com
When: Sun 12:30 – 3:30pm
Cost: Taittinger Champagne, wines, soft drinks and juices $175++, soft drinks and juices only $145++; kids 5 – 11 yrs soft drinks and juices $65++.
Restaurants for a smaller-scale approach
Mitzo Restaurant & Bar
If you like to enjoy dim sum with your fancy pants on, the weekend brunch at Mitzo is the place for you. The food here is creative yet authentic, and downright delicious. Mitzo is famous for its char siew, and we can see why – cooked in a divine caramelised sugar so it almost resembles a crispy toffee, it's sweet, tender, and oh-so more-ish. The char siew pau is a sight to behold in its gorgeous gold-flecked, black-bunned pillowy form, and the escargot cheese puff is just good, cheesy fun. Accompanied by excellent cocktails or free flow Veuve Clicquot, this is one darn fine way to spend a weekend meal. But where do the kids go? Right next to you, of course, in the spacious kids' play room! The room has easy access from the main dining room so you can keep one eye on your pau and one on your little peeps.
Where: Mitzo, Level 4, Grand Park Orchard, 270 Orchard Road, Singapore 238857; www.mitzo.sg
When: Sat, Sun, and p/h 11:30am – 2:30pm.
Cost: Artisanal cocktails, champagne, wines, and beers $128++, no booze $68++; kids 6-12 yrs 50% off and kids under six free.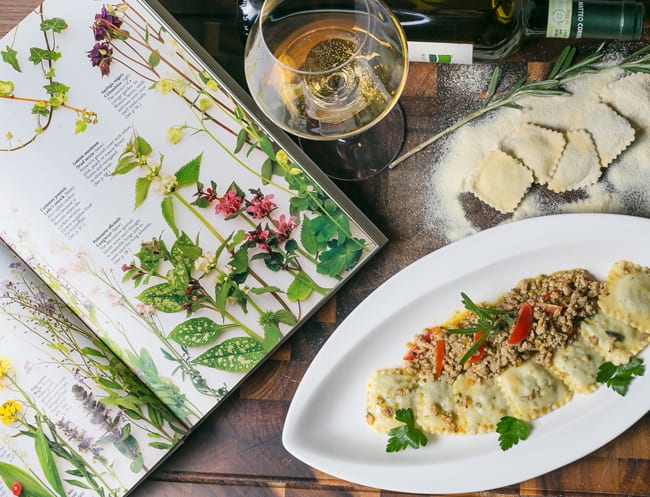 La Barca Ristorante
La Barca is the sort of place you can enjoy authentic, organic Italian cuisine AND have your kids happily entertained for hours! This joint ticks all the boxes making it not only a kiddie haven, but also a parent's happy place. Think bouncy castle, trampoline, playroom filled with toys, and educational cartoons on the TV. And, the best bit? On weekends they really up-the-ante with a water slide (and complimentary towels to dry off tiny diners!). Get. Us. There. Now.
Where: La Barca Ristorante, 90 Goodman Road, #01-21 Block C, Goodman Arts Centre, Singapore 439053; www.facebook.com/labarcasg
When: Sat-Sun 11am – 9.30pm
Cost: Free flow prosecco and food for three hours $45++.
Botanico at The Garage
Embedded in the gorgeous greenery of the Botanic Gardens, Botanico is a chic restaurant serving up 'gifts of soil, land and sea'. Start your morning with delicately smoked organic egg and choose from seasonally selected mains. Of course, the kids won't be left out of this botanical brunch, they've got their own mini four-course meal with kid-friendly cutlery and colouring sheets so they can fine-dine alongside mum and dad. While the kids are occupied by juice, pasta, pastries, and best of all, smiley fries, you can enjoy a sip of Botanico's famous Thyme Lemonade in peace. You'll have a much easier time leading those satisfied bellies over to the Jacob Ballas Children's Garden. (Quick note, this isn't an all-you-can-eat affair but it's so lovely we wanted to give it a shout – check out our full review here!)
Where: Botanico at the Garage, 50 Cluny Park Road, Singapore Botanic Gardens (Bukit Timah Gate), Singapore 257488; www.thegarage.sg/botanico
When: Sun 11:30am to 2.30pm
Cost: Five-course set menu only $72++; kids $18++ 
Al Forno
Italians believe that the kitchen is the heart of the home, and at traditional Italian resto Al Forno, you'll have the chance to experience authentic, honest soul food for yourself. The buffet nosh at this family-run bistro is so rustic and fresh that parents-in-the-know flock here with the kiddos on Sundays (the kids can get stuck into it too). The menu changes every week (check Al Forno's Facebook page for the latest brunch menu) but always has a top quality range of cheeses, cold meats, grilled veggies, pizzas, pastas and seafood. The desserts alone have us going back at least once a month (homemade tiramisu anyone?). And from just $40++, it's one brunch that will fill tummies without emptying your wallet. Book ahead!
Where: Al Forno, 400 East Coast Road, Singapore 428996; www.alfornoeastcoast.com.sg
When: Sun 12 – 3pm
Cost: Free flow of prosecco, wine and beer $70++, free flow soft drinks $40++, kids 6 – 12 yrs $30++, kids 3 – 6 yrs $15++.
Like this story? Here's more we think you'll enjoy!
Kid-friendly restaurants where children eat for free!
Pizza date with the kids!
10 places we love eating with the kids on Orchard Road
Best kid-friendly restaurants on the river

Don't forget to subscribe to our weekly newsletter for the latest updates on all things family-friendly and follow us for sneak peeks and fun moments on HoneyKids Instagram!