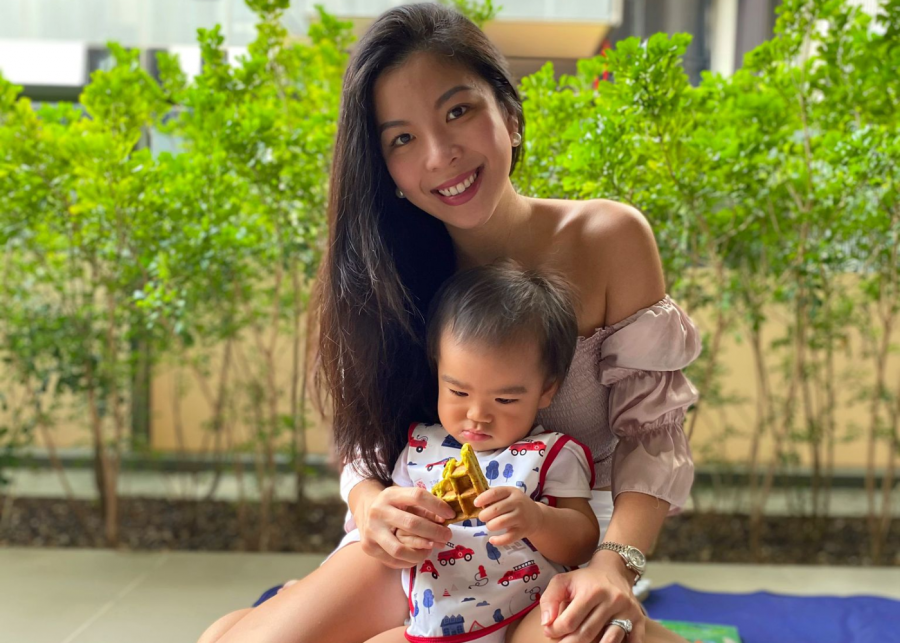 It should always be ok to ask for help. But when it comes to motherhood, why do we find it difficult to ask, or worse, feel judged for doing so? Zephyr Eng, mum-of-one and runner up of MasterChef Singapore, tells us why there's no shame in accepting help.
When my daughter Lily was about four months old, I had been juggling working full-time both from the radio studio and at home for about two months, alongside caring for two big dogs and doing all the household chores. Sure, my husband helped – I'll give him credit for that – but I was still losing my mind. We were lucky that my parent's ex-helper, Aisel, still had a valid work permit and all we had to do was transfer her employment over to us.
It was a dream come true having Aisel help out – but I refused to let her help with Lily. When I was working from home, I'd reply to emails and take meetings with Lily nestled in my lap. Not the safest option, maybe, but better than handing her off to the helper and 'neglecting' her. I'd type with one hand and have baby food all over my laptop because I insisted on feeding her. After coming back from the studio tired, I'd impatiently shove food down her throat and bathe her and count down the seconds till I could put her to sleep. My husband finally said, "What's the point of having a helper when you insist on doing everything yourself, and you're still as tired?" What did he know? He wasn't a mum.
How connecting with like-minded mothers changed my perspective…
Zephyr was a classmate of mine who fell pregnant around the same time as me, so a mutual friend suggested a meet-up. Meeting Zephyr changed my mindset about everything! When we met, Zephyr had recently reached the semi-finals in MasterChef Singapore. Impressive as that is in its own right, what makes it monumental was that she did it while breastfeeding a nine month-old. Not only that, she was also a full-time real estate agent. Being a first-time mother in a high pressure TV competition while having a full-time job just wasn't challenging enough; she also co-owned a Peranakan restaurant, Ruma Bebe. What I found refreshing about Zephyr was that, unlike many other Instagram mums, she never hid the fact that she has help. Good help – that she unabashedly makes full use of.
Here's Zephyr's take on new-mum life, and why mums should never be afraid to ask for help…
INTERVIEW WITH ZEPHYR ENG – FIRST-TIME MUM AND MASTERCHEF SINGAPORE FINALIST
First up, tell us what your experience was like on MasterChef as a new mother?
James was nine months old at the time of the shoot. One of the biggest challenges I faced during the MasterChef competition was figuring out breastfeeding and everything about baby, along with the actual cooking challenges! The producers were so kind to provide me with a private space to pump; however, due to the tight filming schedule, I suffered from engorgement frequently. This resulted in an intense whirl of emotions – full of anxiety, panic attacks, crying easily, and no one on set could understand how I felt because I kept all of this to myself. Filming was a whole day affair; I could hardly spend any time with my son. It was immensely difficult on my mental well-being, but I wanted to prove that I could pursue my dreams and be the best mother to my child whenever I was with him.
How did you deal with the juggle?
It will never be easy as a mother to juggle multiple things. Being a mother alone is tough at times. It was challenging having to manage the demands of a full-time job, being a first-time mother, and focusing on the competition. Quite often, I felt very guilty leaving James behind. I'd long to see him as soon as I was done with the competition regardless of how exhausted I felt. Yet, I'm still pretty amazed at how I seized every chance! It took every ounce of energy to pursue my passion and goals, and I certainly could not have done this without my supportive husband and family. Having come so far in the competition also affirmed my belief that we are stronger and braver than we think we really are. I hope, looking back, my son will be proud of me too.
Like many of us growing up, both your parents worked – what was your relationship with your helper like?
She was a mother figure to my sisters and me. She was there for me all the time – before and after school, present at all my meals, bathed me and fed me. I remember enjoying activities with her like hide-and-seek, colouring, dancing and cooking! We had a very close bond.
Does your current helper have the same relationship with your son?
My helper is like a second mother to James. She sleeps with James, feeds him, bathes him, organises play dates with the other helpers and kids in my condo, reads, sings, dances and even teaches him the ABCs! I am very grateful and fortunate to have a helper like her! Despite their tight bond, James still chooses to be with me over my helper whenever I'm home, and this validates my strong belief in quality time over quantity.
That is so true; it should be quality over quantity. Did you ever struggle with 'Mum guilt' though?
'Mum guilt' is normal, and it's perfectly fine to feel this way. I realised the importance of surrounding myself with supportive people (and shaking off the negative ones, i.e, those who judge and think motherhood is a competition). I have friends who comment that I'm not a hands-on mum and shouldn't be so career-minded. But what do they know? I thrive on personal successes and achievements, and I know that I need to fulfil that aspect to be a good mum to James. The last thing you want is to be in a toxic and negative environment. I feel happiest when I know I've accomplished what I have set out for myself, and there are sacrifices to be made to get there.
If I don't take care of my mental well-being, who will? We can be amazing mothers and still follow our dreams. Don't be afraid to be judged. Set our goals right and chase them. We deserve it, and at the end of the day, our happiness is our best reward!
Zephyr's advice? Be the mother you want to be!
Listening to Zephyr speak with such confidence and conviction made it crystal clear she's a woman that not only knows what she wants and goes for it, but has the love and support to do so. Arguably not everyone might have the same amount of support in their lives, but I feel the lesson here is to be the mother you want to be!
We as women have infinite capabilities; the only person standing in the way of achieving them, most if the time, is ourselves. After my lunch with Zephyr, my whole perspective changed. There is still a hint of guilt as I sit at the dining table writing this article while my helper tends to Lily in her playpen; their laughter together stirs up a little envy. But at the end of it all, being fortunate to have been given a shot at writing is worth so much to me. I took long enough doubting myself and making excuses; in a way, having Lily gave me the push to just get on and try something new. A child learns best from a parent who walks the walk too, don't they?
Mums – you've got this!