Kids, keep the handmade gifts coming. Dads, listen up because there's one very simple thing you can give us that doesn't cost a thing…
Motherhood is a rollercoaster. You know the story: even all of the sleep deprivation, crazy pregnancy stories, crazier birth stories, toddler tantrums, childhood ups and downs and teenage angst still make this the best job in the world. When we're not suffering from mother's guilt for going back to work, trying to become Singapore's next top mumpreneur, or schlepping the kids around the island to take them to the best playgroups, dance lessons for toddlers or indoor play centres, there's one day of the year when our kids and partners get a nudge to give us a bit of extra love and perhaps some pressies – let's run with it, women! But, how about this year we tell our families what would REALLY thrill us to bits? The HoneyKids mums got together to chat about what's top of our wish list for Mother' Day this year, and it's not about the presents! Psst, if it's a pamper sesh you're after (and you know you are), head on over to Mums' Night Out organised by our sister site, Honeycombers for a night of canapés, free flow champagne and pure bliss. You deserve it, mums!
Mums, leave this story open for some major hint-dropping if you agree!
Chris, mum to Evie, Louis and Darcy 

"I want so many things… a quiet house on a Sunday (well at least for the first two hours), an annual package with Sole Service (yes that's massages for me and the hubby every month for a year), a trip to Positano, Italy – is that too much to ask? What's the best mother's gift I've been given so far? A handmade card and a sleep-in, followed by brunch with friends at the Shangri-La Sentosa – that was a pretty good Mother's Day!"
Georgina, mum to Minnie, Willa, Ted and Gilby
"I really want a kid-free boozy Sunday brunch with my girlfriends. No, seriously, a sleep-in, latte in bed and snuggles with all four cheeky monkeys. A smoked salmon and cream cheese bagel wouldn't go astray either. Failing this, revert to Sunday brunch option. One year, my daughters' school organised a Mother's Day market where the kids brought $5 and could choose from an array of gifts hand-selected by like-minded mums. I was manning one of the stalls so had to avert my eyes when Minnie 'bought' her present. She was so proud giving it to me, and it was a sweet little picture frame and candle holder. She wheels out the candle proudly for family dinner, asking me to light it up."
Lindene, mum to Edie and Frankie
"I want a whole day to myself to read books and maybe soak up some sun. And a massage. And a glass or three of champagne. Kind of sounds like I want to go on a holiday…?"
Ania, mum to Lucia and Oliver
"My favourite mother's day gift was a card made by my little boy, and a framed series of photos of the family. Such a simple thing and I just loved it. Usually I'm the one poring over photos to make into albums for others, so it was super nice to get such a surprise. Also, being presented with it alongside breakfast in bed was a sure-fire win. What would I love this year? A bit of a sleep in. Breakfast in bed (just toast or anything I didn't make myself is great) and a hot cup of tea or coffee. Brunch with the family, all the kids to be in a super good mood and no squabbling allowed – even if you didn't get the blue bowl or cup or spoon… Then some time to go out for some window (or real) shopping on my own OR a coffee date with some girlfriends.  The luxury would be that I get to look for something for me!"
Kate, mum to Harrison and Vivienne
"The best Mother's Day gift I've gotten has probably been flowers! Right now I want a spa day and a sleep-in!"
Angela, mum to Marcel and Xavier
"So while I often dream about life when I could go to the toilet in peace, eat when and what I wanted, and sleep (I miss sleep!), I do actually really like my kids in addition to loving them. So my perfect Mother's Day would be spent with them. So I would like: brekkie with my two adorable kiddos and hubby, probably at 40Hands or Jimmy Monkey. I would love for them to send me off for some pampering somewhere special, then we'd all jump in the pool at home for an hour or so, and have an early dinner at Camp Kilo – chilled spot by the Kallang river, bbq food, cold beer and the kids can run around. Successfully worn out following pool and dinner outing, the kids would be tucked up in bed by 7pm, and I would be sitting on our verandah sipping a glass of Veuve with my husband."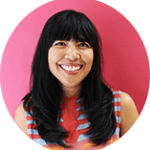 Selina, mum to Maxton and Grayson 
"It's such a cliché, but what I want is more SLEEP. And a day dedicated to reading for fun: a real-life book would be lovely. Maybe a pair of noise-cancellation headphones too so I can't hear my little monsters trying to break into the room to jump on the bed, or my husband calling for help! The best gift I've ever been given? A card with instructions to spend the day at Liberty's of London for my first post-baby day out solo. Yipeeeeee!"
Tracy, mum to Jack, Angelica and Rafferty
"The best gifts are the ones that kids have made for me themselves. One of the most memorable was when my youngest, at age two, coloured in a poem his nursery printed for him and taught him to recite the words to me. It made me cry. I also have a set of much-treasured but ridiculously ugly towels (decorated with ribbon swans) that my eldest bought for me when he was five years old with his own money, and a very life-like stuffed cat that my middle child saved hard for because she knows I like cats (and daddy won't let us have one). What would I love this year? A lie-in and a day where the kids actually get on without the need for a referee (me) and several band aids."
Ilona, mum to Zygi
"I would love an album full of photos of my family and my son! I have over 2,000 photos of my little boy, and have not printed a single photo because I simply can't cull them down – I love them all! I'd also like my baby to go to bed early so I can look through my album whilst gorging on PS Cafe burgers with fries from Deliveroo and drink French Champagne on our beautiful balcony. No make-up, no dressing up, I just want to relax with my husband – something I don't do enough of as a new mum."
Jana, mum to Alonso and Luis
"All I want for Mother's Day is to have my husband cook me a meal (he never cooks) and get cuddles from my boys for dessert. My best memory of Mother's Day is my toddler handing me a huge bouquet of flowers (bigger than him)… I was feeling really down at the time (overwhelmed with two kids and breastfeeding and running on no sleep) and it was a nice surprise."
Dawn, mum to Gemma and Tessa
"Morning pilates class followed by brunch, with kids. After all, family's the reason why you're celebrating.No fuss, just a really nice peaceful day. That's been every Mother's day so far and it's just right."
Illustration: Nathania Tirtaputra
Like this story? Here's more we think you'll enjoy:
10 things to do on Mother's Day
DIY gifts for Mother's Day
The juggle is real: can mothers really have it all?
Bring back a little peace into your life with these mum-time moments
Don't forget to subscribe to our weekly newsletter and follow us for fun moments on HoneyKids Instagram!