Love the arts and the theatre? We spoke to several international schools to find out why a performing arts education is advantageous for your child, and how you can get them involved.
Whether it's in the form of movies and TV shows, or through performances in the theatre, our kids are so easily influenced by what they view in the media nowadays. But that isn't necessarily bad, especially if it spurs them to pursue the arts academically in school. Being involved in performing arts can take many forms – it can be on stage in front of an audience, or by learning the ropes and inner workings of a production backstage. So, if you're curious to find out more about the benefits of a performing arts education, we spoke to several international schools to get some insights and how and when you can get your kids involved. Read on below!
BENEFITS OF A PERFORMING ARTS EDUCATION
#1: It stimulates the imagination
Traditionally, conventional subjects in the sciences and maths are typically preferred compared to a performing arts education. But times have changed, and there are plenty of advantages and learning opportunities from an education in the arts. One such benefit? It stimulates the imagination, shares Mandi Manson, a drama teacher at GEMS World Academy (Singapore).
Not only that, Mandi says that a performing arts education also challenges perceptions and helps students to develop their creative skills, find their own voice, build confidence, learn effective ways of communications and transform ideas into action.
And, Phillip Miscovich, Head of Arts for Grade Six to 12 at ISS International School concurs, too. Not only do the arts sustain our minds, just as sport sustains the body, but it's also important when the kids progress to higher learning at a tertiary stage, too. In fact, most universities recognise the need for sustained arts study from an early age through to high school. Not only does it help students develop flexible and creative minds that can adapt and innovate, but they form a foundation of crucial skills in a constantly changing economy and world.
All positive reasons as to why a performing arts education is so important!
#2: It encourages collaboration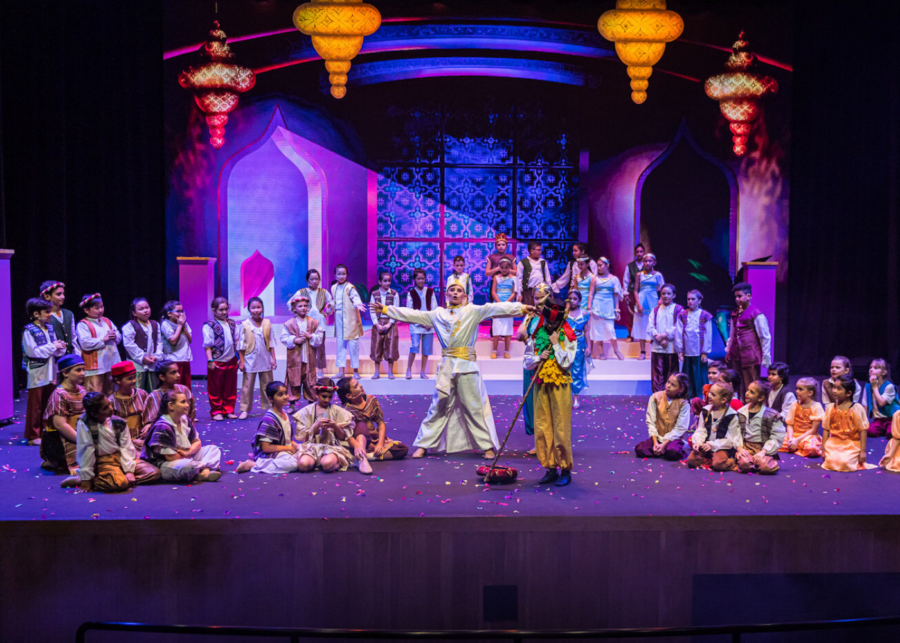 Teamwork makes the dreamwork. And this could not be more important in the performing arts. Whether it's a play, musical or dance performance, every production takes a team to work together to put up a great show. Which makes the performing arts a great avenue for students to bring their unique talents and perspectives together!
For example, GEMS (Singapore)'s performing arts program help students engage their mind, body and emotions into a collaborative expression. Plus, the program is led by its talented and creative faculty of experienced teachers who encourage students to express their own artistic vision. In turn, this teaches students the foundational skills of the arts. Not only that, but students gain a richer understanding of themselves, their community and the world around them.
Jules Nicholson, Head of Drama and Performance at Stamford American International School agrees! Not only do the arts encourage teamwork as everyone involved in a production – whether they are the leading actor, a member of the ensemble, a musician or a member of the stage crew – everyone strives towards a mutual goal of creating an outstanding performance.
#3: It helps students develop a strong sense of discipline
Nothing comes easy, especially in the performing arts. It takes dedication and a ton of hard work to hone your craft and skill for young performers to reach their full artistic potential as actors, musicians or dancers.
And of course, schools have different education programs. For example, students at GEMS (Singapore) are provided with multiple opportunities to exhibit and implement their collaboration and performance techniques within small and large group settings. Plus, a chance to showcase their learning and perform during class assemblies, open mic sessions and talent shows. Don't forget the myriad of clubs, musicals and stage productions, too!
Similarly, Stamford ensures its students have an opportunity to perform from kindergarten through to high school. Think: regular music concerts throughout the year, eight theatre productions including four musicals and four plays every year. Not forgetting its co-curricular dance classes and music ensemble program for budding musicians. And starting in 2021, Stamford will be introducing its LAMDA acting classes for young actors to develop their performance skills, too.
ISS International School, on the other hand, offers courses as part of its International Baccalaureate program. And its many extracurricular arts offerings allow students to achieve individual and creative artistic growth and confidence. This includes interdisciplinary units of study that allow students to recognise and explore the relationships between the arts and literature, history, science and mathematics.
HOW TO GET THE KIDS INVOLVED
Want to let the kids embrace a performing arts education fully? Here are some ways to get involved:
Share your love for the arts
This is possibly the easiest way to get the kids involved (it's what made us love the arts, too!). How? Mandi suggests sharing your love for the arts by taking the kids to the theatre or a concert. Or, you could watch a recording of your favourite performance or a movie. You could also talk about actors and performers who inspire you.
Encourage your child and show your support
One other way is to get the kids involved is to encourage them and show support in their performances in school at home. For example, Mandi suggests considering enrolling bubs in performing arts extracurricular activities or summer camps focused on drama, dance and singing.
Jules echoes the same thoughts. After all, it does take a lot of courage to stand up in front of an audience. And so every time your child makes the bold step of performing, they need to be praised and encouraged so they feel positive about performing again when the opportunity arises. As the saying goes: a little encouragement goes a long way. We couldn't agree more!
And Phillip agrees, too. He suggests that by encouraging and supporting your children, parents can create a special bond that transcends school or work and endures throughout life. And guess what? Supporting artistic study increases your child's ability to think more creatively and analytically in other subjects, from science to business to even mathematics. How good is that!
Top image: GEMS World Academy (Singapore)