Done with going into the unknown and being there on the double? It's time to check out Studio Ghibli's films with the kids!
In a time where hyper-realistic CGI rules the animation scene, where bossy pink pigs and overly-eager masked bedtime breakers reign supreme, introducing our kids to Studio Ghibli films might just be the culture trip they need to be whisked away on. Oh, and thanks to the folks at Netflix, you'll have 21 movies from the Academy Award-winning art house to binge on with the kids this weekend. This way you'll get to scratch that Japanese animation itch – and get your kids to start appreciating the beautiful hand-drawn animation and profound storytelling Studio Ghibli masterpieces are known for.
Why we love Studio Ghibli films
Apart from the beautiful art and unforgettable characters, Studio Ghibli films invite constant reflection on the relationships between people and their environment. They evoke serious, timeless themes that even adults can relate to – love for nature, family, relationships, culture – probably the reason why adults and kids can't get enough of the films. Unlike your typical cartoon where characters are classified as 'good' and 'bad', Ghibli characters are nuanced. Protagonists are flawed and villains only became who they are because of a necessary evil.
So how do we get started?
Unlike the typical cartoons of today, Studio Ghibli's films are much slower paced. There's no flash, deliberate comedic antics or toilet humour. The rich backdrops in Ghibli movies are used to establish mood and set the scene; the films are usually peaceful, even during times of chaos. Younger children may not understand some of the elements in some Studio Ghibli films and may even find them scary. And although they are all kid-friendly, you know your kids best: are they into cute, furry creatures? Can they deal with parents being turned into pigs? Are they OK with war? You're the best judge of what they'd like to watch and sit through. If you're a Studio Ghibli fan, you can look back at which movie you started with (we grew up watching My Neighbour Totoro) and start from there. We've watched some Studio Ghibli films with our own kiddos recently and here's what worked: 
Ages 4+
Ponyo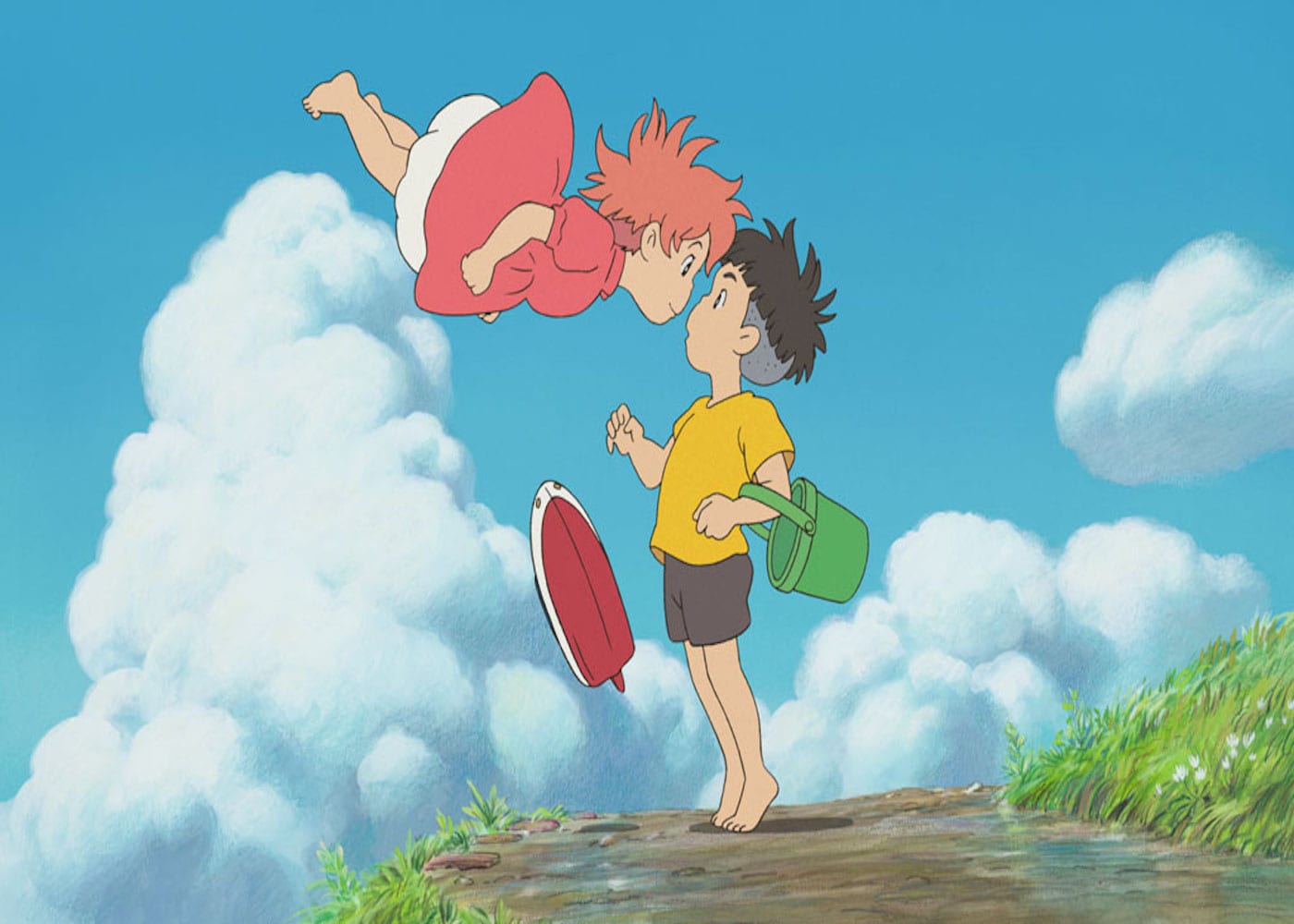 When little Sōsuke finds an unusual goldfish, he's happy to have made a new friend, who he names Ponyo. What he doesn't know is that she's actually a shape-shifting fish-daughter of a wizard. After falling in love with Sōsuke, Ponyo uses her father's magic to transform herself into a young girl. Unfortunately, this causes a tsunami and creates a dangerous imbalance in the world. Together, Ponyo and Sōsuke work to save the world and face the odds. Be prepared for your kid to ask you for a pet goldfish…
My Neighbour Totoro
If we had to pick one Studio Ghibli movie to start out with, it would be My Neighbour Totoro. It paints an idyllic life in the Japanese countryside, with huge forests to explore and cute, fluffy spirits to play with. Our young ones loved Totoro himself, the smaller (and equally fuzzy) forest spirits and the uber-cool catbus. Get ready to sing "Totoro, to-to-ro.." all day long! 
Ages 6+
Kiki's Delivery Service
Witch-in-training Kiki leaves home to pursue her witch studies on her broom, under the full moon. To accompany her, she has Jiji, her snarky black cat. She ends up in a busy town and uses her broom to offer her magical services to the townsfolk. Of course, things don't go to plan but Kiki learns from her mistakes and gets back up again – a lesson we all want to teach our children. 
The Secret World of Arrietty
Arrietty and her family are Borrowers. They live underneath the floorboards of a house, only leaving when they need something. When Arrietty goes on her first "borrowing", she gets spotted by Shawn, a sick boy who has come to stay at the house. Arrietty and Shawn become friends and he helps the family, but Hara the housekeeper has other plans…
Ages 10+
Spirited Away
On their way to their new home in the suburbs, Chihiro and her family end up in an abandoned amusement park. When her parents go through a mysterious and very surprising transformation, Chihiro must summon up her courage as she encounters strange spirits, demons and evil gods. It's up to Chihiro to be brave as she stands up to an evil sorceress to save her parents so they can all return to their world. 
Howl's Moving Castle
Sophie is a hard-working milliner, cursed by the Witch of the Waste and transformed into an old woman. Howl, a young wizard who lives in a walking castle has his own fire demon and a reputation with the ladies. And yes, despite all the crazy, the two see beyond what's on the outside and fall for all the flaws underneath. Let's say it all together: 1…2…3… awwwww.
Of course, there are many other Ghibli movies worth watching, but these are just some of our faves. And, if you can't get the kids to sit still long enough, there's no reason why you can't enjoy a little Studio Ghibli on your own. Enjoy!