There's so much advice out there when it comes to having a helper in Singapore, and not all of it is helpful. Here's one mum's take on the helper advice she's taking on board, and what she's ditching...
My mother has always been a primary school teacher, and at times this has meant bringing her work home – marking and prepping tests, as well as managing parent WhatsApp groups. Teachers are expected to be on call 24/7. My mother also decided to take up her degree while we were still in school. We had a helper, and my mum heavily depended on her.
My experience growing up with a helper in Singapore…
When I was born until I was about eight, my helper was Aunty Lisa. She was with me all day – took me to my swim lessons, then shuttled me to my ballet lessons. She'd peel fish for me, so I didn't encounter bones. Give me my medication if I was sick, and put me down for naps. When I got a little older, she would quiz me on my spelling and discipline me too. She was the mother when my real mother was out. While I do remember little smacks on the wrists and a few pinches – they mostly happened when I would sneak into the kitchen and steal some Ikan Bilis, or if I was being too fidgety on the bus and it was dangerous. She often would have to play referee to my sister and me, too
Fast forward to my experience as a mum with my helper and my daughter Lily…
Now with my own helper, Aisel, I catch her telling my daughter Lily, "Not everything you want you can have, cry if you must". Mainly at moments when Lily is acting out and being bratty. A friend of mine told me I shouldn't be allowing my helper to speak to my child that way. However, that would be more or less what I would have said to Lily as well. To me, consistency is important. I don't want a situation where I set boundaries and expect a level of behaviour from my child, but when not with me, she acts terribly. I've seen it in the playground when the poor helper is trying to restrain a rambunctious child and is met with, "you're not my mummy!" or "I'll tell my mummy you were mean to me!". The child has to respect the helper as much as a parent, in my opinion.
Unhelpful advice when it comes to your helper…
Although there's loads of advice out there when it comes to having a helper, you need to do what's right for you when it comes to your family situation. It really is each to their own, but here's my take on some of the most popular advice out there…
Helper advice #1: You shouldn't let your helper sleep with your child
This isn't for everyone, and it isn't for me, but I see how this works! I need Aisel to be her best in the day while I'm working, so I need her to have a great night's rest. My husband and I do all nighttime duties. Some parents need their rest to be their best at work, and as such, their helpers are also expected to take over when the child wakes up at night. This isn't uncommon in Singapore, with the space constraints in houses. Often helpers end up sharing rooms with the child they're taking care of.
As long as all parties are agreeable and comfortable with the arrangement, I don't see any harm with it. I do know a helper who was expected to share a room with the child she cared for, but the parents still wanted a baby monitor in the room, and therefore she lost her privacy. This just didn't work, and thankfully they removed the camera. Having a helper is all about trust, which can be tricky and can be easily violated for some. The best thing you can do is constantly check in to see that everyone's comfort level is matched.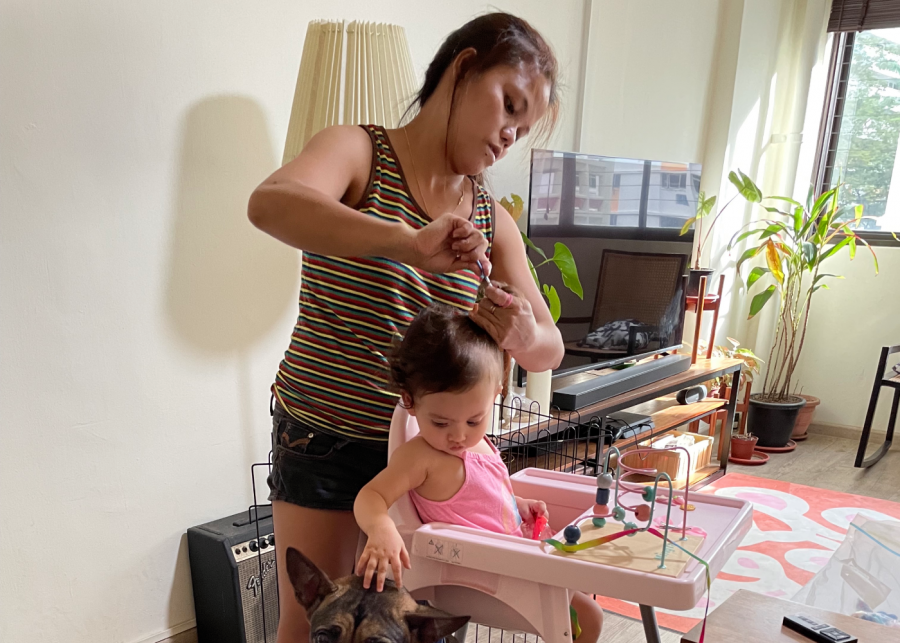 Helper advice #2: Don't allow your helper to be so affectionate with your baby; she'll get too attached
While I don't remember my helper ever giving me pet names, I am told by my mother that she was exceptionally proud of me. She always wanted to take me with her to the shops or send me places because she would often be complimented on how well behaved I was. My achievements were hers. Aisel is fiercely protective over Lily as well, and in the same way, beams whenever someone remarks how clever Lily is. She is also the quickest to add, "she's very smart too", whenever someone merely comments about Lily's appearance.
I was told by a family friend to correct Aisel because they overheard her referring to Lily as "baby girl". The reason given was that it would breed over-familiarity, and Aisel needed to know that she worked for Lily as much as she worked for us. Meaning to say, if we were to be addressed as Sir and M'am, Lily would have to be addressed properly by name as well. I had never heard of anything so bogus! Why wouldn't you want the caretaker of your child to be loving and affectionate with them?
Helpful advice when it comes to your helper…
Helper advice #3: Show trust and respect, it's just like any other relationship
There are plenty of horror stories I've heard of 'helpers from hell', as well as 'evil employers', and we can tend to overthink things and focus on either end of the spectrum. It truly isn't that complicated. It helps to remember that we are all just humans. Mistakes will happen, but showing trust and respect and not placing unrealistic expectations on helpers (as well as ourselves) is a start!
Helper advice #4: Treat helpers first and foremost as people!
Aisel, like my helper when I was a child, is family. We respect her as an individual, and we give her privacy and time off. If we're out and see something she might like, we don't hesitate to get it for her. In return, she too respects us and understands that we have our bad days. She doesn't take it to heart, thankfully.
Helper advice #5: Know that your helper has your child's best interests at heart
At the end of it all, whatever shortcomings she may have, one thing I can rest easy knowing is she loves my child as much as I do. Helpers do their best; even if it's not always in the way you would have done things, they do things in the best interest of the child. For me, I think that is all anyone can really ask for.
What's the best advice you've received on this topic? DM us and let us know! 
This article was originally published 30 December 2021.