Can we really 'have it all' and not be constantly fraught with worry and mum guilt? We asked some of our favourite mumpreneurs how they do it.
Mum guilt can be crippling. Worrying about your baby's welfare and feeling guilty about being apart from them can strike at any time – even if you're just popping to the shops or heading out to get some exercise. Although we know that some of this guilt is perhaps a little out of proportion when you're managing multiple children, a relationship, friendships, household admin, school runs, and a workload – it's easy to see why life can sometimes be overwhelming, and we can feel like we're constantly juggling (and dropping the ball).
If you're in the same boat as us (you're never alone!), there are ways to cope to help things get better. It can be as simple as a change of mindset, building your own self-confidence, or learning how to better organise and prioritise. We asked some of our brilliant Launchpad mumpreneurs if having it all is even possible – and their tips for achieving it!
Getting over Mum guilt: Can we really have it all? (and if so, how!)
1. Focus on connection – with your children, your partner, and yourself
Chantel Kismet is a trauma-informed doula and founder of Blooming Births. Her traumatic birth experience led her down her chosen career path to help protect couples' birth experiences through education and awareness.
"Despite wearing multiple hats and creating never-ending to-do lists, I do think it's possible to have it all and maintain sanity! For me, it's all about allocating your time and resources, being consistent with your practices and having compassion for yourself! Here's how I do it:
 Nourishing my body with healthy foods and supplements and hitting the gym four times a week to get my dopamine hit which keeps my energy levels up.
Getting chiropractic adjustments and massages once a week to calm my nervous system. I also block out one Friday a month to try something new to push beyond my comfort zone.
Ten minutes of mindful meditation every morning to set an intention for the day, ending each night with 10 minutes of meditation and light stretching.
Mama and daughter time – doing dinner and bedtime routines, having a special connection time once a week where she picks an activity.
Couple connection – 10-minute check-ins in the morning with the husband, catching up for at least 15 minutes at night and scheduling a hike or date night once a month.
Engaging a helper to support household matters and planning meals and snacks for the week over the weekends.
Having a go-to person for emotional support, business banter, marketing and working with a coach to keep me aligned with my goals."
Chantel Kismet, Founder and Trauma-informed Doula, Blooming Births
2. Learn from your experiences and take nothing for granted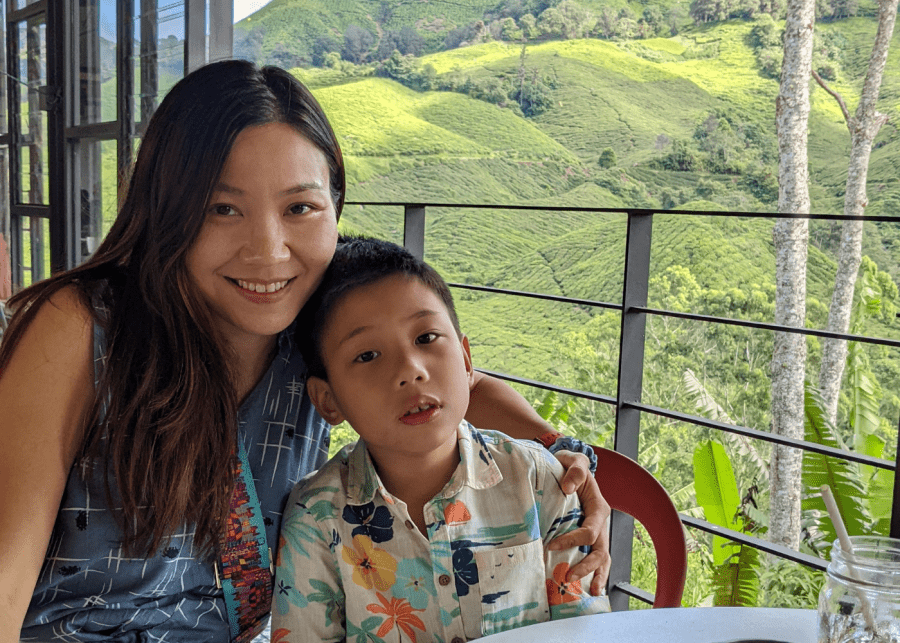 Clariss Lau is the Director of Miuvo, a massage chair company, who swiftly learned to multitask and compartmentalise on the early arrival of her son. Her story is an admirable reminder of strength and resilience:
"'Don't worry! The estimated 1kg is viable.' Me lying in pain as the doctors assured me that they were confident to deliver my child at 28 gestation weeks. No words. What a start! As micro-preemies are highly susceptible to getting serious gastrointestinal problems, I was encouraged to express breast milk which would offer the best nutrients with natural antibodies. My husband and I had to take turns delivering freshly expressed milk to the hospital.
I can tell you that the walks in the corridors at NICU with the beeping sounds of machines were very lonely and sobering. My child went on to stay at the hospital for a total of 73 days. While at work, I tried not to let my worries affect my job. No tears at work! I constantly reminded myself that I had to compartmentalise,  prioritise, and multitask. My child would survive this, and so would I. Only positive energy!
Looking back, my son's unexpected early arrival jolted us awake, and we started to do things more cleverly, which strategically positioned our company well for remote working years before the pandemic lockdown. 'Mum, it is time to play!' 'Ok, let us go!'"
Clariss Lau, Director, Miuvo
3. Go gently, honour your own time and energy, and do away with having to 'do it all'!
Ava Gao is an Empowered Parent Coach who has seen countless women question their parenting capabilities and struggle with guilt and resentment. She suggests we need to redefine motherhood for ourselves and let go of the concept of 'doing it all'.
"As an Empowered Parent Coach, I've worked with mothers who felt immensely guilty as they cannot be the parent that they wish they could be for their child – one who is always patient, loving, self-sacrificial and lavishes her attention, time and money to raise their children to be successful. I think this often stems from our own experiences seeing our mothers or mother-like figures trying to "do it all perfectly" and not willing or being able to share with their partners the physical and mental load of running the household while managing the children's needs and schedules.
We also form our own perception of a "good mother" from the things we read and see on media (social media, movies, drama shows etc.), what we observe, and what family and friends tell us. Rather than "having it all" and being a "superwoman", I think being clear about what we value in life and parenting allows us to focus on what matters most to us in different seasons of life and motherhood.
In some seasons, it means focusing on health and recovery during postpartum. In other seasons, it could be periods where work gets really busy, and we rely on our trusted village of family and caregivers to care for our child while outsourcing selected household tasks. My role as a Parent Coach involves working with mothers on (re)defining their motherhood experience in a way that they can do less and still feel confident as women and mothers. I also help mothers accept that they don't have to "do it all" and then co-create the tools and strategies to get things done in a way that honours their time and energy – so that they can ditch the guilt, enjoy parenting more, and take joy in life!"
Ava Gao, Empowered Parent Coach at The Curious Mama
4. Take back the Me in Mom-Me! Build your own self-love and self-respect, and your children will too
Priyanka Tiku Gupta, Founder of PTG Wellness, finds herself often questioning how to balance her own goals and ambitions with caring for her family.
"I admit that there are days when I question myself as a mother and wonder if it has to be this way. All my reflections and conversations about being a mother led me to one common theme that a good mother is "someone who can nurture and prioritise their family over oneself."
This does not sit well with me. What happens if you are an ambitious mother with her own goals in life? Wouldn't the consistent and continuous de-prioritisation of oneself for years and, sometimes, for decades create this internal frustration, angst, and sadness of living your life but having unfulfilled goals and dreams? Suppose we don't recognise this? We risk these feelings slowly translating into external behaviours of becoming someone who is dismissive, cynical, angry, or just plain and simply boring.
Here are my tips that help me return to dear ME vs dear Mom-Me.
Set boundaries and start with yourself. Build self-love and self-respect; if you vibe at that frequency, your kids will subconsciously do that too.
As your kids grow older, promote yourself from being their assistant to being their CEO. Don't micromanage them; instead, check in with them and remind them you are there if they need any support.
Untangle your lives with theirs. Don't make everything about them; their life journey is their own, and your role is to give them a safe and loving space to grow, learn and become the best version of themselves."
Priyanka Tiku Gupta, Founder, PTG Wellness
5. Pick your battles and focus on your highest priorities
Nassim Secci is all for prioritising and focusing on the aspects of life that bring you happiness and are most important for your mental health and well-being. This means being ok with some things not being perfect – Amen to that!
"Yes! Women can – and should! – have all the things they want. It starts with understanding what is most important for you and prioritising those aspects of your life. This means being ok with the less important areas sometimes falling by the wayside. For example, I'd love to be an amazing cook, but I'm totally ok with my cooking abilities taking a backseat to my priorities: time with my kids, building my business, and my health and well-being.
Having it all also comes down to being organised and setting systems in place, including outsourcing without shame or guilt, as this gives us the precious time to do what matters the most to us. In our household, for example, we have systems in place for all the time-consuming and mentally draining tasks. Placing online grocery/household orders, pulling out outgrown clothes and purchasing new clothes, dealing with family appointments and admin.
Our physical spaces are also well organised, so we know exactly what we own, where to find it, and how to quickly reset our home. Not only does this save me time, but it gives me a sense of control over my life, which makes me feel good and motivates me to keep going for all the things that make me feel like I have it all!"
Nassim Secci, Founder, The Happy Space Company
6. The benefits of being your own boss to create flexibility and freedom
Linda Morrison doesn't think women should have to make a choice between motherhood and running a business – but happiness will depend on being practical and realistic, setting boundaries and priorities.
"Being a Mum is busy enough, but also running a business (which is your additional baby!) can be overwhelming at times, very busy, and keep you up at night as well (haha). You can have it all, but it very much depends on what that means to you. There will be sacrifices and things you will miss out on, but being your own boss gives you the flexibility to manage your own time, and that is a freedom you do not get in most corporate jobs.
You need to be smart and use your time wisely. It does not mean that you are working less; as a business owner, you cover so many other roles of your company and business. Being my own boss allows me to take kids to activities or do school pick-ups, but it also means that some nights after kids go down, I might have a late one. But I wouldn't have it another way!"
Linda, Founder of MiliMilu
7. You can have it all – as long as you don't expect it all at the same time!
Amanda Lim's goal is to transform lives and to help build her clients into stronger, happier versions of themselves. Her recommendation is to follow the age-old advice of eating well and exercising – and trust the universe!
"There are seasons in motherhood as in any part of life; the more you surrender to the ebb and flow of those seasons, the better you are at handling them. I find that daily exercise and healthy nutrition help me hold it all together; no matter what's going on around me, when I keep those habits intact, I feel like I am in control".
Amanda Lim, Owner, Coach Amanda Lim
8. Somethings have got to give – so forgive yourself
Vanessa is a learning coach who understands the balancing act and that when more energy is poured into one cup, another will be empty. Her advice is to be mindful of this, to achieve the balance you want between work and home, and to share the load when possible!
"I think I'd like to believe that I can have it all – 100% of my (business & personal) goals, 100% of family time but in reality, something's got to give. I think, as women, we need to be more forgiving and understanding of ourselves and our limits. If I want it all, I need to be aware of the cost involved – the more I pour my time into my business, the less time I have at home with my family.
My business involves me heading out to teach and train. If I want it all, I need to find people around me who can carry some of the baggage – household chores, cooking, organising the family calendar, keeping tabs on our daughter's school work and well-being, among other things!"
Vannessa Misso-Veness, The Learning Coach, Cascade Train Teach Learn
9. All parents suffer from parent guilt – you are not alone!
Many of us have ambitious, busy career lives when we become parents, and Victoria agrees that it's not always an easy transition to suddenly juggling the working mom/dad life. We all suffer from parent guilt sometimes; we just need practical tips to manage it!
"I would assert that you can have it all, but you have to manage your priorities well, be open to accepting help and get your "parent guilt" in check. The first two are pretty self-explanatory, but parent guilt is probably one of the toughest aspects to cope with.
Just know that all parents, no matter who you are and what you do, have parent guilt, but if your priorities are clear to you, you will be more comfortable in the day-to-day choices you make. I also have to give immense credit to my husband, who steps up as a partner in our household responsibilities, and that's an important point because I know many of us ladies would prefer just to do it all ourselves, but it's not sustainable.
In terms of practical tips, I am a big fan of bullet journaling. It helps me focus on what is and isn't important right now and makes everything feel less overwhelming. I try to be as efficient as I can during the day to carve out quality time during evenings and weekends to spend with family and friends".
Victoria Chuard, Founder of Just Peachy Basics
Thank you, mums!