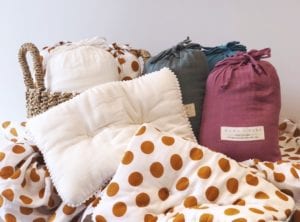 HoneyKids mums have a lot of love for MOMO + BUBS bed linen and baby essentials complete with dreamy prints...
All new parents know that baby bed linen that's breathable, comfy and affordable is also invaluable. That's why we just had to share this brand that ticks all those boxes and more. Whether this little luxury is for your little one or you're looking for a baby shower gift, MOMO + BUBS has a collection so lovely that just one piece will never be enough!
What is MOMO + BUBS
MOMO + BUBS is a local business started by Kim, who embarked on a quest for good quality and reasonably priced bedding that's both comfy and easy to wash. What began as a passion project for this full-time working mum quickly became her night job on top of her day job and evening job (of putting bubba to sleep).
Not only is every product designed with a ton of love by Kim herself, they're also all snuggle-tested by her own son, Elijah. All products are made from 100% Global Organic Textile Standards (GOTS) certified organic cotton, are machine washable and use reusable packaging (hurrah!). On top of her repertoire of baby bedlinen, pillows and swaddles, she also sells other nursery essentials like quilts and bibs, and her Baby Milestone Wood Cards are a nice bonus to any fun photo moment. There's even one specially for mum!
MOMO + BUBS gives back
On top of creating products parents will love, Kim is giving back by donating a portion of her sales to charity. She believes that a baby in a swaddle represents a new beginning, so she's donating $10 from the sale of each swaddle set to Singapore Children's Society. She aims to raise at least $5000 in 2019!
HoneyKids Reviews
Tracy says,
The snazzy print choices and the quality of these products are superb! The whole range makes for a perfect baby shower gift, and I am definitely going to be stockpiling these for my brand new niece. I only wish MOMO + BUBS had been around when I had my own babies!
Yvonne says,
The fitted cot sheet is super soft. It's 4-ply, which means it's thicker than most muslin wraps but it does dry quickly even in Singapore's weather. The sheet is slightly bigger than my baby's current cot mattress, but that just means there's room to grow.
Jana says,
My son Louis drools a lot so he's always wearing bibs. The bandana bib set from MOMO + BUBS absorbs drool really well, plus they're cute and stylish and go with every outfit. As a mum who's always trying to colour-coordinate my sons' outfits, these bibs are now invaluable fashion statements on top of being functional, especially because I'm not a fan of the usual cartoon prints for kids. Seriously, these bibs go with practically anything.
Like this story? Here's more we think you'll enjoy:
Find of the week: Wild Sundays, snazzy tropical wear for kids
Find of the week: Lunch Lady magazine
Find of the week: Ans-ein, wearable art you and the kids will love
Find of the week: Dear Zoo wooden toys you need in your life
Don't forget to subscribe to our weekly newsletter and follow us for fun moments on HoneyKids Instagram!