We give the lowdown on all the options, from breastfeeding and formula to starting solids and what to avoid.
Congratulations! You're set to welcome, or have recently given birth to, a new member of the family: your beautiful baby! Get ready for the constant cycle of eat, poop, sleep and repeat – with heaps of gorgeous squishy cuddles in between, of course. But when it comes to the eating part of a baby's first year, what are the options? When are babies ready for solids and purees? What are the pros and cons of each method? We're here to give you the overview of all the options for feeding baby in the first year.
The HoneyKids guide to feeding baby in the first year
Breastfeeding
How convenient is breastfeeding your baby? You've got milk on tap that's full of nutrients and goodness, whenever they need it. Not only that, it's the perfect temperature, there's no need to sterilize any equipment, and it's super quick in terms of food-to-mouth time. Which is mega useful when you've got a hangry infant on your hands! The HoneyKids mums who've embarked on a breastfeeding journey also love the bonding connection we've enjoyed with our babies. And, once we've gotten into the breast pump routine and built up a freezer stash, partners can also help out when we need a breather.
The downside
While we're super grateful to our lady lumps for producing life-giving milk, sometimes breastfeeding can be a hard slog. There's the risk of mastitis (SO horrible), engorgement discomfort, and sore, cracked nipples when you first start out. But rest assured all that is avoidable. There's also the often-overlooked emotional exhaustion of being so in demand and the sole feeder. Especially when it's witching hour and your baby is cluster feeding – shudder! Also, we know it's a bit vain, but your wardrobe is also slightly affected – you'll need nursing bras and clothes that give easy access to the boobs. So none of your old dresses unless you can whip them off over your head in private!
Formula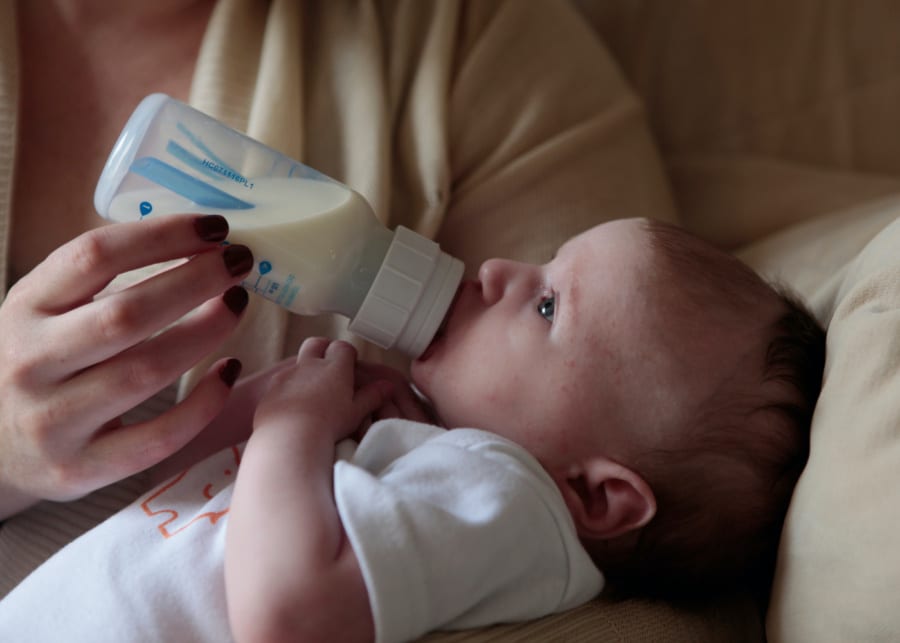 If you don't go down the breastfeeding route, your next option is formula milk (regular cow's milk isn't advised in the first 12 months). There are numerous options on the market (soy, cow's or goat-milk based) and they contain all the nutrients your tiny bub needs in its first year. Ingredients can vary between brands, so do check labels and speak to your pediatrician if needed. The great news is as your baby grows, there are different stages of formula to move on to. And, once bub surpasses their one-year birthday, formula is a convenient and efficient way to supplement their diet. Our pick? Enfagrow A+ with 360° DHA Plus (free samples available!). It's scientifically formulated with beta-glucan, dietary fibre and prebiotic, which are important for your child's overall mental and physical development. Plus, just two servings a day is enough to meet the recommended daily DHA intake for your child.
The downside
Aside from choosing your preferred formula, you'll also need a bit more equipment if you're formula-feeding, such as bottles, teats, sterilisers (or sterilising solutions). Which means there are a few more things to prep and get ready when feeding your baby formula to ensure safety and to prevent illness. You'll need to make sure both the baby bottles and the teats/nipples are clean, and you mix up the formula using cooled boiled water (no lower than 70°C according to WHO's safety guidelines). It can feel like a bit of a faff when your baby's screaming with hunger, but we promise you'll get into the swing of it like a total pro in no time.
Solids
When your baby reaches around six months in age, they'll be ready to start on their first foods. That's because infants' need for energy and nutrients starts to exceed what is provided by breast milk and formula, so what's deemed 'complementary foods' are necessary. The first step is giving your bub puréed, mashed and semi-solid foods, and WHO states that by eight months, most infants can also eat 'finger foods' by themselves. Once they hit the year mark, they'll be ready to eat the same types of food as the rest of the family, albeit a more baby-appropriate version (so not a T-bone steak just yet, yeah?). Check out our essential guide to feeding supplies to have you on your way!
The downside
There's a lot more to think about when it comes to feeding baby, and the preparation of purées can sometimes feel like hard work when you're dog tired. But seeing your baby take their first bites is amazing… and an oddly proud moment! We've even listed some yummy finger foods for baby-led weaning that the whole family will enjoy, so this stage doesn't have to be restrictive.
What to NOT feed your baby in the first year
Salt
It's not good for their kidneys, so don't add salt to your cooking or the cooking water. Be mindful of added salt in things like crackers too as it's not immediately obvious.
Sugar
Your baby doesn't need it. Steer clear of giving them juice and sugary snacks to help prevent tooth decay and other health concerns.
Honey
Did you know honey may lead to infant botulism, a very serious illness? It's because honey can sometimes contain bacteria that can produce toxins in a baby's intestines. Avoid for the first year of their life in all forms.
Whole nuts and peanuts
According to the UK's NHS, feeding baby nuts and peanuts is ok from around six months. For safety reasons, they just need to be crushed, ground or a smooth nut or peanut butter. Whole nuts and peanuts shouldn't be given to children under five as they pose a choke hazard. Also, nut allergies are not uncommon. If there's a history of food allergies or other allergies in your family, talk to a health expert before introducing nuts.
Soft, unpasteurised cheeses
Full-fat, hard cheese is all kinds of yum for infants, and is a good source of calcium. And yes, cream cheese is perfectly fine! But to prevent the risk of listeria, don't give them mould-ripened soft cheeses, such as brie or camembert, ripened goats' milk cheese and soft blue-veined cheese, such as roquefort. However, if you cook those cheeses as part of a recipe, you're usually good to go as, once cooked, the bacteria is killed.
Lightly cooked eggs
Avoid eggs until your baby reaches six months, say the NHS, and then make sure they're properly cooked.
Whatever you choose and whichever stage you're at of feeding baby, remember: fed is best! And always feel confident to reach out to your health provider for any expert advice.
Top image: Nikolay Osmachko via Pexels