Is the tide turning in Singapore from grandparents as the default caregivers for local families to infant care? Jill Lim asks these parents to share their views...
It wasn't uncommon for people of my generation (aka 90's kids) to be raised by their grandparents. I had many friends who lived with their grandparents on weekdays, only seeing their parents on the weekends. That's the Asian way, after all…or is it? Fast forward to the babies of today, and a new preference might just be emerging. Enter: infant care.
Infant care and pre-schools – the earlier, the better?
Many young Singaporeans earn far more than their parents did at their age. Yet, with the increasing cost of living, it still might be difficult for either parent to be able to stay home full-time to care for the baby.
My plan all along was my parents, and they were fully on board too. My mother, who had been a teacher for well over 30 years, exclaimed, "yay! Now I can retire and be a full-time Grammy!" when I told her I was pregnant. This gave me the luxury of going back to work earlier. I took two months of maternity leave instead of my full four, only because it was a pandemic pregnancy, and for my sanity, I needed to be back in the office with people. To my surprise, almost everyone's opening line after asking how I was doing was, "so, baby in infant care, ah?".
I honestly had never heard of infant care. A quick Google let my jaw drop. It cost between $800 to close to $3000 for infant care, and that was MONTHLY and after subsidies. Was I not getting paid the same as everyone else? How were they affording this, and why would they want to shell out that much money on top of already having a helper? Why weren't they using the newly titled grandparents who were happy to receive payment in the form of baby smiles and giggles?
Why strangers raising your child over family might be a preferred option
I spoke to an old friend of mine, Permesher Singh, who was a first-time father. He was raised by his single mother, who had to work multiple jobs, so he was raised primarily by a babysitter. When asked how he felt about it looking back, it was clear there were no hard feelings. "My mother had to work to support us, so I'd never hold it against her. My babysitter, though strict, treated me like one of her own, as did her family."
So when it came to the same decision for his kid, was this the reason he chose infant care over his mother? "Both my mother and my wife's parents are still working. We did consider asking someone to stop to take care of our baby, and we'd compensate for their time. However, we decided against it because if anything unfavourable happened, we didn't want that to affect the family relationship". An answer that was common among many couples I asked. I spoke to Lynn Chng, mother of two, who helms an embroidery business @Typo.craft from home. She doesn't have a helper and has chosen preschools and infant care over grandparents for similar reasons.
Who's rules to follow? Do grandparents think they know best?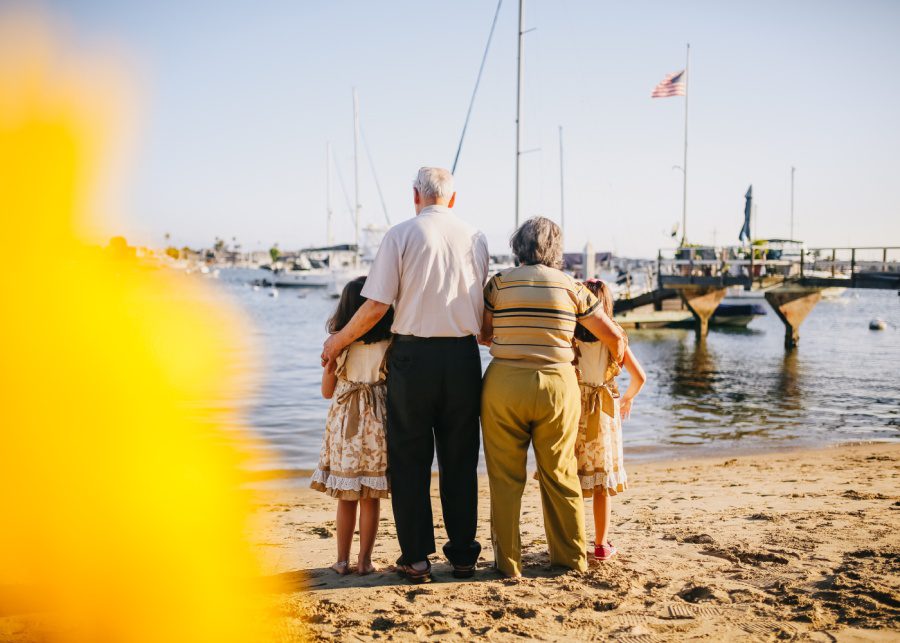 Another thing that both Permesher and Lynn agree on is the frustration of making grandparents follow their rules. "They think they know best and like to do it their way, but they've already had their chance to raise us." I too experienced this when Lily was an infant. I'd leave her with my parents and give extremely detailed instructions with alternative suggestions such as, "Lily naps at 2pm, after milk, just lay her down; if she doesn't fall asleep in 15 minutes, she'll need to be rocked. If rocking her after 10 minutes doesn't work, then give her 60ml of warm milk and hold her. She will sleep for an hour at the least."
My own experience when it comes to my parents as caregivers
I would check in at about 5pm to see how it was doing. My mother would reply, "she didn't look tired, so she didn't sleep but just lay quietly." This would give me palpitations. "Mum! I told you she HAS to sleep! Why can't you just listen? Laying down quietly isn't sleeping! Now she's going to be overly tired and extra grumpy! If you're going to help, then be of help!" Wow, that was harsh. I would never speak to someone I was paying that way. It made me think why maybe having a stranger would be the better option for maintaining family relations.
"I used to literally make a list of specific things to do (and the sequence), so they won't miss a step, especially when they were newborns. It didn't work out well and caused me more stress and anxiety. I eventually realised that babies won't turn into monsters if they're spoilt for a couple of hours a day so long as I reinforce my parenting style when they're with me." Wise words from Lynn that I've held onto.
Is it just grandparents who are rule breakers? What about schools?
"If I had to leave my child with her grandparents, I would need a camera to keep watch for sure. I am totally against TV time before the age of 18 months. Knowing my family, she would be left in front of the TV all day!" Permesher says. "With infant care, there is a timetable of activities, and they track her progress. She has learnt a lot more there and gets to interact with other children; the only downside is that she does fall sick a lot more."
So, is this the new normal for raising kids in SG?
With our good friend 'the internet' constantly showing us what parenting should look like and how engaged babies should be, it puts more pressure on parents today to always schedule activities for their children. Most of us who were raised by TVs with the occasional dose of weekend play are now trying to compensate and match the online ideals with play schools that have timetables and structure rather than the grandparents' old school approaches.
Do you even have a choice?
But for many, it's not about preference but practicality. Though I am sceptical about infant care, I recognise that I am incredibly privileged. Lily has grandparents that work because they want to and not because they have to. They also have a car to drive her around to playgrounds and beaches, have the energy to swim with her and read her books etc….oh, and for the most part, obey the rules I set! This isn't the case for everyone. Add Singapore's lack of work-life balance coupled with the cost of living, and we've got people working longer and unable to take on grandparent duties, even if that is the parents' preference. So, perhaps it's not so clear-cut after all. Times are certainly changing, but for many, it might be out of necessity rather than always choice.
What's your take? Infant care or grandparents? Join the conversation and let us know!
Lead image: Dragon Pan via Pexels