Your kid's cake fantasies are about to come true with these customisable 3D fondant and fresh buttercream cakes from the most talented bakers in Singapore.
Once your kids have outgrown smash cakes and are ready for some proper birthday parties, they'll be wanting an amazing birthday cake. If you've had enough of the ubiquitous black forest cake (bought in haste from the nearby chain store bakery) or balk at the idea of a BIY (bake-it-yourself), the answer is a customised cake decked out in your own original design and some cool cake art.
Cake art in Singapore has certainly been taken to a new level. Virtually anything is possible with fondant – mini Princess Elsas, large castles, Spongebob Squarepants characters and topsy-turvy designs are all brought to life thanks to these crafty cake makers. But, don't forget that buttercream can also look pretty spectacular. Read on for our round-up of bakeries and patisseries in Singapore that offer customisable, cute, quirky and cool cake art worthy of that #cakestagram. We like to call this our Cake Hall of Fame…
P.S If you're after more bite-sized treats, check out our guide to the best cupcakes in Singapore (aka the dessert of the moment) – they're the perfectly-sized sweet treat for children's birthday parties, although you can never stop at just one.
Bloomsbury Bakers
Follow Bloomsbury Bakers' Instagram feed for some major #cakegoals: they do a good unicorn, have nailed the watercolour look and we love what they do with meringues (see pic at the top). This team can whip up fun custom 3D cakes in fondant (yes, you can have that Minion cake) or beautiful designs in buttercream, and they can put together a smashing dessert table for you too. Fun!
Bloomsbury Bakers, Blk 30 Bendemeer Road #01-889, Singapore 330030, p.6299 3450; www.bloomsburybakers.com
Susucre
We've had our fair share of Susucre birthday cakes arrive at HoneyKids HQ, and they're all about cute fondant designs! From pineapples to rainbows and even flamingos, you can request any theme and they'll create something incredible. Susucre is proof that good-looking cakes can be as delicious as they look. Prices for cakes start at $125.
Susucre Pte Ltd, Soho Life, #01-03, 216 Joo Chiat Road, Singapore 427483. The store is open by appointment only; e. [email protected],  p. 9867 2176; www.susucre.net
Zizou Cake Boutique
Zizou has been bringing the beauty and taste of a French patisserie to Singapore since 2015. We particularly like Zizou's buttercream designs: and yes they do UNICORN CAKES. 
Zizou Cake Boutique, e. [email protected], p. 9736 8057; instagram.com/zizou_cake_boutique
Edibles Bake Shop
Edibles Bake Shop's creative custom-made cakes are bold and brilliant. Whether it's vivid icing bouquets or vivacious ombre designs, Edibles uses French butter and pure extracts to produce mind-blowing cakes that are as much a treat to the eyes as they are to the taste buds.
Edibles Bake Shop, e. [email protected]; instagram.com/ediblesbakeshop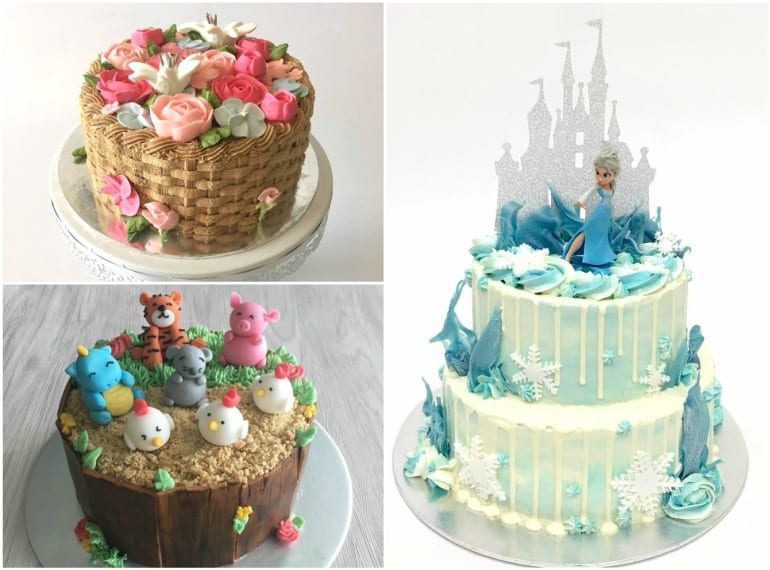 Monice Bakes
What initially started off as a hobby has now become a business, which is a testament to Monice's nifty cake baking and decorating skills. She now bakes and sells everything from cookies and cupcakes to spongy, soft buttercream and fondant cakes with a more subtle sweetness. From wild and wacky to smooth and understated, customers can't stop raving how Monice bakes a pretty cake for a prettier price.
Monice Bakes, e. [email protected], p. 9815 0022, www.monicebakes.com
Baker's Brew Studio
Not only has Baker's Brew Studio created an impressive range of cake flavours, it also has a team of cake artists whose only job is to make sure you get the tailor-made, customised cake of your dreams. By the way, these cake connoisseurs also host workshops and parties. Erm, we'll have the Salted Caramel Chocolate or perhaps a Lemon Passionfruit… (can we just order them all?).
Baker's Brew Studio, e. [email protected], p.9069 5096; www.bakersbrewstudio.com/
CakeBoxSg
Can we even call them cakes? CakeBoxSg's red velvet and chocolate 3D fondant cakes are more like masterpieces, a perfect centrepiece or pièce de résistance for any birthday party. Whether it's the Death Star, a castle or a guitar, they're sure to impress!
CakeBoxSg, e. [email protected], p. 9029 3710; facebook.com/CakeBoxSg
Corine & Cake
Corine & Cake can guarantee a smashing time at any birthday party with their eggless and sugarless smash cakes. Each cake is piped with heavenly Swiss and Italian meringue buttercream that stand strong under Singapore's sweltering heat, but just melt in the mouth. They also have a great range of cakes of the non-smashy kind!
Corine & Cake, e. [email protected]; www.corineandcake.com
Little House of Dreams
This bakery, cafe and workshop with branches in Dempsey and Clarke Quay Central offers 3D cakes that have to be seen to be believed. Think dinosaurs, aeroplanes and woodland creatures that are almost too cute to eat. Birthday boys and girls will go absolutely nuts over the multi-layered custom cakes that bring their favourite characters, animals and objects to life.
Little House of Dreams, Block 8 Dempsey Road #01-14, Singapore 247696, e. [email protected], p. 6472 4977; www.littlehouseofdreams.com
Jo Takes the Cake
At Jo's you can have your cake and eat it too! These intricate masterpieces are sculpted to detailed perfection using fondant and then handpainted with your favourite designs for a polished look. It's bound to delight everyone's (visual) appetite. We particularly love her baby shower range (fluffy cakes frosted in darling pastels, storks or baby figures) and Alice in Wonderland-themed creations. Our top tip – select a rainbow cake for your base – it will be a sight to behold when you cut into it and reveal a cross section of colours.
Jo Takes the Cake, e. [email protected]; www.facebook.com/JoTakestheCake
Joannalyn Bakes
Joannalyn loves to bake and we hope she never stops, because we love her cakes! She's always coming up with healthy, sugarless, butterless – and best of all, guiltless – baked goods that are certifiably kid-friendly. Good news if you're after healthier options. Her custom-made cakes are like a story definitely worth devouring!
Joannalyn Bakes, e. [email protected], p. 8399 3417; instagram.com/joannalynbakes
Chomel's
Chomel's offers comfort food dressed up in its prettiest form. If you're after a cake that exudes natural beauty rather than a multi-tiered confectionary giant smothered in fondant, Chomel's understated art is for you. We love baker Chomel Yang's stunning ombre flowers piped to perfection with buttercream icing, and cakes resembling the faces of much-loved cartoon characters.
Chomel's, e. [email protected], p. 9295 7603; instagram.com/bakechombake
Shirlytwirly
If you're looking for something simple and tasty, Shirlene's romantic and seasonally-inspired designs take the cake! She also does equally bright and cheery sugar-free cakes, perfect for children of all ages. Just look at that frosting! Shirlytwirly, e. [email protected], p. 9023 0032; instagram.com/shirlytwirly
River Ash Bakery
Just like their bestseller My Little Pony Candyland cake, River Ash Bakery's made-to-order cakes are all an absolute blast of colourful perfection. A great way to brighten up any themed birthday party. Plus, the new galaxy-themed cakes and macarons are out of this world!
River Ash Bakery, e. [email protected], p. 9190 2432; riverashbakery.com
Crumbs and More
Aside from cakes, Crumbs and More offers a range of baked goodies from cupcakes, cookies, quiche and macarons. The kids won't be able to take their eyes off their cake until it ends up in their mouths, or all over their face – good thing there's sugar-free options!
Crumbs and More, e. [email protected]crumbsandmore.com, p. 9631 2489; www.crumbsandmore.com
Glazed Desserts
Cars, durians, books, carriages, you name it, Glazed Desserts have made it! The detailed sculpted cakes here are made of a delicious moist devil's food cake base with a dark chocolate ganache. Delivering all the way to Malaysia, Glazed Desserts bakes up a storm, even posting recipes and video tutorials on their Facebook page.
Glazed Desserts; facebook.com/glazeddesserts
Cloud9 Bakeshop
We're over the moon, or should we say on cloud nine about pretty pastel cakes! Using just buttercream and fondant, Cloud9 makes sure your little prince or princess can have their cake and eat it too!
Cloud9 Bakeshop, 11 Cavan Road #01-01, Singapore 209848, e. [email protected], p. 9022 9278 (10am-6pm, Mon-Sat); facebook.com/Cloud9.bake
Edith Patisserie
Love cake but hate the dentist? Edith Patisserie's looking out for us. With healthier options to go sugar-free, egg-free and dairy-free, Edith's consistently produces moist and fresh cakes, suitable even as smash cakes for babies! Be sure to order in advance as they don't accept last minute orders!
Edith Patisserie, e. [email protected], p. 6443 7150; www.edithpatisserie.com
Sally T Cakes 
Sally T prides herself on her love for home baking, evidenced by many of her creations resembling meticulous replicas of characters from cartoons and movies. Her labours of love are gorgeous concoctions, encasing luscious flavours and fillings. Our favourite is the oh-so-adorable Sesame Street Cake.
Sally T Cakes, e. [email protected], p. 9859 4769; www.facebook.com/SallyTCakes
Farah Shiraaz
Farah Shiraaz is a mum with a day job and a serious hobby in making eye-candy cakes. Her self-named structured mess cakes can be a standalone party, each one piled high with candy and decorations – every cake is just bursting with colour!
Farah Shiraaz, p. 8128 8753; instagram.com/farahshiraaz
Cakequembouche
Chic online patisserie Cakequembouche promises stunning cakes made with premium ingredients. For your little animal lover, consider sculpted characters from Madagscar or the topsy-turvy tiers for an Alice-in-Wonderland-esque touch. Surcharges here apply if your cake requires special attention, detailing or more tiers.
Cakequembouche, 511 Guillemard Road, #01-05 Grandlink Square, Singapore 399849, e. [email protected]; www.cakequembouche.com
Cheryl Shuen 
For a smashing party treat at your child's birthday bash, Cheryl Shuen serves up the most delightful and dreamy concoctions to please even the most discerning cake fiend. Her creations are truly masterpieces, seen from her perfectly-sculpted sugar flowers, eye-catching colours and lingering flavours. Her whimsical cakes with little fondant animals and characters are a match made in heaven for little ones, while older kids or tweens will appreciate the more sophisticated varieties – like the drop-dead gorgeous princess cakes.
Cheryl Shuen, 268 Joo Chiat Road, Singapore 427522, e. [email protected], p. 6344 2988; www.cherylshuen.com
Orange Maple Bakery
Not only does Orange Maple Bakery ice its cakes to perfection, these treats come in a range of flavours including the best-selling chocolate Nutella banana cake. Mouth-watering deliciousness! And if you can't find an excuse to get a cake that big, try their rainbow jar cakes. After all, happiness comes in all sizes!
Orange Maple Bakery, [email protected], 116 Changi Road #01-18, e. [email protected]; www.orangemaplebakery.com
Rachh Cakery
With a specialisation in customisation, it seems there's nothing Rachh Cakery can't do. Carousels, cute animals and cartoon characters – you name it, they have it – in everything from fondant to icing. Rachh doesn't make it easy to resist their goodies either, with amazing dessert table packages including tiered cakes and an assortment of party treats like meringue drops and tartlets. Whose birthday's coming up next?
Rachh Cakery, e. [email protected], p. 9320 0512; www.rachhcakery.com
Psst. Here's one more for the adults: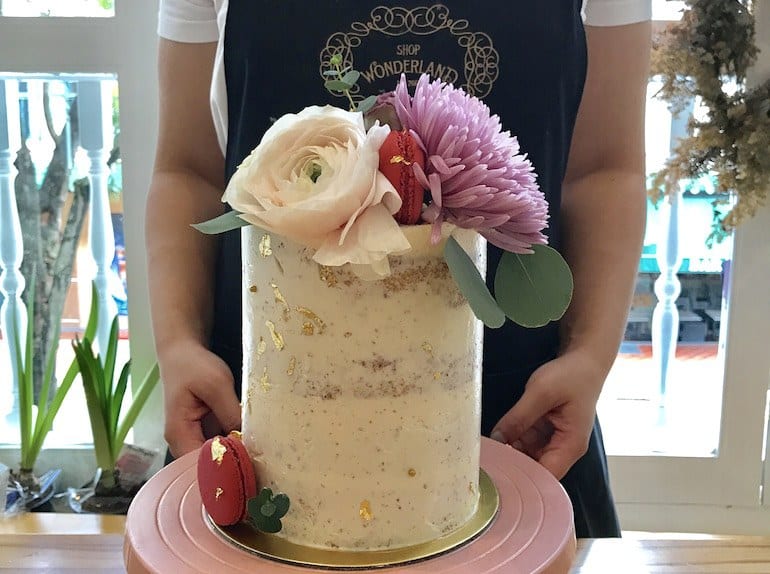 Shop Wonderland
This beautiful garden-themed cafe's got it all: flowers, good coffee, lunch and creative workshops. And the cakes? Divine. We've been requesting Shop Wonderland bakes for our office birthday treats, and were lucky enough to see the team create that beauty above especially for us. Flavours include indulgent banana rum butterscotch, simple strawberry shortcake and an earl grey lavender cake, which we enjoyed with a nice hot cup of tea – that's what we call a tea cake!
Shop Wonderland Cafe & Floral Studio, 134 Telok Ayer Street, Singapore 068600, e. [email protected], p. 62995848; www.shop-wonderland.com
Like this story? Here's more we think you'll enjoy:
Where to shop for birthday party decorations!
Our party black book: party planners, entertainment and more
Shake up your party game repertoire with these 10 ideas for all ages
6 super fun DIY party bags
Party ideas for teens