Photography: Guava
Whether you're travelling overseas, or just need somewhere safe to put baby while you need to turn your back for a moment, travel cots and play yards are worth their weight in parenting gold...
Summer is here, and if you've been keeping up with our 12-month guide on family holiday destinations, you'll have trips to Bali, Koh Samui and Java squared away already for the weeks ahead. But if you're travelling with a tot in tow, you will need to make life easier (because being stressed on holiday is no good at all) with travel essentials for bubbas. And nothing makes it easier than a carry-along cot-playpen for a tiny tourist on the move. So snag one from this listicle, and rest assured that you will be better prepped for the upcoming holiday itinerary on the calendar.
Best travel cots and portable play yards
1. Joie Commuter Change Travel Cot – Logan
The Joie Commuter is a parent's best friend and keeps our tiny tourists happy come travel time. The cot comes in handy for playing and sleeping securely, with an option of a full-size bassinet for babies too. Its airy mesh lining on all four sides ensures good ventilation to keep bub comfy. As for maintenance? The cot has a simple push button fold, has wipeable fabrics, and can be carried about in a portable bag on travels. Easy peasy!
Price: $179, buy from mothercare
2. Beblum Luna Travel cot
If you are hunting for a multipurpose travel cot that serves your bubba better, hit up the Beblum Luna travel cot. Besides being a handy cot, it can convert into a playpen and rocking cradle. We love that it is lightweight and sturdy (made with an aluminium frame), and has a folding mechanism that works in seconds. The Beblum Luna can easily carry a newborn up to 15 kg. Bang for your buck!
Price: $249, buy from Robinsons
3. Bonbijou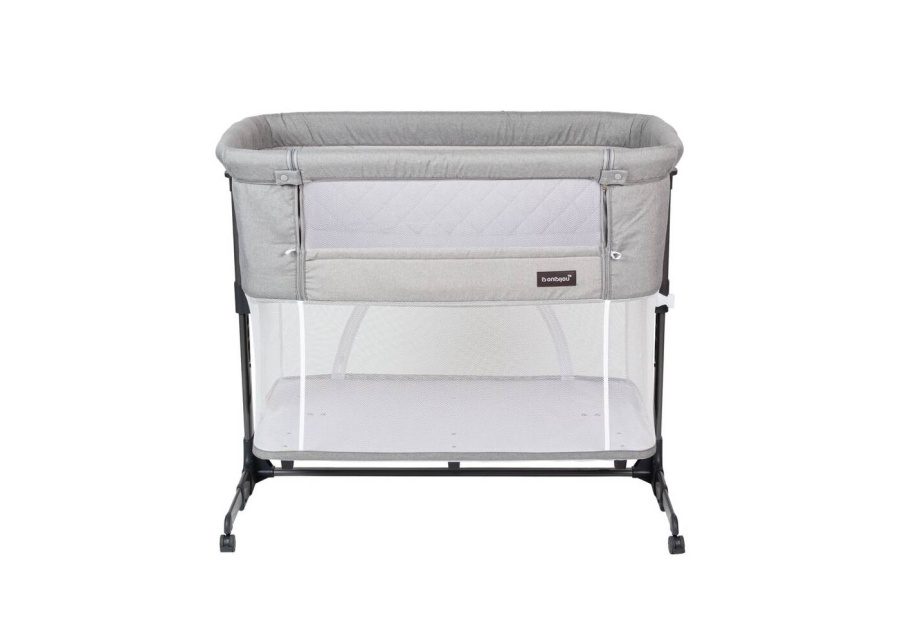 The Bonbijou bassinet (suitable for newborns up to 9kg), has the features of four different products wrapped up in its swanky design. Think of a playpen, bassinet, rocker and co-sleeper all packed into one to make bub nice and comfy while on the road. To add to its many features, the bassinet can be dismantled in minutes and packed into a sleek bag for easy portability. Pretty cool!
Price: $359, buy from Takashimaya, available in store and online
4. Baby Dan travel cot and playpen
Need to set up shop somewhere quick? The Baby Dan travel cot-playpen is one you should grab. Besides the ease of setting up, it has airy mesh lining on all four sides and a soft mattress pad to make it comfy for little bubs to sleep and play anywhere, anytime. We love that it has wheels with a brake system to make it mobile when needed. So tow bubba all you want, and rest assured you can keep a watch on the wee one at all times.
Price: $159.20, buy from agape babies
5. Graco Pack 'n Play
Looking for a multi-functional cot that is easy to use? The Graco Pack n Play is a great choice to have bub travelling like a pro. And nothing like starting them early! It includes a full-size infant bassinet for wee ones, a toy bar to keep the littlie entertained and a diaper changer with wipe-clean fabrics. Its other features come in pretty handy too, like its signature Graco push-button fold and airy mesh sides. Did we mention the cot has wheels for easy mobility?
Price: $259, buy from Little Baby
6. Skip Hop Travel Crib
If your feet are itching to get on the road for a holiday with bub in tow, but you're not sure how the wee one will take it – fret not! We have the perfect solution to have you off in a jiffy! Kick those nerves to the curb with a new Skip Hop travel crib for bub. It's a 2-in-1 solution crib plus play yard with a comfortable crib mattress, is easy to fold up, and keeps bubs happy with its airy mesh fabric. So if you are thinking of the very wee ones, the crib is perfect for babies from newborn up to 3 years of age.
Price: $499, buy from baby kingdom
7. Scuddles Portable 3 in 1 Organizer Tote Bag
Move aside handbag dogs – diaper bag babies are in! We're kidding (that's what baby carriers are for) but Scuddles isn't just a diaper bag, it also expands into a baby bassinet and a changing table. With insulated compartments for keeping bottles warm or cold, and plenty of space to hold diapers, wipes, blankets, and a thick pad for extra comfort, this is your all-in-one new 'have kids will travel' best friend. Useful for emergency diaper changes, the walls of the compartment have special insertable aluminium rods designed to hold them up so you can change your tot with ease anytime, anywhere.
Price: From $51.99, buy from Pete Baby Essentials
8. Chicco Alfa Lite Lightweight Travel Playard
If you are scouting for a fuss-free and lightweight playpen for your baby/toddler, the Chicco Alfa Lite is a great buy. Besides being super easy to carry, it has a machine washable mattress and playpen cover fabrics. With the zip-open side panel for baby's easy access to the playpen, you can bid those backaches goodbye! Did we mention setup is super easy with its fast snap-open system?
Price: $320, buy from Amazon
9. Baby Bjorn Travel Cot Light
Suitable for tots up to three years old, this crib comes with a comfy mattress and has an airy mesh for you to keep an eye on your child, plus they can keep their beady eyes on you in return. This is a no frills, no fuss crib that's super easy to use and weighs in at just 6kg. Plus, it has removable and washable materials.
Price: $455.20, buy from Pupsik
Top image: Lotus cot by Guava
Happy travelling with the wee ones!