Borobudhur
We explored volcanos, jumped into rivers and went caving on rubber rings in sunny Yogyakarta. Here's our kid-approved guide to your next overseas adventure…
While we're all for an easy holiday with kids in tow, trying destinations less travelled is always a winner when it comes to an overseas family adventure. We've already scaled the mountains in Myanmar, conquered Angkor Wat with bubba in an Ergo, and flown long haul to check out the beaches of Fiji (somebody had to, and you're welcome).
But for our most recent quick getaway we plumped for the wilds of Yogyakarta and Borobudur. Not to be confused with Jakarta, Yogyakarta  may not have been on your radar up until now, but if you have kiddos who fancy something beyond a kids' club and beach, then this is THE next new destination for you.
Read on to find out what we loved about this beautiful, yet still largely unheralded pocket of the world. From volcano lava tours to exploring caves on rubber rings, bookmark our tried-and-tested suggestions for a jolly family-approved five-day jaunt to Java.
Getting there
Air Asia and SilkAir both fly direct to Yogyakarta. The airport is close to the city hotels, and about a 90-minute drive to Borobudur if you decide to head there directly.
Where to stay
We spent two nights in a family room at Omah Pitoe Homestay, a back-to-basics but clean and comfortable base for our adventures close to and within the city. The owner and host, Reta, is not only super helpful, but also utterly lovely. She arranged a driver for us, Iman, who gave us great ideas for exploring the surrounding area and she also happily let us help ourselves to her supplies of toast and condiments (our kids eat a LOT of toast).
For those of you looking for something a little more upmarket than a homestay, we hear good things about the 5-star Royal Ambarrukmo and Sheraton Mustika Yogyakarta Resort & Spa.
We opted to also spend three-nights in Borobudur where we stayed at the colonial boutique hotel, Sarasvati Borobudur. The kids loved the small pool, the grown ups loved the massage, and we all loved the ginormous two-bedroom suite, delish food and first-rate service. Nothing was too much trouble for the staff! Also check out Plataran Borobudur for a Raffles-esque type hotel with sunset views of the mountains, or Manohara for a budget-friendly option that includes discounts on tickets into Borobudur Temple.
Where to eat
Mediterraneo Restaurant by Kamil was the perfect place to unwind after a busy day around Yogyakarta. The European, Middle Eastern and Asian fare was fantastic, and the staff were wonderfully accommodating. They didn't blink an eye when our smallest refused to have anything from the menu and wanted instant noodles – they even prepared this less-than-gourmet dish for him.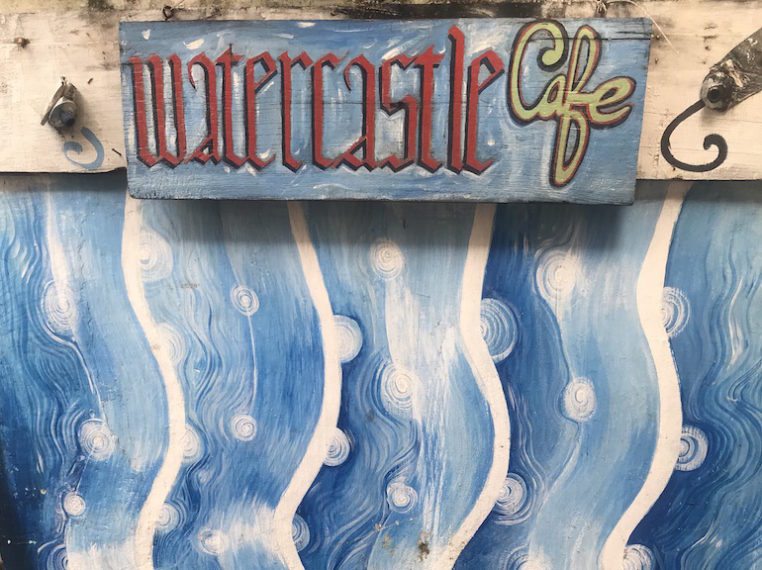 For a quick lunchtime bite, stop by the eclectic Water Castle Cafe – the specials were scrumptious and we've only got great things to say about the staff. They immediately came to our rescue when our five-year old fell over outside and bust his chin open! (Side note: bring a decent first aid kit with you on your travels!)
If you're heading to Borobudur, a stop at Langit Menoreh Bar & Lounge is a must for pretty sunset cocktails and mocktails, plus unbeatable views of the mountains. But if you're after a delish post sunset meal, try Patio Restaurant by Plataran Borobudur for great Indonesian dishes, it's just downstairs from the bar.
What to do: Yogyakarta
Prambanan
The infinitely cool Prambanan Temple Compound has a definite air of Angkor Wat about it, and is great for rambling and adventuring. Built in the 10th-century, this UNESCO World Heritage site forms the largest Hindu temple in Indonesia. The central building reaches a whopping 154ft (47 metres) in height and lies in the middle of a large complex of individual temples. Perfect for Indiana Jones wannabes.
Taman Sari Water Castle
A former royal garden of the Sultanate of Yogyakarta, the mid-18th century Taman Sari is another chance for lots of on-foot exploration. The complex is made up of four areas – a large artificial lake, a bathing complex, pavilions and pools and a smaller lake. Here's a challenge for you, try and find Gumuling Well, an underground mosque that we were not able to locate despite our best efforts!
Make sure to also venture outside the castle for a mission to discover Situs Pulo Kenanga, a set of ruins, once part of the palace that the kids will love clambering over. Heads up, it's behind the Water Castle Cafe and makes for some great insta-snaps at sunset!
LED Pedal Cars at Alun-Alun Selatan Square
Light up your evening, literally, by hiring VW Camper Vans or VW Beetles that have been remodelled into LED pedal cars. Seeing is believing! The Selatan Square also becomes a hive of activity every evening for street eats, pop-up markets and family activities.
Goa Pindul
Hire a driver (your hotel can help organise this) and head out to Goa Pindul where you'll find some serious family adventures. Begin your day with a tubing experience through a series of caves (you'll have a guide, don't worry!), then try floating down the river on a rubber ring. Your guide will take you through a waterfall where the kiddos can jump from massive rocks into the river. Not for the fainthearted, but soooo much fun. Even our teenager smiled – more than once!
What to do: Borobudur
Merapi Lava Tour
A 90-minute drive from Borobudur will bring you to the foot of Merapi Volcano, one of four volcanoes in the area. We used Jeep Merapi Mjak Adventure for the lava tour, which took us to Memory Village, a small hamlet that was sadly destroyed during a big eruption in 2010, and is now a museum. It's been left largely as it was in the wake of the disaster, so certainly a sobering place that will have the kids asking questions. We were also brought to an enormous boulder, Alien Rock, that was spat out and thrown across the landscape during the same eruption. Why is it Alien Rock? See below to work out it out!
Thousands of photos later , off we went to a bunker, and then finished the tour with some river circuits (which cleaned the dust off us a treat!). If you get a chance for lunch on your way back to Borobudur, ask your driver to bring you to Beukenhof Restaurant. It was quite the surprise to find a colonial restaurant with a great menu, essentially in the middle of nowhere! The restaurant is attached to Ullen Sentalu Museum, which is packed with Javanese culture and art well worth a quick squint after your food refuel.
Borobudur Temple
Built in the 9th-century, Borobudur is the world's largest Buddhist temple consisting of nine stacked platforms, a central dome and 504 Buddha statues. It was abandoned in the 14th-century and then unearthed in 1814 by Sir Thomas Stamford Raffles. It's well worth crawling out of bed at 4.30am and going up to catch the sunrise over the volcanos. A mystical, magical place that even the kiddos will sit in quiet awe of. For at least two minutes. 
The verdict
Yogyakarta was such an unexpectedly awesome adventure. It's still relatively undiscovered by tourists, so our advice would be to get there soon before the rest of the world cops on to what a fantastic weekend away with kids this really is.
Top image: Sunrise at Borobudur. Photography: Tracy Tristram
Like this story? Here's more we think you'll enjoy:
Ethical animal holidays in and around Asia
Go glamping with the kiddos!
Farm stays to try in Asia and Australia
Your guide to skiing with kids: Where to go and when!
Or subscribe to our weekly newsletter for the latest updates on all things family-friendly