Photography: Lucy Wolski via Unsplash
Looking for the best baby formula in Singapore? We've tried-and-tested the best brands for your bub, from organic to soy-based, goat milk-based, grass-fed cow's milk and more!
There are so many things we need to consider when choosing the right infant formula for our kids. Cow's milk or goat's milk? Powder or ready-to-feed? Organic or not? You also want to be sure that the very best ingredients are going into your bubba's tummy, not to mention which ones to avoid, and which ones could cause certain allergies. And with so many formula brands available here in Singapore, whether you're a new or seasoned mum, picking one can be muddling.
So, to save you the trouble, we've rounded up the very best baby formula brands in Singapore – 12 in total – so that you can make an informed decision about your child's nutrition. But psst… before you buy, be sure to run each option past your child's paediatrician, just to be sure.
12 best baby formula brands in Singapore
1. LittleOak Natural Goat Milk Formula
Why we love it: LittleOak Natural Goat Milk Formula has a bit of a cult following, and we totally understood why after trying it. Goat milk is growing in popularity among parents as it's easier to digest than cow milk, and gentler on little tummies. This is because it naturally contains only A2 casein protein and is lower in lactose. Furthermore, goat milk has all the goodies a growing child needs: oligosaccharides (naturally occurring carbohydrates that feed the good bacteria in the gut), taurine, iron, calcium, and magnesium. What's more, we love that LittleOak uses only fresh whole goat milk straight from its New Zealand farm. The milk is prepared using its world-first and award-winning From Fresh process, heating it only once to preserve all the natural goodness and vitamins that we've just listed above. On top of that, LittleOak is the world's first certified 100% certified palm oil-free formula! Need more convincing? Just read our review.
Type: Goat milk-based formula
Organic option: Though not certified organic, most of the whole goat milk that LittleOak uses is farmed through organic practices.
2. Bubs Australia
Why we love it: Bubs Australia was founded by a mum (Kristy Carr), who noticed a gap in nutritious and premium organic baby food. Aside from launching Australia's first-ever range of organic pouch baby food, the brand has also extended to formula. All products are free from nasties such as chemicals, preservatives and pesticides; and use reputable dairy farmers, with a carefully managed milk conversion process and high-quality testing. The Bubs Organic Grass Fed Toddler Milk Stage 3 Formula is packed with prebiotics, probiotics, Omega-3, Omega-6, along with 16 vitamins and minerals – so you know your bub is getting all the good stuff. For little ones with sensitive tummies, Bubs Australian Goat Milk Toddler Drink Stage 3 Formula is a great, easy-to-digest alternative. Class in session: did you know that goat milk naturally supports gentle digestion? It's also enriched with 16 essential nutrients and prebiotics. Both formulas are suitable for tiny tummies aged 12 to 36 months.
Type: Cow and goat's milk-based formulas
Organic option: Bubs Organic Grass Fed Toddler Milk Stage 3 Formula
3. Similac
Why we love it: Manufactured by Abbott Laboratories, Similac offers a complete line of baby formula and food. According to some mums' reviews, Similac formula is on the sweeter side. This helps bubs with a sweeter tooth make an easier transition to formula feeding. One of its most popular products, Similac Advanced Infant Formula, mimics the caloric density of breastmilk and contains its exclusive OptiGRO. OptiGRO is a blend of important ingredients found in breast milk, such as DHA, lutein, and Vitamin E. If bubs are prone to gas and colic, Similac Sensitive, Similac Pro-Total Comfort, and Similac Alimentum Hypoallergenic are all milk-based baby formulas that are designed for sensitive tummies. For bubs who can't tolerate lactose, Similac Soy Isomil is a great alternative. However, parents should consult a paediatrician first before switching to a soy-based formula.
Type: Cow's milk-based formula, with soy-based options available.
Organic option: Similac Organic Infant Formula
4. Enfamil
Why we love it: Formulated by Mead Johnson Nutrition, Enfamil is one of the most recommended brands by paediatricians everywhere. It is available in both powder and ready-to-feed formula, although the latter is only available at certain hospitals. Among many baby formula options in the Enfamil family, our top pick is definitely Enfamil Neuro Pro. Besides DHA and ARA, it also contains MFGM and a Triple Prebiotic Immune Blend, which facilitate the brain and physical development of the baby, as well as aiding their immune system. Enfamil also carries a range that's easier to digest for babies with a more sensitive stomach, such as Enfamil NeuroPro Gentlease, NeuroPro Sensitive, and Premium A2.
Type: Cow's milk-based formula
Organic option: Enfamil Simply Organic Infant Formula
5. Bellamy's Organic
Why we love it: Bellamy's Organic, winner of Organic Product of the Year in the Australian 2020 Organic Consumer Choice Award, follows a no-synthetic-chemicals formula. Known for only utilising premium ingredients, its products are dual certified organic by NASAA & ACO. They're made in Australia with no artificial preservatives, colours, flavours, synthetic pesticides, and GMO ingredients. Recently, Bellamy's Organic won the Highest Rated Toddler Milk (Stage 3 and 4) in the Tell Me Baby Awards 2021. It also has a range of formula – Beta Genica – that's made from A2 milk. Besides formula, we love Bellamy's Organic for their wide variety of baby food too!
Type: Organic cow's milk-based formula
Organic option: All formulas by Bellamy's Organic are organic!
6. Nestle Nan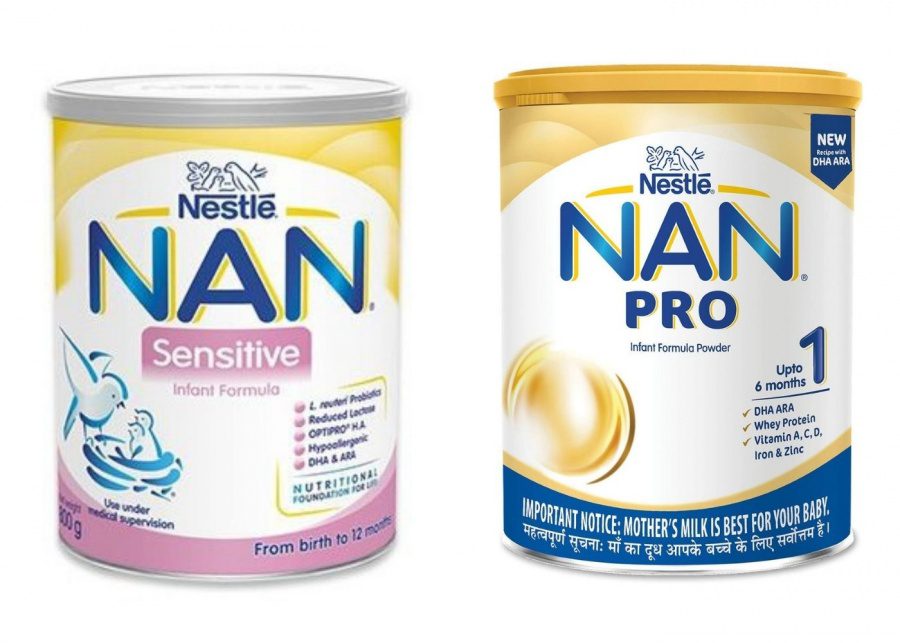 Why we love it: Developed by Nestlé, Nan baby formula promises a healthy digestive system and a strong foundation for your little ones. Like most formula, Nan also contains DHA and ARA, probiotics, and antioxidants. When it comes to Nan, parents' first choice is most likely Nan Optipro – an optimised protein blend that supplies the right amount and quality of proteins needed for baby's growth. However, not every baby can digest milk protein found in regular baby formula right off the bat. That is why Nestlé introduced Nan Optipro Hypoallergenic (H.A) – an easy-to-digest range of products that are suitable for babies with digestive issues. It contains partially hydrolysed whey protein, which helps with gas and constipation. For an extremely sensitive stomach, opt for Nan Comfort, Nan Sensi Pro, Nan L.I, and Nan A.R. However, the latter two should be used under medical supervision and with a paediatrician's prescription.
Type: Cow's milk-based formula
Organic option: Nan Organic
7. Friso
Why we love it: Made with NOVAS signature milk directly sourced from the farms in the Netherlands, Friso pays attention to quality. Keeping your child's gut health in mind, this brand uses specially patented LockNutri technology for their formulas to lock in milk protein structure in its natural form to ensure easy digestion for your bubbas. On top of that, Friso products contain 2′-FL, GOS, DHA, AA, and Nucleotides, which are all essential to baby's development. Friso also carries both regular and special infant formula, like Frisolac Gold H.A and A.R. They're designed for babies who can't tolerate milk protein. Besides baby formula, Friso also manufactures milk for pregnant and breastfeeding mums, as well as milk cereals for baby weaning.
Type: Cow's milk-based formula
Organic option: Organic Friso Prestige Bio (however, these are only available in Hong Kong and China).
8. Karihome
Why we love it: Goat's milk has often been said to be a hypoallergenic alternative to cow's milk, but with similar nutritional values. Not only that, but the lack of certain casein proteins that are present in cow's milk, means that goat's milk protein breaks down faster and is easier on the gut. These reasons have led more and more parents to go down the goat's milk route for their babies. And Karihome is definitely the leading brand in the goat's milk category. Karihome products contain high levels of natural nucleotides that are essential for baby's overall growth and development. Plus, their high levels of beta-casein and medium-chain fatty acids provide more efficient digestion and absorption. However, if bubs is allergic to cow's milk protein, then they may be allergic to goat's milk as well. So, check with your paediatrician before making the switch.
Type: Goat's milk-based formula
Organic option: None
9. Dumex
Why we love it: Dumex formula is made from naturally sourced ingredients. With no GMOs, colourings or sucrose, your child can enjoy a non-artificial formula. Along with those benefits, it also contains unique prebiotics that'll support bubba's natural defences. Dumex baby formula includes Dulac, Mamil Gold, and Dugro. Overall, Dumex milk is considered one of the most affordable formulas on the market. Hospitals like KKH and NUH use Dumex products for babies. For babies who are lactose intolerant, parents can opt for Mamil Gold Soy or Dugro Soy but always check with your paediatricians first.
Type: Cow's milk-based formula, with soy-based options available.
Organic option: None
10. Isomil
Why we love it: Created by the same people behind Similac, Isomil is a soy milk-based formula, designed for babies who are lactose intolerant. Containing high-quality gentle soy protein and essential amino acids in natural L forms, such as tryptophan and methionine, Isomil provides babies with all the nutrients they need. Isomil Stage 1 Infant Milk claims to be the "World's No. 1" soy infant formula and can be used until bub is one-year-old. However, parents need to consult a paediatrician prior to switching to soy milk-based formula.
Type: Soy milk-based formula
Organic option: None
11. Wakodo Lebens
Why we love it: The Japanese are innovators when it comes to modern inventions, and they've certainly hit the ball out of the park with this best-selling brand. Wakodo Lebens is a range of milk formulas specially created for the overseas market. The products are designed to resemble breast milk, by reducing the β-lactoglobulin and adding in galacto-oligosaccharides (GOS). (FYI, the latter's also present in breast milk!) These aid in easy digestion and  Thanks to its advanced manufacturing process, the Lebens milk formula dissolves within 30 seconds after adding the powder to water. Wakodo also features milk products for pregnant and breastfeeding mummies.
Type: Cow's milk-based formula
Organic option: None
12. Kendamil
Why we love it: When it comes to milk formulas that don't come with "nasties", Kendamil comes out tops! This British brand is made with full cream grass-derived milk, which contains high levels of Omega-3. It also contains zero palm oil and fish oil, as the brand is wholly committed to producing the most wholesome and nutritious milk formulas. Kendamil also carries a range of organic cow's milk formulas that carries zero pesticides and herbicides. Above all, we love this brand because it's walking the talking in regards to sustainability. Truly made with love.
Type: Cow and goat's milk-based formula
Organic option: Kendamil Organic
Armed with this list of the best baby formula brands in Singapore, we hope that choosing the right option for your baby isn't so daunting. You got this, parents!