Need a recommendation for a good paediatrician in Singapore? Check out our list of top kids doctors you can rely on…
There's nothing more stressful in life than having a sick child. We're talking the kind of medical issue that can't be solved with your first aid kit at home. GP clinics for families are perfect for solving that quick cold or fever, but if you need specialist attention, or want some continuity of care with a doctor who knows your child, there's only one thing for it: a good paediatrician, AKA a doctor for kids that specialises in child illnesses, diseases and development issues.
But how do you find a great paediatrician in Singapore? With this list of tried-and-tested child doctors! Here we introduce the ones we know and those that come highly recommended by other parents. Relax parents; your children are in safe hands with these Singapore paediatricians…
The best paediatricians in Singapore
1. Dr. Cheong Yee Ling – Nobel Paediatric Surgery Centre (a member of Healthway Medical)
Surgery can be scary for both parents and kids, but you can rest assured that your child will be in great hands with Dr. Cheong Yee Ling from Nobel Paediatric Surgery Centre, a member of Healthway Medical. Not only does she have a diverse range of surgical experience and delivers quality surgical care, but she also endeavours to bring back smiles to every child's (and their parents') face. Her research interests include safe treatment options and techniques for children, and offers minimally invasive surgeries as part of her treatment options. Following Hippocrates' saying, "cure sometimes, treat often, comfort always", it's no wonder families in Singapore feel comforted and safe with Dr. Cheong! Dr. Cheong has clinics in both Mount Elizabeth Novena Hospital and Gleneagles Hospital.
38 Irrawaddy Road, Mount Elizabeth Novena Hospital #07-31, Singapore 329563; and 6A Napier Rd, #02-37 Gleneagles Hospital Annexe Block, Singapore 258500.
2. Dr. Natalie Epton – SBCC Baby & Child Clinic (a member of Healthway Medical)
British born Dr. Natalie Epton is the name on everyone's lips when it comes to paediatricians in Singapore. She's a Neonatologist at SBCC Baby & Child Clinic, whose specialist interests are neonatal medicine, including neonatal intensive care, early childhood development and childhood nutrition. As a mother of three, Dr. Natalie adds personal knowledge to her outstanding medical qualifications. Plus, she's a passionate advocate of breastfeeding! Dr. Natalie's the lady to call if you have a little one in neonatal intensive care or you need advice or treatment for childhood development or nutrition.
Mount Elizabeth Novena Specialist Centre, 38 Irrawaddy Road, #05- 46/47, Singapore 329563
3. Dr. Nancy Tan – SBCC Baby & Child Clinic (a member of Healthway Medical)
If you suspect your little one has a nutritional problem or issues with their digestive system, then Dr. Nancy Tan should be high on your list. She's a Consultant Paediatrician and Paediatric Gastroenterologist who specialises in general paediatrics, gastroenterology, hepatology, and nutrition. Dr. Nancy has a keen interest in feeding and eating issues, and she's able to provide great advice and treatment relating to growth problems in children. Some of the conditions she manages include reflux, gastric and intestinal disorders, liver disorders and liver transplant management. Dr. Nancy is also accredited by MOH to perform paediatric endoscopy should your kid's condition require it.
Mount Elizabeth Novena Specialist Centre, 38 Irrawaddy Road, #05- 46/47, Singapore 329563
4. Dr. Christina Ong – SOG Christina Ong Clinic
Dr. Christina Ong is an experienced paediatrician with over 20 years of experience. As the senior consultant of her clinic, her expertise includes managing childhood gastrointestinal conditions as well as performing endoscopic procedures. She also specialises in treating children with general medical conditions, newborn and baby screening, childhood immunisations, acute childhood infections, and more. She is also one of the few accredited paediatric doctors in Singapore who can perform gastroscopy and colonoscopy in children and adolescents. So, you know your kids are in great hands!
Mount Elizabeth Novena Specialist Centre, 38 Irrawaddy Road, #07-53, Singapore 329563
5. Children's Clinic – International Medical Clinic
The International Medical Clinic (IMC) specialist children's department at Camden Medical Centre has a stellar reputation for dealing with even the trickiest of child health cases. Boasting a panel of highly qualified and experienced specialists from all over the globe, there isn't much they haven't seen. Services include childhood development, dermatology, psychiatric, oncology, neurology, asthma and allergies. Dr. Bernadeta Wibisono is well-liked by our kids!
Camden Medical Centre, 1 Orchard Boulevard, #11-06, Singapore 248649
6. Dr. Mark Loh – Mount Elizabeth Novena Specialist Centre
Our HoneyKids' mums love Dr. Mark Loh because everything he recommends seems to work. He gets straight to the point and doesn't waste any time on chit-chat, so when you visit, you'll want to have all your questions and a pen and paper ready for notes. His office and staff are lovely – all the nurses are super-duper friendly and remember everyone's name, which is impressive considering he's so popular! Of course, this means you'll need to book your appointments way in advance to guarantee your spot…
Mount Elizabeth Novena Specialist Centre, 38 Irrawaddy Road, #05-33, Singapore 329563
7. Dr. Anita Menon – Dr Anita's Kids Clinic
Dr. Anita has the knack with kids of all ages – instantly making them feel at ease. She offers the full spectrum of paediatric services, from newborn examinations to paediatric infectious diseases and school entry/sports medical examinations. She trained and worked in Ireland, so if you're from this part of the world, she'll be on top of your vaccination schedules. All who see her rave about how lovely (and capable) she is. Conveniently located for Siglap parents.
691 East Coast Road, Singapore 459057 (By appointment only)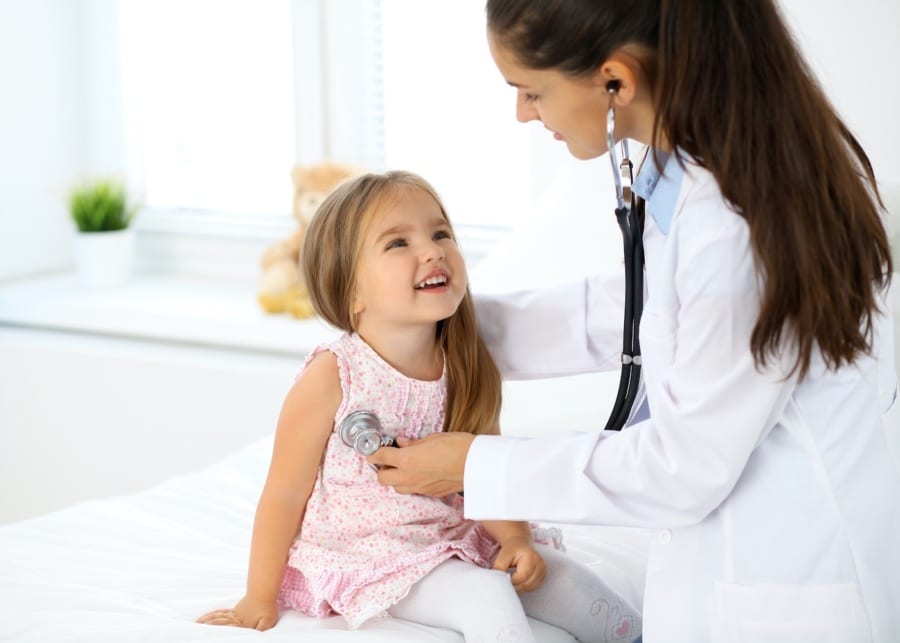 8. Dr. Belinda Murugasu-Koh – Belinda's Clinic for Children
Dr. Belinda offers such a personal approach to her loyal followers that her clinic is named 'Belinda's Clinic for Children'. Her clinic is locally qualified in paediatric medicine and caters to patients requiring Mandarin, Bahasa, Hokkein or Cantonese language capability.
Mount Elizabeth Medical Centre, 3 Mount Elizabeth, #15-17, Singapore 228510
9. Dr. Sivasankaran – Kinder Clinic Paragon
Consultant paediatrician and neonatologist Dr. Sivasankaran is known affectionately as Dr. Siva by his patients. What we like about him is that he'll cure your little one's ailments without over-prescribing medication. And the best bit? He's supported by a few other paediatricians for when you'd like a second opinion.
Paragon, 290 Orchard Road, #07-02/03, Singapore 238859
10. Dr. Vasanthi Rajalingam – Kinder Clinic Parkway Parade
Lauded as having a wonderful manner with children and parents alike, Dr. Vasanthi is a great choice for parents living in the East. She works across a broad spectrum of child health issues, but has a special interest in paediatric haematology and oncology.
Parkway Parade Shopping Centre, 80 Marine Parade Road, #05-10/11, Singapore 449269
11. Dr. Chiang Wen Chin – Chiang Children's Allergy and Asthma Clinic
Dr. Chiang is a saviour paediatrician for many parents in Singapore, especially those who have kids with allergies. Her sub-specialities include management of children with food allergies, asthma, allergic rhinitis, eczema, drug allergies, immunotherapy and immunodeficiency.
Mount Elizabeth Medical Centre, 3 Mount Elizabeth, #17-12, Singapore 228510
12. Dr. Lee Bee Wah – Child and Allergy Clinic
If it's experience you're after, Dr. Lee Bee Wah has been in practice for over 40 years in the field of paediatrics with a specialism in immunology and allergies. She has a gentle, softly spoken bedside manner and won't prescribe unnecessary (and costly) medication to your child.
Mount Elizabeth Medical Centre, 3 Mount Elizabeth, #11-11, Singapore 228510
13. Dr. Ooi Pei Ling– International Child & Adolescent Clinic
Dr. Ooi Pei Ling is an approachable specialist with an interest in paediatric rheumatology – including chronic joint pains, prolonged or recurrent fevers, auto-inflammatory syndromes, Kawasaki's disease, arthritis, systemic lupus erythematosus, and so much more. And the best bit? She is also fluent in English, Mandarin and Malay.
Gleneagles Annexe Block, 6A Napier Road, #02-43, Singapore, 258500
14. Dr. Ong Ian – Thomson Paediatric Centre Parkway Parade
Quite simply, we think Dr. Ong Ian is lovely. She's a mum of two, and you can tell in the way she talks to your kids when they come for a consultation – parents, we know this makes all the difference. She trained and practised in London (bonus if you've moved here from the UK and want someone who understands your kid's red book!) and has a special interest in infant feeding and nutrition.
Parkway Parade Medical Centre, 80 Marine Parade Road, #05-13, Singapore 449269
15. Dr. Jeeve Kanagalingam – Mount Elizabeth Novena Hospital
If it's an ENT specialist you're after who is fab with kids, then look no further than Dr. Jeeve. Although not specifically a paediatrician, we had to include him in this round-up as we've only heard good things about him when it comes to working with children.
Mount Elizabeth Novena Hospital, 38 Irrawaddy Road, #06-63, Singapore 329563
16. Dr. Leo Hamilton – Kids Clinic @ Novena
Dr. Leo is another great option when it comes to paediatricians in Singapore. Originally from the US, Dr. Leo has been in Singapore since 2011. He currently sees newborns and children in his clinic at Royal Square Novena as well as at Mount Elizabeth Novena, Mount Elizabeth Orchard, Gleneagles, Parkway East, and Thomson Medical Centre. He is a strong believer that most children need few or no medications, which is really refreshing. He also has a really lovely manner, so the kids are sure to be fans. He's also available for an e-consult if you aren't nearby!
Royal Square at Novena, 101 Irrawaddy Road, #16-09, Singapore 329565
There you go, a list of the best paediatricians in Singapore!