Photography: Travis Grossen
What is the perfect age gap between siblings? We speak to our HoneyKids mums about the pros and cons of going big or going small. Buckle up!
First up, we have to put it out there: we don't believe there's such a thing as a 'perfect' age gap between kids. For some having two kids under the age of two is a doddle, for others it's the stuff that parenting nightmares are made of. But because Team HoneyKids is made up of big age gaps, small age gaps and gaps everywhere in between, we thought we'd look at the pros and cons of "The Sibling Age Gap Debate".
So, we asked Tracey (mum to Jack 16, Angelica 10 and Rafferty 6), for her pros and cons of going for a big age gap between her kids. We also asked mum of two young boys, Jana, for her take on keeping the age gap small. We then asked the rest of the HoneyKids mums how much time they left between having their babies, and, with the gift of hindsight, would they plump for the same gap next time round?
What's best: a BIG AGE GAP or SMALL AGE GAP between siblings?

A BIG AGE GAP: the pros
1. An older child is easier to handle when pregnant
When you have your head down the loo for weeks – or in some case months with hyperemesis gravidarum – having kids who are old enough to have some handle on understanding why mummy is lying on the bathroom floor makes it a tad easier. Also when they can get their own drinks and snacks: mega useful.
2. More one-on-one time
If you wait until your first child (or children) are at school before popping another one out, it means you get some really lovely one-to-one time with them individually. You don't have to juggle the needs of two or three very young children together.
3. One diaper at a time
If there is a big enough gap, chances are, the older kid/s will be a) out of nappies and b) can sleep through the night. Dealing with a tag-team of poop-filled, sleepless nights is hard, especially when you have two little ones going through it at the same time.
4. An older kid can help with the youngest
Getting the older one/s to 'help' with the little ones: it's handy to have an extra pair of eyes to keep an eye on a baby when you need to dash off to the loo!
5. Little ones can learn a lot!
It's super cute to watch big brothers or sisters teach a small one new things. Is there anything more adorable than an older sibling showing a six month-old how to sit up?
6. A big age gap has its financial benefits
Once older children are done with big ticket items, you can re-use things like strollers and cots. And when it comes to schooling costs, having kids at such different stages spreads the school fees slightly making it less of a burden all in one go.
A BIG AGE GAP: The cons
1. Tantrums from a teen and a toddler? No thanks.
Having a teenager AND a toddler scream at the same time is fun for nobody. Although, on the flip side, if a day filled with teen tantrums intertwined with toddler tantrums doesn't break you, nothing will.
2. Family time ain't always easy.
It is near on impossible to come up with a movie that the whole family want to watch together. Cosy Sunday afternoons with popcorn and happy fam-moments? Forget it. The day will slip by with full-on war because one wants to watch something with talking dogs in it, and one wants to watch a horror film.
4. Teenagers and toddlers don't always mix
Teenagers do not want young kids getting in their stuff/room/face/life and everything the small person tries to tell/ask/state to the teenager is met with less than savoury reactions. The big one sees the small one as a very, very annoying mosquito that won't go away. The little one never gives up.
5. Little ones won't have a play mate
When you have a big age gap between siblings, the smallest one at some point essentially becomes an only child when it comes to having a play buddy. If you're lucky enough to have a lovely older child, they may still concede to play with plastic toys with the small one, but chances are, it's not going to last forever.
6. Toys are a whole minefield
Old kids' toys can be pretty lethal to a toddler, especially when they hit the crawling stage. Lego, small plastic figures and marbles are not a good thing to have around the house when you have a little whirlwind seeking out choke hazards.
7. You won't ever get a decent photo of your kids together.
It's hard enough getting mine in the house at the same time, much less into a photo together. The last time I managed to get them to willingly pose together? We're talking years ago!
Tracey's conclusion:
"So turns out, for me at least, there are slightly more cons than pros… but I still don't think I would do it differently. Some of those pros are really quite huge and definitely outweigh some of the cons. Do my children always get along? No. But is that because of their big age gaps? Honestly, I am not sure: partly yes, partly no. I think it's more to do with personality than age, and I have come to the conclusion that if they are going to be genuine friends (one day), then it will be because they want to be, and not because of the years between them. I'll report back in another 10 years and let you know…"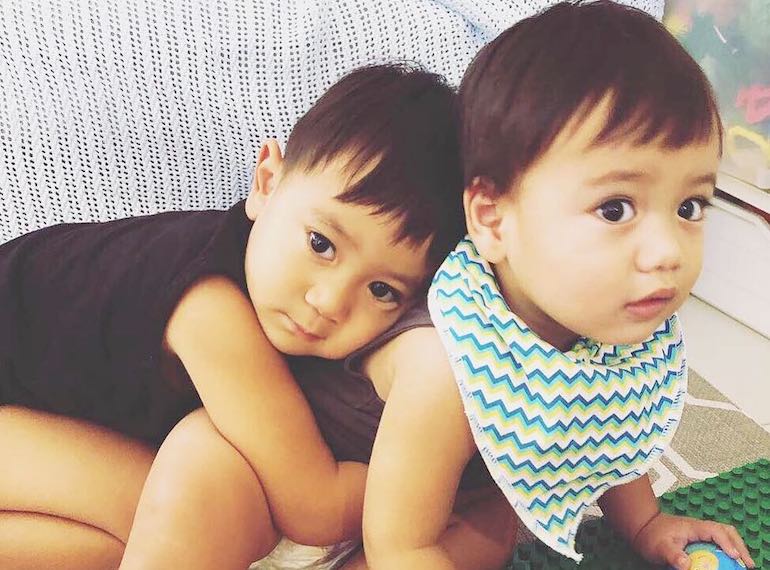 A SMALL AGE GAP: the pros
1. Hand me downs galore
Hand-me-downs, whether clothes or toys, are a godsend for every mum, especially with baby gear being so pricey. With two kids so close in age, you'll get more bang for your buck when it comes to clothes, feeding and nursing gear and even toys. Big bonus if you have kids of the same gender, although some parents don't mind or choose to buy gender neutral clothing from the get-go to play it safe. A mum we know once said: "When you're clothes shopping for your eldest, there's no need to feel guilty. Just think of it as getting a permanent 50% discount off everything."
2. They enjoy each other's company
I hope this stays true for the rest of their lives, but my two toddler sons currently love the stuffing out of each other. My older son is constantly cuddling his younger brother (whether he likes it or not) and my younger son finds his older brother hilarious. They're at the stage where I can leave them to play while I work on my laptop and be as relaxed as I can about it.
3. They have lots in common
Whether its toys, music or TV shows, my two boys enjoy the same things. They also love swimming, going to their gym class and going to the zoo together. They also enjoy eating the same food (and share with each other when they're feeling generous) and share the same bedtime which makes life so much easier.
4. You get through the tiring stage faster
I'm not going to lie, having two kids so close in age is really tiring – physically and emotionally. But since everything you've learned from having your first baby (changing diapers, pumping, breastfeeding, starting solids) comes around again so quickly, you'll feel like a pro. I think I was less overwhelmed compared to other mum friends who had to start all over again. In fact, you'll be so accustomed to being tired that any added stress will feel like a piece of cake (on most days).
5. It's easier to continue where you've left off
Being pregnant and having babies has this tendency to throw us off our paths. Most of us take breaks from our career, working out and whether we like it or not, we find that our lives are changed. In my case, I took a two year break from practicing Brazilian Jiu-Jitsu on a regular basis and switched from full-time employment to working part-time. I feel that now that I'm done having kids, I have no excuse but to get back into the swing of things.
A SMALL AGE GAP: the cons
1. It's REALLY tiring
Man, nothing will take the wind out of you like having to deal with two crying babies at the same time. Or having to deal with two tantrums. Or changing one nappy after the other, on top of three straight years of sleepless nights. The everyday things like commuting and having to lug around two gigantic car seats, schlepping the luggage-sized diaper bag on top of that – it's nuts. And if you're breastfeeding, well… you deserve the Mummy of the Year award for sure!
2. There will be lots of tears (from all parties involved)
Because my firstborn was really young when baby #2 came around, he was really jealous of his younger brother. Sharing the spotlight isn't fun for a toddler, especially when they're used to being the cutest things around. Things got especially fun when both of them would cry at the same time. It seemed like a howling contest and, after a while, I felt like joining in too.
3. The double stroller conundrum
Ah…the double stroller. The best thing we've ever bought for our kids and also the fourth (and most expensive) stroller we have. When you've got two teeny ones, taking them out together can be tricky. Sure, you can get away with baby wearing the little one for a few months, but when you've got a chunky bubba like I did, you're going to wish you had a double stroller. Now for the best part, double strollers are not fun to use. They're so long and so wide, you're going to need to harness all your parallel parking skills when you're out and about.
Jana's conclusion
"I don't think there's such a thing as a perfect age gap between siblings. Tracy makes it work with her big age gap, and I'm still trying to figure it out with mine. But now that both kids are walking and talking, it's a lot easier and I'm loving it. I'm just crossing my fingers and hoping that my two boys will stay best buds forever and ever."
Still unsure? We speak to more HoneyKids mums about what worked (or didn't work!) for them…
Selina, mum of Maxton (6) and Grayson (4)
I'm a cliche – my boys have a two-year age difference. We went for the 'ripping off the bandaid' approach. Five years of nappies and insane toddlers and then shutting up shop! Is it a good age difference for siblings? It's so personality driven, right? I know siblings who are born pretty close together and can't stand each other, and siblings with a significant age gap who are good friends. As for my own sanity, I think it's a moot question – I still don't get a full night's sleep!
Brynie, mum of Isabella (6), William (4) and Penelope (2)
I wanted to 'get it all out of the way' within a very small time frame. Three kids in three years and eight months to be exact. Is that insane? Yes! Is it hard? Yes! Would I do it again? Hmmmm…
The early days were very difficult and chaotic while trying to manage a 3.5 year-old, an 18 month-old AND a newborn all on separate routines! Did I mention we didn't have a helper for the first nine months either? Woah! It's much easier now that they're on similar routines – no more nappies or strollers, and they're all at nursery or school. It also helps that everyone is sleeping through the night. Now I spend my days being a referee… so we're into a new stage of fun and games.
Angela, mum to Xavier (6) and Marcel (4)
We went two in two years, mainly due to the fact that I wanted my kids to have a sibling close enough in age so that they could be friends. So the biggest pro for my two-year gap is the fact that my kids are best mates now: they are invariably found in each others beds asleep, they play well together, and their friends are each others friends. Personally I think the best age gap for me as a mum would have been three to four years. I found the first year with a newborn and two year-old incredibly hard, whereas once my older son hit around three he was so much easier to negotiate with! But then I wouldn't want to change the age gap now, of course, especially now that we are well out of the nappy and stroller stage. However, my advice is to go with whatever you as a mum are feeling ready to cope with.
Kate, mum to Alfie (6), Camilla (4) and Gabe (1)
I have a six year old, a four year old and a one year old – I never felt compelled to have my kids particularly close together. For me mentally and physically, I found the recovery from pregnancy and childbirth took some time, so I wasn't in a massive hurry to do it again. Some women aren't so lucky – if you struggle with conception, you may need to have the kids in quick succession. And some women love the idea of getting it all over and done with, but I just don't think my body or mind could have coped with being pregnant or the hormonal nightmare of that first year after childbirth.
Having said all this, my first two are now older, independent and mostly manageable, followed by a one-year old, who is heading into the toddler stage. Eek! Some days I imagine life with older kids: staying out past 7pm, going to the cinema, going to see shows, me going back to work full-time… But in the end, you are at the mercy of the gods!
So, what's your take on the "Sibling Age Gap Debate"? Let us know by DM'ing us on Instagram!