From cots and swaddles to monitors and white noise machines, here's everything you need to help your baby sleep soundly in Singapore.
It's impossible to predict whether a family will be blessed with a miracle sleeper or not. And what works with one baby may not work with another (unfortunately). Some babies will only fall asleep to that lullaby you once heard in a remote Cambodian village (that you can no longer remember). Or, if you're a frequent-flying expat, the rocking of a business class bassinet might be the only sleeping trick (sigh).
In any case, tips, gadgets and baby products promising to get your bub to sleep are as varied as each child themselves. Alas, we don't have a magical solution for you (sorry!), but we can share some of our favourite essentials that you'll want to try for your (hopefully) sleeping baby – all available right here in Singapore! And psst, you might want to add them to your baby shower gift wish list!
All the essentials you need for your sleeping baby
1. Moses basket and bassinets
The transition from the womb to a cot can be a little daunting for our newborn babies, but Moses baskets and bassinets are nice, small, cosy mini-cots for babies to snuggle into. Choose one with wheels if you want your baby to follow you from room to room, or if you're healing from a C-section. Places like Motherswork Singapore and Mothercare have a good selection to choose from. Another option is to rent a hospital trolley either directly from your hospital or from the RentInfantStuff page on Facebook.
2. Nests and pods
A space-saving alternative to the basket and bassinet is the Red Castle Cocoonababy nest pod and the Sleepyhead (available online via John Lewis UK). These pods can be used for daytime napping and night-time snoozing, and can be popped on the sofa, or into the larger cot, or as a safer way to co-sleep (please do read all the advice you can on co-sleeping before choosing this as an option!). If not, try Motherswork Singapore or Mothercare for more options!
3. Air steriliser
When you've got a newborn, you're going to want to make sure everything is clean — especially the air they're breathing. You'll need an air steriliser or purifier that'll improve the quality of indoor air your little one breathes. We love the Airfree air steriliser which is designed to kill airborne viruses, bacteria, mould, dust mite allergens, pet allergens and pollen with patented TSS technology. The best part? The Airfree air steriliser is filterless which means it requires zero maintenance AND it's silent. Yass to fuss-free, safe sleep for bub!
4. Cots and beds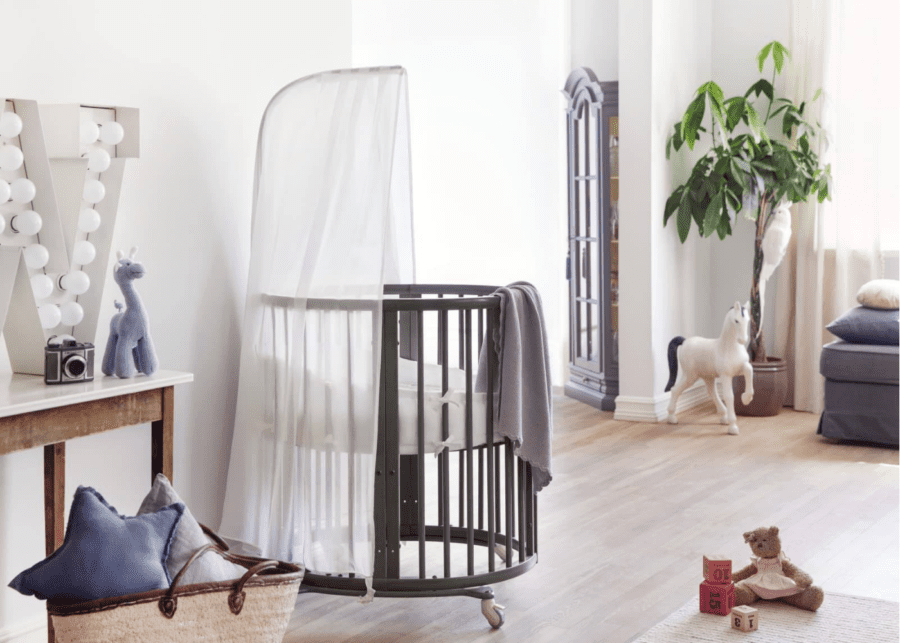 An all-round stylish and functional bassinet/cot/bed is The Stokke Sleepi Bed. On wheels, it transitions from newborn bassinet to a full-size children's bed. On the less pricey side, there's a whole range of IKEA budget options, some with matching bedroom sets to choose from.
There's also the Chicco Next 2 Me co-sleeper cot. It's compact and adjustable in height – plus, one side of the cot folds down so that you can pull it right up to the bed next to you, making it really practical for night feeds and co-sleeping in a safe way. Alternatively, if your baby needs plenty of settling, check out the 4moms MamaRoo Infant Seat, which is great for daytime snoozes and will bounce and sway your baby to sleep.
5. Baby monitor
These nifty gadgets transmit sound (or video) from one room to another, so you can keep tabs on your tot from anywhere in the house. Nowadays, you can also download an app and use a smartphone option. Make sure that you don't have any interference in your home from nursery to lounge room, and check the distance the signal can comfortably reach. Angelcare's baby monitors have been one of our go-to's when it comes to baby monitors, but the Cloud Baby Monitor is a solid option, too.
6. A swaddle blanket
Singapore's hot, humid weather means that muslin wraps are a great option. Once you learn the art of the swaddle, they're easy to use and also make great shade cloths over a pram. Additionally, they provide warmth to a sleeping baby in air-conditioned malls. Try the swaddles from Aden + Anais and Love To Dream. The latter has zip-up swaddle suits, which is a great way for babies to recognise that it's time for bed. Works wonders, we tell ya!
7. Sleeping bag
Swaddling is designed to keep babies from waking themselves with their startle reflex. But once you've moved on from swaddling and half-swaddling and your baby is starting to want to roll over, it's best to move onto a sleeping bag. Make sure it is tried and tested as safe and won't give them the opportunity to smother themselves. Check out the GroBag, or better yet, pick one up from Love To Dream when you get your swaddle.
8. Attachment item
Don't underestimate the power of a lovely or cuddly blanket. They may not show any interest in one initially, but continue to keep a soft item nearby and they will grow to love it. This can help bring comfort to your child during any periods of separation anxiety. Our faves? Anything from the Cheeky Chompers range, as they incorporate teethers too, which is ideal for any little slobber monster.
9. Blackout curtains or blinds
Trying to get baby to snooze in the daytime might become a daily struggle… Trust us, we've been there. Our tip? Blackout curtains help block out most light and will ensure quality sleep. Plus, you can purchase portable versions for your next vacay! Our picks? The Gro Anywhere blackout blind, which can be attached to any window thanks to its suction cups.
10. Nightlight
Nightlights are great to use when checking in on the baby, or during night-time feeds. They can be used right through to toddlerhood, and some have multi-functions. For one, the Gro-Clock teaches toddlers the difference between sleep time and awake time. On your next visit to IKEA (there will be many), check out their cute, battery-operated Kornsnö night lights. And for soft light adorableness, Deer Industries has a ton of options for you to consider.
11. White noise and soft tunes
White noise is useful for blocking out other background noises which might wake your baby. We like the Cloud B Sound Soothers, as they also play soft tunes or a heartbeat. Or, you should check out the Baby Shusher, which strangely but effectively says "shush" on repeat. Who are we to judge? If it leads to a sleeping baby, we'll take it!
12. Mobile
Mobiles can be soothing and hypnotising. The best ones are the ones that move naturally in the breeze and are hung at a good distance above your baby's lower body. But, beware of mobiles with too many lights and actions as they can cause over-stimulation. It's important that your baby cannot reach or pull a mobile into their cot and risk choking or strangulation, too. Etsy has many beautiful mobiles to choose from – some even offer personalisation – or there's also the Flensted range at Playhao, which is simply lovely.
13. Pacifiers
It's a personal choice as to whether you offer your baby a pacifier or not. They can be a godsend for unsettled babies, but baby-wranglers advise that you wean them off when the suckling reflex subsides, which is around three to five months to avoid dependency. But we're all for whatever works for our families! Try the Phillips Avent soothie pacifiers or one from Pigeon. Our go-to, Mothercare, also has a great range of soothers to choose from.
Happy shopping, parents!
Love this list of sleeping baby essentials? Check out our guide to baby feeding must-haves too!