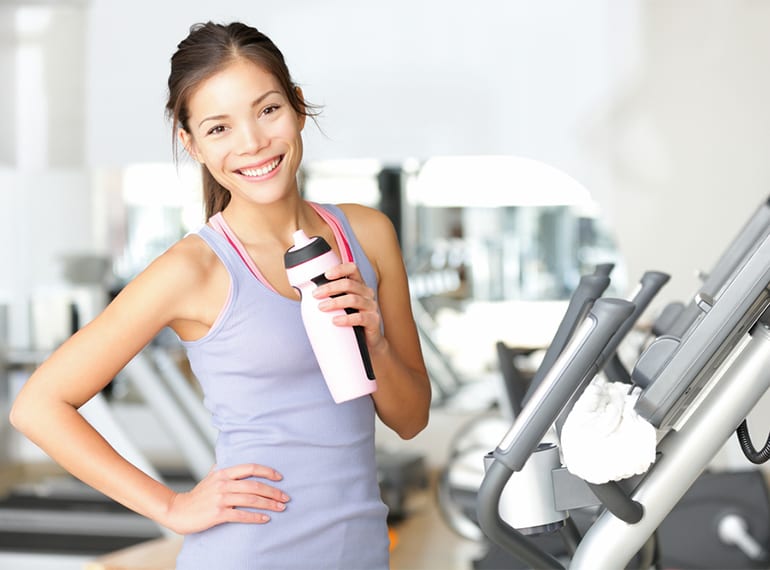 Looking for an exercise class that doesn't wallop you for big fees every month? We've found the affordable, short term and drop-in membership options for busy mums...
Phase 2 is here, and we hope it's here to stay. If you've spent the circuit breaker exercising alone or with the kids and want to continue living a healthy lifestyle, you might want to consider joining a gym! But when gym memberships make us commit to a regular, often expensive, monthly payment which gives us zero flexibility, we often end up out of pocket and feeling guilty when we don't manage to get to an exercise class on a remotely regular basis. What we need as mums are affordable gym options that fit with our busy parenting schedules. Et voila: we give you the fitness centres and gyms where drop-in, short membership options and wallet-friendly classes are the names of the keep-fit game. Strap on your trainers, parents!
F45 Training
If you fancy high-intensity interval workouts with fast, proven results, check out F45 Training, a gym experience that has been a big hit with folks everywhere. You'll be doing circuit workouts, strength and functional training and plenty of other cardio and resistance exercises that'll tone your muscles. They've got studios in 28 locations in Singapore (with eight more locations slated to open), and offer several short-term, no-commitment options for you to enjoy their classes. Prices vary depending on the location of your studio.
Where: F45 Training, 28 locations islandwide with varying price points
At just $50 for five sessions with pre-hydration, workout and recovery shake, the drop-in sessions run by [email protected] are awesome value for money and a way to get great results, too. Join a Power Lunch session at the Robinson Road studio which include piloxing, beach body, kickboxing or bodify classes. Or, head over after you've finished work for Evening Fit Club on Monday and Thursdays. Alternatively, join its Special Fit Club on Tuesdays and work on your kickboxing or beach body.
Where: Robinson Road, 144 Robinson Road, Robinson Square, #07-02, Singapore 068908
Gymmboxx
With six locations from Bedok to Jurong and everywhere else in between, you'll find a Gymmboxx to suit for sure. The gym equipment is available to use 24 hours a day and it also has personal training options. The 'pay per entry' deal sounds right up our hectic lifestyle street (it's temporarily on hold, so look out for it in the future!). There are also one month and one-year plans available – get in touch to talk through what membership suits you best.
Where: Gymmboxx, Six various locations around the country
Dennis Gym
Head over to either the Tai Seng, Simei, Farrer Park or Jurong branches of Dennis Gym and try a three-month membership to give you a chance to work out whether keeping fit at a gym really is something you can factor into your life. Do your own thing by using the gym equipment, employ a personal trainer to whip you into shape, or try one of the great classes (muscle toning sounds like something we definitely need) happening across all four locations.
Where: Dennis Gym, Four various locations
The Yoga Mandala
Add some zen into your life by taking a little time out for weekly drop-in yoga sessions at The Yoga Mandala. We've tried and tested this one and love the bright, cosy studio and super friendly instructors, and the fact we can pay as we go ($220 for a package of 10 classes). There are also yoga instructor training classes if you want to take your love of yoga to the next level.
Where: The Yoga Mandela, 134B Telok Ayer St, Singapore 068600
ActiveSG
If you are a citizen or a PR here in Singapore, then ActiveSG definitely needs to be on your radar. Set up to encourage the nation to live a better life through sport, Singaporeans are encouraged to sign up for a free membership and receive $100 credit which is valid for a year. Once you're up and running, the whole island potentially turns into one big exercise platform – which is why we think it's an affordable gym option for mums. There are programmes for all ages (kids too) from Aqua Aerobics to Taijiquan. Whether you fancy a team sport, a swimming lesson or just a good long sweat in a gym, there is something for everyone – just download the app and start booking! Where: ActiveSG, Various locations
Platinum Fitness
For a spot of lunchtime or post-work fitness, head over to the spiffy digs of Platinum Fitness in the CBD area. There's plenty to keep you fit in this 24-hour gym and no pressure to sign up for personal fitness sessions, and classes are based on the popular HIIT (High-Intensity Interval Training) concept. An affordable gym option!
Where: 6A Shenton Way, OUE Downtown Gallery, #B1- 04/05, Singapore 068815
HomeTeamNS Fitness Workz
You'll be fit 'n' fab in no time by taking advantage of the drop-in options at one of the three HomeTeamNS Fitness Workz studios dotted all over the island. Equipment is geared for complete cardio and strength training workouts, and if you're a member it will cost you from just $5.35 to walk in (non-members from $8.60). There are also affordable monthly options from $53.50 for three months of workouts, and if you head to the Bukit Batok branch you'll find a steam room and pool too.
Where: HomeTeamNS Fitness Workz, Various locations