Teens have caught the 'Hallyu Wave', which is the growing popularity of Korean entertainment and culture, and here's the lowdown on one part of it by our Tanglin Trust intern, Sophie. Prepare to K-Pop!
Living in Singapore (or Asia, for that fact), we're no stranger to Asian media like K-drama (we do love a good Netflix binge), thanks to the Hallyu Wave. The most well-known part? Korean music, aka K-pop. With catchy beats and incredible stage performances, these groups and soloists are taking over the charts with their pop hits and it's no surprise that their appeal to young people is thriving. But what exactly does it entail, and what groups are teens obsessing over? Teenager, Sophie, has been teaching us a thing or two about it all…
The earlier generations of K-pop
Yep, K-pop has gone through different generations and before current groups like BTS and EXO, it didn't really take off in Singapore until groups like the Wonder Girls, Big Bang and 2NE1 came along. If you've ever listened and danced to "I want nobody, nobody but you~", then you've already experienced a part of the K-pop wave, even for those few seconds. That catchy refrain comes from the hit song  'Nobody', released in 2008 by the Wonder Girls. Other songs that hit mainstream include Girl's Generation's "Gee", Big Bang's "Fantastic Baby" and 2NE1's 'I am the best'.
Unless you've been living under a rock for eight years, you've probably heard of the infamous hook "Oppa Gangnam Style!" from the eponymous song released in 2012. The famous catchy tune and equally eye-catching dance by the Korean artist Park Jaesang, or 'PSY' had everyone from Asia to the US doing that galloping move (you know the one), and even today we're belting it out in karaoke booths all across the island. It is one of the biggest moments in K-pop, and was the first Youtube video to reach one billion views.
Who are the fans listening to nowadays?
So what are the kids listening to nowadays? Well, like all music, it comes down to personal preference. If we were to go through it all, this list would never end, so here's what my friends and I are listening to right now…
BTS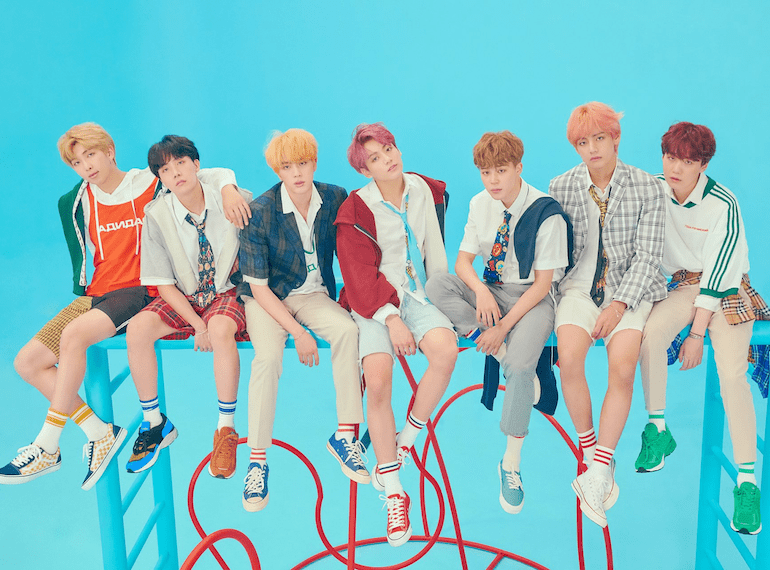 Arguably the most famous K-pop group at the moment is BTS (pictured top). This seven member boy group has gained worldwide support from fans from every age, gender, and country. First debuted in 2013 with its roots in hip hop, the group has steadily grown in popularity and began rapidly becoming more popular in 2017 and 2018. You might catch their most recent release 'Boy with Luv' featuring English singer, Halsey, on several  radio stations in Singapore! The words are stuck in our heads: "Oh my my my, oh my my my…."
Songs I like from this group: RUN, Blood Sweat & Tears, Lost, 2! 3!
Red Velvet
Red Velvet is a five member girl group, who has only grown in popularity and talent since their debut in 2014. Their comebacks often have different concepts, such as 'Red Flavor' which has an upbeat tune compared to their 2015 song 'Automatic', which has a slow R&B feel, demonstrating their versatility and talent. They came to Singapore for their tour 'REDMARE' on October 20th 2018 at the Star Theatre.
Songs I like from this group: Bad Boy, Dumb Dumb, Lucky Girl, Happily Ever After
EXO
EXO has been one of the biggest K-pop boy groups since 2012. The nine member boy group is made up of Korean and Chinese members and have a plethora of catchy tunes which anyone can dance to, including "Call Me Baby" and "Monster". They have songs ranging from hip-hop and R&B to synth-pop and EDM, all of which are perfect to dance along to, so go ahead and practice those choreographies!
Songs I like from this group: Call Me Baby, Love Shot, Tempo, Growl
Twice
Twice is a nine member girl group who have incredible popularity in South Korea and Japan. With cute dance moves and upbeat melodies, this girl group has demonstrated their charm and talent through popular songs like "TT" and "Cheer Up." Can you say outfit goals? They are currently on their tour 'TWICELIGHTS', and will perform in Singapore 13 July at the Singapore Indoor Stadium.
Songs my friends like from this group: Likey, Cheer up, Heart Shaker, What is Love?
NCT
NCT is a K-pop boy group that is constantly expanding. There are currently 21 members of NCT! Now I know what you're thinking, that's a big group, but they are split into sub units  (basically normal sized groups) but together they all fall under the NCT umbrella term. The current sub-units include NCT 127, a fixed group based in Seoul, NCT U, a sub-unit with constantly changing members, NCT Dream, a group of members under the age of 18, and recently WayV, a group formed with the Chinese members of NCT. We love their incredible dance songs and raps!
Songs I like from this group: Black on Black, Limitless, Summer 127, We Go Up
Blackpink
Blackpink is a four member girl group with incredible talent. Their songs are a mix of hip-hop and pop, with famous songs including "Boombayah" and "Playing with Fire." Three of the four members speak fluent English, with one member, Lisa, being from Thailand. Recently, they released a new song "Kill this Love", which has major dance vibes!
Songs my friends like from this group: Playing with Fire, Ddu-du Ddu-du, Forever Young
Seventeen
Despite the name, Seventeen is actually a 13 member boy group,  comprised of members from Korea, the US and China. Their song 'Don't Wanna Cry', released in 2017, led to a massive upheaval of support for the talented group. They often write and produce their own songs, and their choreographies are amazing to watch! They visited Singapore and performed at the Singapore Indoor Stadium for their 'IDEAL CUT' tour in September 2018.
Songs I like from this group: Good to Me, CLAP, VERY NICE, What's Good, Call Call Call!
Honorable mentions
New groups debut all the time and the ones we're listening to these days are Stray Kids, LOONA, and TXT. (If you've ever heard your kid say "stan LOONA", you should definitely listen to them and go check out their catchy songs and incredible music videos…)
If you and your teenage fangirls and fanboys are interested to catch some amazing K-pop performances by groups like MONSTA X, Super Junior, Pentagon and (G)-IDLE, then head to this year's HallyuPopFest happening on 25 and 26 May. Tickets are on sale now!
The positive influence of Korean 'idols'
The one thing parents always worry about is whether anything kids are interested in has a good influence on them. So is K-pop a good influence? In my opinion, apart from producing some amazingly catchy songs, many K-pop artists have used their fame for a good cause. For example, Red Velvet's Irene participated in a UNICEF Clean Water campaign. BTS also collaborated with UNICEF for their Anti-Violence campaign, following the release of their album "Love Yourself". Big Hit Entertainment, their music label, pledged 500 million KRW to the campaign. These charitable acts can certainly influence teens to come forward to support these communities themselves.
So what's the hype?
Overall, the world of K-pop varies greatly from the one of Western pop. Fans are incredibly supportive of the band they like, or 'stan' in millennial terms. In my opinion, there is a stronger emphasis on the tune of the song as well as the dance rather than lyrics, partly due to the language barrier, which makes for incredible songs. The fact that people who don't even speak Korean still enjoy K-pop songs is incredible. The presence of K-pop shows the power of the universal language that is music, and how it can bring people together and shed light on social issues while at the same time entertain people and bring happiness. So blast your speakers shamelessly with Korean music and dance (the night away) along with your kids!
Like this story? Here's more we think you'll enjoy:
Low cost and free things for teens to do in Singapore
Depression in teens and what to look out for
Should parents monitor their teens social media accounts?
Working as a teen in Singapore: the rules and regulations
Don't forget to subscribe to our weekly newsletter and follow us for fun moments on HoneyKids Instagram!