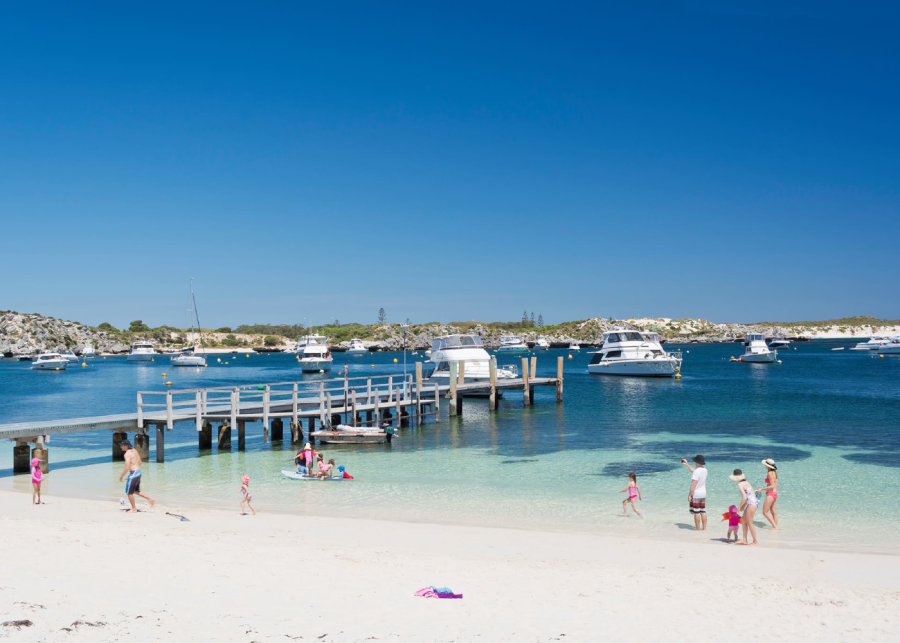 A short five hour sling from Singapore, you can be in sunny Perth in Western Australia for your next family holiday of a lifetime. From white sandy beaches to luxury stays, you'll never forget your trip to this nature playground.
It's no secret that us folks at HoneyKids love Australia. Whether it's sunny Sydney, magical Melbourne (hello, best coffee ever!) or the gorgeous Gold Coast, we're huge fans of all the awesomeness the country has to offer and Perth, you're calling us. The city has us in the palm of its hand with its stunning native flora and abundant wildlife, awesome beaches, scrummy eateries and a plentitude of indoor and outdoor activities to keep everyone in the family entertained.
A convenient five hours flight from Singapore, Perth – the capital of Western Australia – is a delight to be savoured time and time again either for a sneaky long weekend or school holiday break. Check out our carefully selected list of the best things to do in Perth with kids and see why Australia's most isolated city should be top of the list for your next family adventure.
Stay in Style: Where to stay in Perth with kids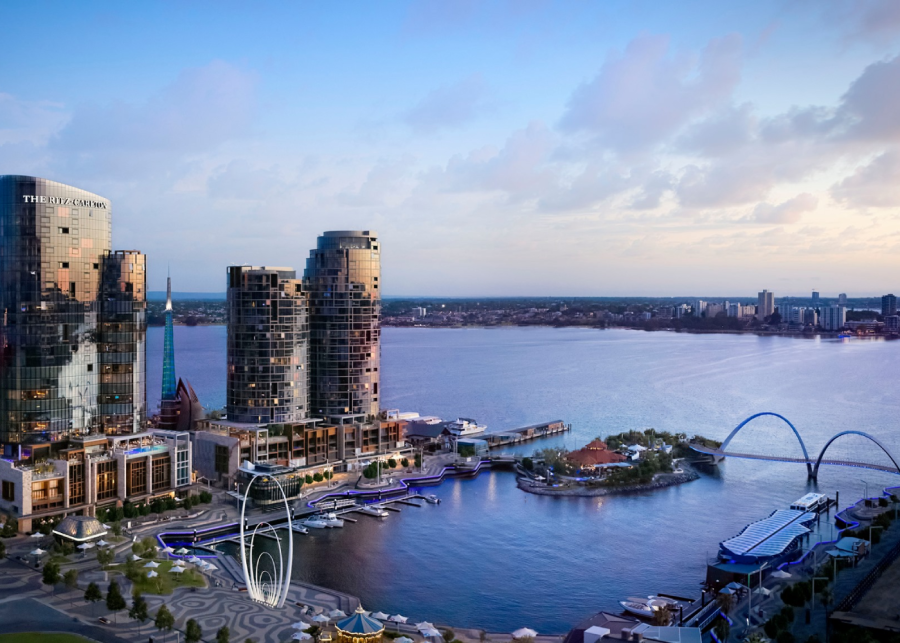 When visiting Perth, we suggest checking into our two favourite hotels. Firstly, The Ritz-Carlton for views to die for along the Swan River, this luxury hotel overlooks Elizabeth Quay, the river, skyline and urban parks. Culinary excellence is second to none here highlighting local ingredients and providing guests with a culinary journey through the intriguing flavours and dishes of Western Australia. There's also a river-view infinity pool and a luxury hotel spa featuring bespoke pampering rituals (Muma is happy!). For a historic stay check out Singapore's own, COMO The Treasury. This hotel is 5 stars of wonderful and stands at the historic Point Zero. It is literally the centre of the city, which makes traipsing around the city with kiddos easy. There are plenty of things to do close by, perhaps a picnic at Kings Park, or discover the history and culture of surrounding Cathedral Square. Families can indulge in spacious rooms or suites with in-house playhouse tents for kids under 6 years of age.
Where: The Ritz-Carlton, 1 Barrack St, Perth WA 6000 and COMO The Treasury, 1 Cathedral Ave, Perth WA 6000
Where to visit in Perth with kids
Cottesloe Beach
A beach day is one of the best (and free-est) things to love about Aussie life, which is why visiting Cottesloe Beach (or 'Cott' for short) should be at the top of your to-do list while visiting Perth with kids. For starters, its picture-perfect white sandy beach and bustling cafe and restaurant scene make it the perfect day out for the whole family. Think a gentle swim, snorkel or surf in crystal clear waters – parents can chill knowing a net has been installed around the swimming areas to keep the wildlife out – followed by a spot of fish 'n' chips (we hear The Blue Duck is pretty awesome).
Top tip: if you're not keen on hiring a car and trying to find an elusive parking spot, then hop on a Transperth bus or enjoy a 20-minute stroll from the Fremantle train line.
Where: Cottesloe Beach, Marine Parade, Cottesloe, Western Australia, 6011
Scitech
For a fun, educational, interactive day out pop your thinking hats on and head to Scitech. Discover an awesome array of interactive exhibitions, experiences, shows and workshops. There's even a mega 180-degree Planetarium Dome with surround sound and digital projection if you fancy a unique exploration of our universe! Don't miss out on the Discovery shop for innovative products that will spark the curious minds of your young scientists, no matter their age (or your budget). Hungry? Make a bee-line to the Splitting Bean Cafe on-site for scrummy refreshments when tummies start grumbling.
Where: Scitech, City West Centre, Corner Railway Street & Sutherland Street, West Perth, 6005
Rottnest Island
'Rotto' is Aussie slang for Rottnest Island, a 25-minute ferry ride from the mainland. It's the perfect place to visit for a trekky outdoorsy day. It's also a great place to spend quality time, with plenty of awesome places to stay overnight for every budget, and all the information is available online. Day trips from the mainland are also extremely popular, and getting around is easy peasy. Either hit the trails on foot or hire bikes at the ferry terminals or there's the Island Explorer bus service. Along the way, you'll get the chance to meet quokkas, Western Australia's cute marsupial residents. You might also spot seals, ospreys and whales if you're lucky! There's a bevy of beautiful beaches, and coral reefs for awesome snorkelling spots. If you're keen to submerge, check out Aquaplay for all your aquamarine needs. One thing is for sure, have your camera at the ready, because Rotto provides the perfect backdrop
Alternatively, there's also a shuttle bus service. There's no end to the family fun on offer here: enjoy plenty of water action, mini golf, shopping, great eateries and lots of guided tours.
Where: Rottnest Island, Western Australia, 6161
Getting there: The shortest ride is a mere 25 minutes from Fremantle. Alternatively, pick one up at Perth's Barrack Street Jetty (Elizabeth Quay) or Hillarys Boat Harbour. Feeling flush, there's always the helicopter or air taxi option. Yes, please!
Outback Splash
Not to be outdone in the waterpark stakes is Outback Splash. Just 30 minutes from the city, it offers a great day out. Not only is it a super-cool waterpark with thrill-packed slides and rides, but there's also year-round family fun. We're talking mini golf, a number of fun brain-teasing mazes to get lost and found in, sensory play activities and of course, the chance to get up-close and personal with Aussie wildlife staples like koalas, emus, wombats and kangaroos. Hungry? Head to The Burger Bar or Snack Shack for all the meals, snacks and refreshments. Bringing your own picnic is also an option, as is hiring your own cabana for the ultimate family day out.
Where: Outback Splash, 1635 Neaves Rd, Bullsbrook WA 6084. Check the website for opening hours.
Caversham Wildlife Park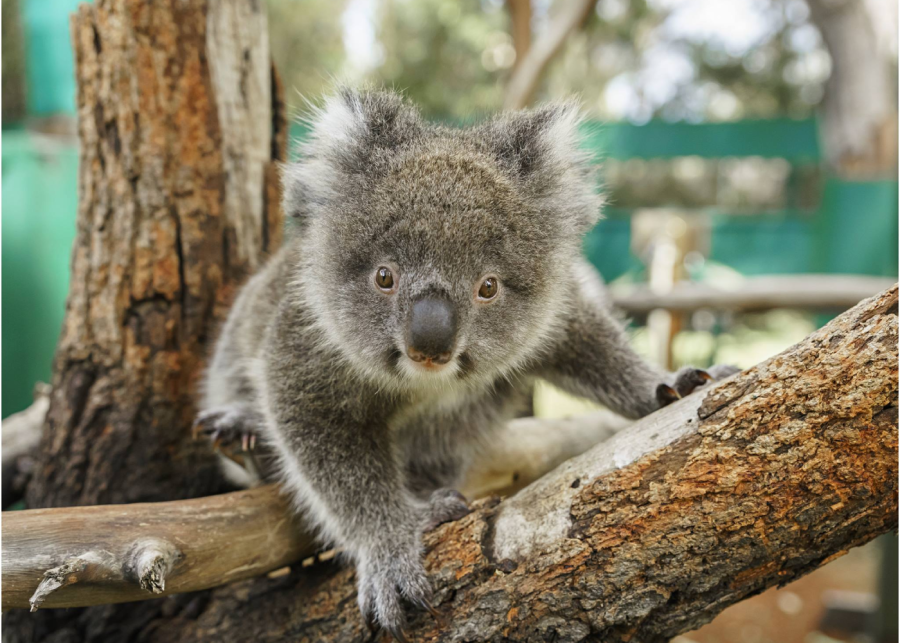 Spend the day at one of Perth's most exciting tourist attractions and learn about Western Australia's native wildlife. From hand-feeding the kangaroos, or joining an interactive farm show, where you can touch possums, lizards or meet a cuddly wombat. Take your time around the park, maybe plan beforehand so you don't miss your favourite daily attractions to take it all in and get all the prerequisite family snaps – and don't miss the cheeky penguins being fed at lunchtime! The animal food is included in the entry fee and there is a kiosk onsite offering light meals and refreshments, plus hot and cold drinks, ice-creams and other yummies. Don't forget to check out the Souvenir Shop before you leave.
Where: Caversham Wildlife Park, 233B Drumpellier Drive, Whiteman WA, 6068
Elizabeth Quay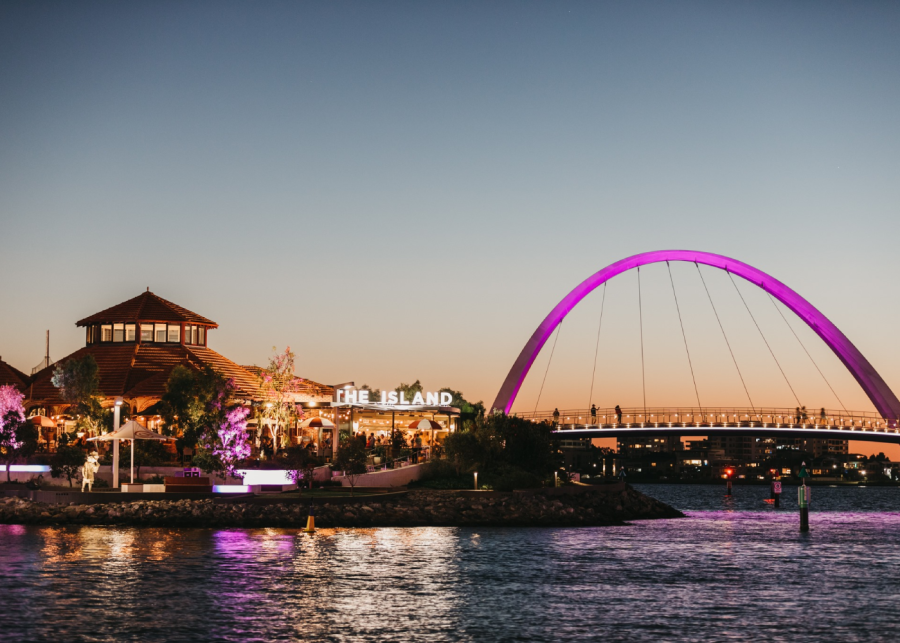 There's so much to do at the stunning Elizabeth Quay. The foreshore offers itself as a super-cool free playground for all ages. Plus there's plenty of sunshine, alfresco dining, markets and a lively festival scene to soak up. You can easily hop aboard the ferry running between the quay inlet and South Perth, or join a river cruise from Barrack Street Jetty, or perhaps taking your own water transport (boat, canoe, kayak) is more your style. There are cycling and walking trails along the riverside and public art via the striking arched suspension bridge and promenade circuit.
There are plenty of special family-friendly events at Elizabeth Quay. Why not try to take in a show against the stunning backdrop of Perth's cityscape and Swan River? Kiddies of all ages can play at the Playground on The Island or cool down at the interactive BHP Water Park opposite Elizabeth Quay station. There are also plenty of cruises, tours or live music to look into.
Where: Elizabeth Quay is located on the edge of the picturesque Swan River, between Barrack and William streets in the heart of Perth CBD. Look for the Bell Tower to find Barrack Street Jetty.
Swan Valley
Wine, cheese or chocolate, anyone? No trip to Perth with kids would be complete without a visit to Swan Valley. This valley, just a 25-minute drive east of Perth, is home to Western Australia's oldest wine region. It's an awesome place to visit when you're planning Perth with kids; everyone will love the chocolate factory, lavender farm, Whiteman Park, wildlife parks, mazes and the wide range of activities and fresh food to sample.
Download the activities map on the Swan Valley Kids in the Valley Trail and get cracking for school holiday fun, a family day out or a weekend stay. Bonus – there are plenty of scrummy foodie places to enjoy along the way to break up a full day of exploring. And don't forget Swan Valley Cuddly Animal Farm. Mum and Dad fancy a spot of wine-tasting? There are a number of kid-friendly wineries with playgrounds or kiddie menus to visit, including Mandoon Estate and Oakover Grounds. Cheers to that!
Where: Swan Valley, Guildford, Western Australia, 6055
Kings Park
You haven't visited the best of Perth with kids until you've visited Kings Park. It is, after all, one of Western Australia's most popular destinations, with some five million people strolling through it every year. There's plenty of cool stuff going on here for the whole family, like the Ivey Watson Playground in the Lotterywest Family Area. It's ideal for children under five to captain a pirate ship!
Older kids can cycle around the Hale Oval or climb the space net. Or there's always the Synergy Parkland playground facility. This is accessible from May Drive, which is wheelchair friendly and suitable for children over seven years. Check out the 75m-long elevated walkway, island fort, large-scale replicas of extinct Australian megafauna and an interactive water-misting forest. Try, if you can, to take a photo in front of the Giant Boab tree, or 'Gija Jumulu'. Don't forget the Rio Tinto Naturescape Kings Park for the opportunity to connect with nature, climb ropes, wade through creeks, build cubbies, make leaf boats and, best of all, get dirty!
Where: Kings Park, Perth, Western Australia, 6005
Fremantle Markets
Dating back some 120 years or so, Fremantle Markets features more than 150 stalls of unique or locally made gifts, homewares, souvenirs, clothing, toys as well as a number of gastronomic delights. Munch your way through an incredible array of fresh fruit and veg, or grab a bite at any number of scrummy eateries (we reckon there's some of the best coffee and cake in Perth!).
If that's not enough to get you packing, kiddies can take in some live busking entertainment or have their face painted while Mum or Dad partakes in a spot of crystal card reading. Full to bursting? Why not walk off all the treats by doing the Fremantle Markets 'Heritage Trail'. Download or print a brochure here and get set to explore the fascinating array of wares, people and stories.
Where: Fremantle Markets, South Terrace &, Henderson St, Fremantle 6160
When: Open every Friday, Saturday, Sunday and Monday.
WA Shipwrecks Museum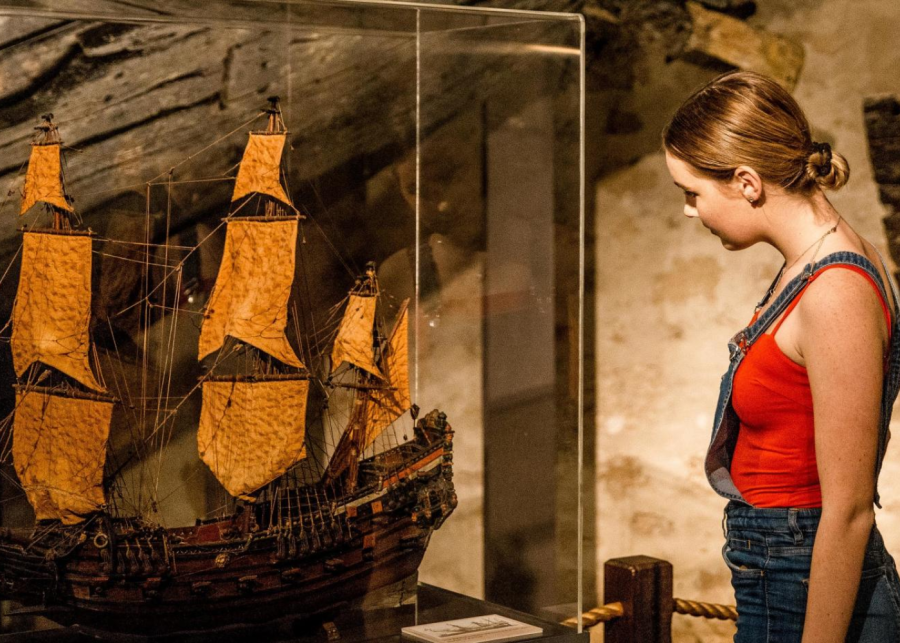 Here's a cool idea of what to do in Perth with kids: visit the WA Shipwrecks Museum, packed full of artefacts documenting shipwrecks and their relics. You'll need to book to take one of the free tours, otherwise, simply go and explore the museum at your own pace. The kids will be gobsmacked by the shipwreck gallery and chance to witness real shipwreck relics from the coast of Western Australia, but be aware that for safety reasons, littlies under five can't enter the submarine tour. If hunger strikes, then a quick stroll to Perth's iconic brewery Little Creatures Brewery will sort you out in a jiffy – grab a bite, sip a cold one and take a brewery tour while you're at it. It's always family-friendly, welcoming to kids of all ages and serves up delish bites.
Where: WA Shipwrecks Museum 45 Cliff St, Fremantle WA 6160
When: Open daily 930am – 5pm. Bookings are essential for tours. Check online here. Entry fee applies.
iFLY World
Feel like trying something out of the ordinary? Then why not try gently flying on a cushion of controlled air? At iFLY Perth, everyone aged three and up can experience the sensation of twisting, turning and sky-flying indoors – with absolutely no experience needed! If you're between six and 70, you may also want to consider the Virtual Reality (VR) flight option. Here you can experience what it would be like skydiving in virtual reality over some of the world's most incredible destinations, like Hawaii, Dubai, Southern California and the Swiss Alps. Beam me up, Scottie!
Where: iFLY World, 143 Great Eastern Hwy, Rivervale 6103
Perth Wildlife Encounters
Take the whole family on a marine wildlife encounter in the spectacular Shoalwater Bay. The Islands Marine Park, whose residents include over 200 bottlenose dolphins, rare sea lions and adorable little penguins are ready and waiting to meet you on a family day out on an eco-tour. This is an exhilarating wildlife encounter that will stay with the family forever, for ages 6 years and above.
Where: Perth Wildlife Encounters 153 Arcadia Drive (Corner of Penguin Rd) Shoalwater 6169, WA
Top tips for the best Perth with kids experience
Perth International Airport is approximately five hours flight-time from Singapore.
The best time to visit Perth with kids is in September, October or November when the city is in spring. December through February constitutes Perth summertime and therefore scorching temperatures can be reached. Alternatively, if you like cooler climes, June–August counts as the Aussie winter and sunsets around 5pm.
If you do not hold an Australian passport, you will need a visa to visit and enter Australia. Check visa details and the strict quarantine information before booking your ticket. While you're at it, check out what you need to know about COVID-19.
Currency is the Australian dollar.
Now all that's left is to enjoy Perth with your kids!