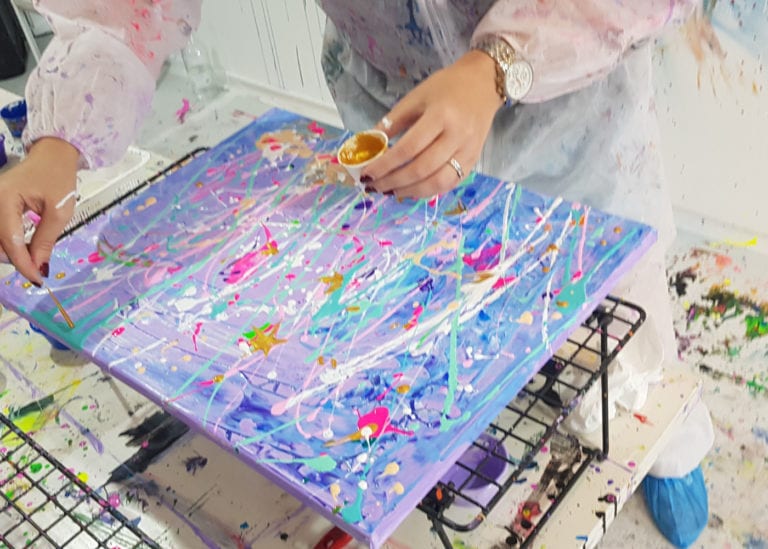 Who's ready for some messy, arty fun? Photography: Amy Potter
Looking for a fun painting activity for kids? Let their creative side go wild with a marvellously messy session at Splat Paint House
Fact: kids love painting – it's the perfect rainy day activity (and we all know Singapore has enough of those) or school-holiday craft project. But the thing about painting activities for kids is they pretty much always result in mess. Lots of mess. So, what if you could let your little ones unleash their creativity by splattering, flinging and pouring paint on to canvasses, then using water guns, syringes and straws to create some awesome (read: majorly messy) effects, minus the clear-up? Sound too good to be true? Cue Splat Paint House!
All the fun and no clean-up!
Dedicated to mess, artistic expression, play and, above all, fun, Splat Paint House is the perfect place for your kids to enjoy an art attack. The youngest artist they've had since opening was just three, but tweens, teens and fun-loving adults (just ask our editor!) will all have a blast – guaranteed! Get a bit twitchy where mess is concerned? Overalls and shoe covers are provided, plus the paint is completely washable, so any splatters, drips and spills are easily rinsed off once you're done.
The main rule: no splattering other people's artwork (unless they give you the thumbs up). After that, anything goes! Hanging your canvas on the wall and just flinging colour at it is not only liberating, but it looks cool, too!
Ready, set… Splat Paint House!
This awesome art studio is guaranteed fun and the best part is you get to keep your masterpieces as a cool keepsake. Feel free to leave your canvas on-site to dry for at least 24 hours before transporting it home to avoid any mishaps en-route. And, if you can't get enough of the abstract action, you can buy an additional canvas to use up any leftover paint. We loved the option for families to share one extra-large canvas and create a single piece – teamwork makes the dream work, folks!
We'll be going back for another round as soon as possible (and maybe even for a date night sans kids – you can drink wine while you paint to get those creative juices flowing!).
Splat Paint House, 4207A Upper Thomson Road, Singapore 574346.
Starter package $39 per person or Weekday Happy Hour (Mondays–Fridays, 3–6pm) $34 per person.