Image: Indii Breeze
Ditch the frumpy nursing tops and ponchos and settle for these fun yet classic pieces that you can wear post-breastfeeding
You've seen them… those shapeless sacks with drapey, twisted bits promising easy boob access for bub. Lift the smock-like outer layer and bam! Instant milky time. As much as we enjoy breastfeeding and getting the goods to our little ones in a jiffy, clothing options for nursing mums aren't always the most fashion forward.
Sure, you'll find the odd cute nursing dress or top, but mostly they're pricier than your average top or dress and quickly end up in the donation bin once you're done with breastfeeding. But what if we told you that there was a way to still look cute, be able to whip your boob out with ENA-style (Easy Nursing Access: yup, we totally made that up), keep the spending to a minimum and STILL have your fashion moment? Yup, it's possible. We've got the lowdown on the coolest (and best-priced) nursing wardrobe must-haves…
Pssst… We even found some nursing-friendly sports and activewear to support growing bumps!
Nursing-friendly tops
1. Bra camisoles
In Singapore's crazy hot weather, staying cool is almost impossible. The Uniqlo AIRism bra camisole tops are so lightweight that they feel like second skin and are totally breathable, which really helps when you're nursing. To feed bub, simply pull down the top, and voila, you'll have a milk-drunk baby in a few minutes. They come in nice neutral shades, which makes them easy to match or layer with just about anything. Oh, and you can skip the nursing bra with this one!
2. Button-down tops
Everyone (non-nursing mums included) loves a good button-down. It's an easy peasy way to look profesh and put together without having to sacrifice ENA. Pair them with jeans or denim cutoffs, and you're set. Baby crying? Just unsnap those buttons and go for it! We recommend replacing the first few top buttons with snaps or smaller buttons to make things easier. We're especially loving the stylish vibes from ASOS.
3. Drop armhole tops
Don't feel like lifting up your shirt? Drop armhole tops are roomy enough to slide across your boob when your tot cries for the good stuff. The best part? They look awesome with every mum's go-to uniform: activewear! Check out this list of all the best maternity and nursing activewear we could find (including nursing sports bras!).
4. Cropped tops
High waists aren't going anywhere, and we're thankful for that extra fabric that sucks everything in. Throw on some Spanx and a loose-cropped top, and you're good to go! And believe us when we say this, cropped tops are super breastfeeding-friendly because there's very little cloth to pull up when bub needs a feed. Yay for easy access! Check out Love, Bonito for some really pretty options.
Nursing-friendly dresses
1. Wrap dresses
Just because you're attending a formal occasion doesn't mean you need to skip a feed. Wrap dresses, particularly jersey-style ones, can be dressed up or down and are easy to nurse in. They're also wrinkle-free, which makes them fuss-free too! We love homegrown brand Indii Breeze for beautiful wrap dresses (as well as easy-access jumpsuits) in gorgeous prints and soft cotton.
2. Tunics / Coverups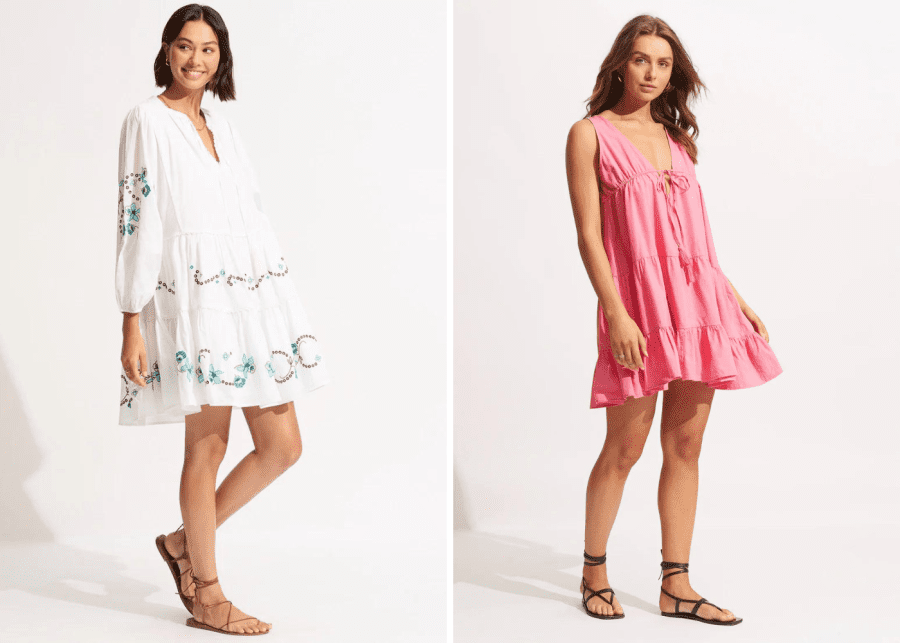 We love the fact that living in Singapore means we can pull off resort wear every single day, even when it's raining (just bring a brolly). Tunics are easy breezy and often made with lightweight fabric – just look at these stunning Seafolly prints. They're flattering on all body shapes, which is great for those of us who haven't quite gotten rid of our mum tum. Tunics like the one photographed above are usually quite low-cut, which is great for nursing mums.
Nursing-friendly jumpsuits
1. Zipped jumpsuits
One of the sneakiest ways to look put together is a jumpsuit. Whether you pair them with heels or flat sandals, it's the cooler, sassier alternative to a dress. Our pick for breastfeeding mums? The zipped kind! Baby crying? Simply pull down the zipper and let 'em rip.
Happy shopping, mamas!