Online may be everywhere, but we still love the kids reading things the traditional way. All hail these fab magazine finds!
Is there anything better than getting something special in the mail? (And no, we're not talking about bills, bills, bills for that 'special' purchase.) Here at HoneyKids, we're big fans of receiving awesomeness: we adore subscription boxes for the family, and even frequent flower deliveries. But do you know what's better? Getting our fave reads through the post! So we're passing our love down to our little ones and getting them on the magazine bandwagon. Yep, we've searched high and low for the very best kids magazines out there. In fact, these magazines for kids are so good, you'll be wanting to receive them on the regular. The solution? Magazine subscriptions! The kids will never have to miss an issue again. Want in? Read on for these pretty awesome print offerings…
Best magazine subscriptions for kids
1. Kookie
Hands up – we are absolute fans of the award-winning gem that is Kookie magazine. Aimed at girls aged between seven and 12+, it has zero advertising (hurrah!) and its girl-powered content helps build confidence, teach new skills and foster inclusion. It's packed with interviews with inspiring women and girls from around the world and throughout history. Not only that, it's full of pieces on everything from activism and adventure to science, problems, craft, and puzzles. Yep, you won't find any fluff or image-centric messages about fashion or beauty. And we can't tell you how refreshing that is. Us parents of tweens can't praise this quarterly read enough. As for our daughters, they can't wait for the next issue to arrive. Note: there's an Australian and UK version of the magazine – in essence, each issue is the same but some pieces are more locally focused.
How to subscribe: Visit the Kookie store. Four issues (over 12 months) costs $54, or two issues costs $23. There's also a pay-as-you-go option, and you can also buy back issues.
2. Anorak Magazine & DOT
We're going to talk about two magazines in the space of one here! Since 2006, Anorak Magazine and DOT have been published by Studio Anorak four times a year. Anorak Magazine is lauded as the 'happy mag for kids' and is aimed at youngsters aged between six and 12 years old, while DOT is aimed at pre-schoolers. Both titles are unisex, both are utterly gorgeous (just look at those illos!), and both are sold all around the world. As well as being some of the best kids magazines around, they're also eco-friendly, and are printed on recycled paper using real vegetable ink.
How to subscribe: Different magazine subscriptions include £28 for a year of Anorak and £20 for DOT (four issues). Two-year subscriptions and vouchers are also available.
3. Aquila
Another great kids' magazine hailing from the UK, Aquila is perfect for inquisitive tweens – we love how it steps away from the usual publications aimed at girls. It's true – anything that inspires critical thinking, imagination and curiosity in the world around us is a hit with us parents! Expect high-quality illustrations and intelligent topics such as science, history and general knowledge. Oh, and there's also a welcome scattering of puzzles and experiments. Tweens aged eight to 13 will ensure this magazine for kids the most (although we're also partial to a read!). There's also a gorgeous welcome pack and a binder to keep all your treasured mags in.
How to subscribe: Head to the Aquila site (be careful not to lose yourself in its gorgeous Insta feed!). A magazine subscription for one year (12 issues) is £75, and for four months it's £40.
4. Eyeyah!
We love Eyeyah!, one of Singapore's fastest-growing creative education companies, for its funky activity books. Each issue features cool graphics about important topics such as recycling, the sea and food waste. It's interactive, promotes visual learning and opens up plenty of things for us to discuss with our children. How can you not applaud that? You may have also seen us praise its app that teaches kids about online safety – it's so cool!
How to subscribe: There currently isn't an option to sign up for magazine subscriptions. However, you can visit the Eyeyah store and order any issue on an individual basis or as an e-book.
5. National Geographic Kids
Got some nature fans in your midst? If so, your animal-loving kids will relish getting acquainted with all of Mother Nature's wonders of the world, thanks to National Geographic Kids. Aimed at children aged six to 14, this kids' magazine brings you all the things you know and love about National Geographic, but tailored for a younger audience. Expect awesome photography and amazing insights into everything from wildlife and the environment to outer space and geography, plus oodles of puzzles and competitions. All this makes it one of our fave picks when it comes to subscriptions for kids' magazines in Singapore.
How to subscribe: New readers can enjoy 10 issues for US$36 over the course of a year.
6. Kazoo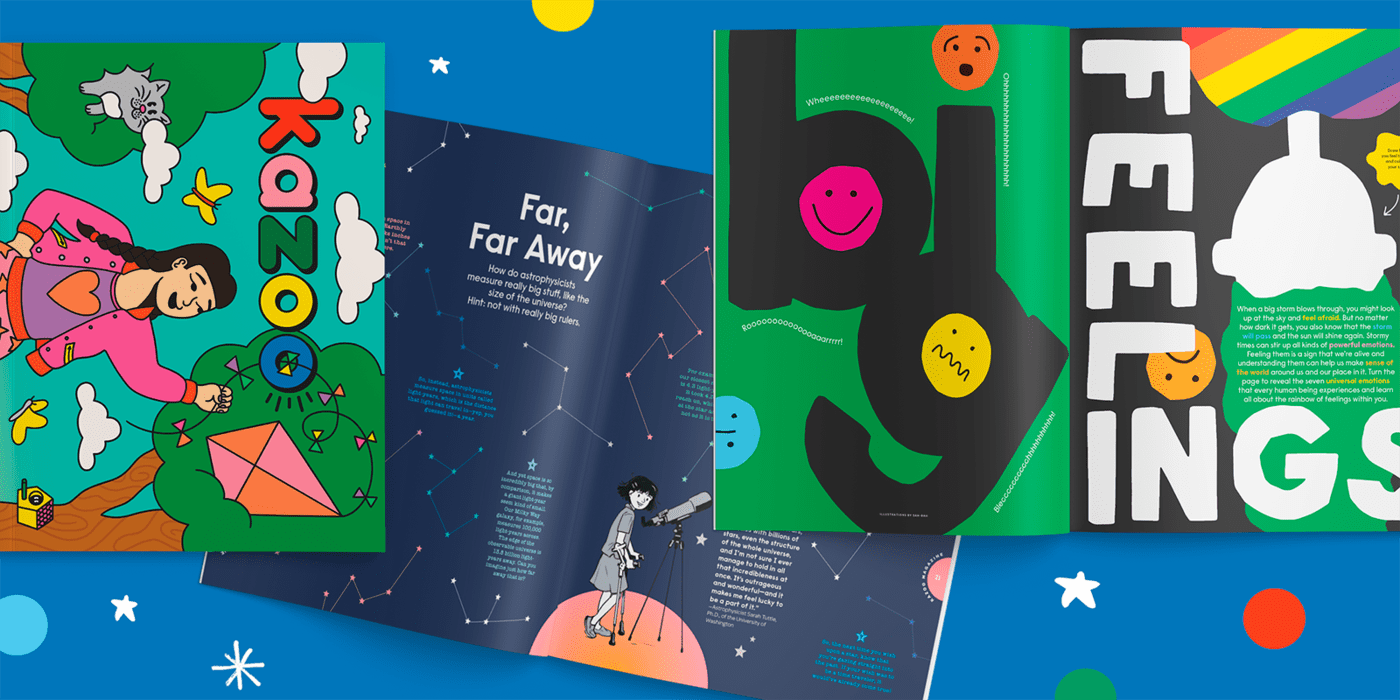 Kazoo is a quarterly print magazine for girls aged five to 12. It prides itself on celebrating young girls for being strong, smart, fierce and, above all, true to themselves. A winner in our books! In each issue, you can expect features on art, nature, science, technology, food, travel, sports, emotions, writing… the list goes on. Not only that, there are cracking comics, super short stories and fun activities. Such a good option if you're looking for a great magazine subscription for kids in Singapore!
How to subscribe: Keen to bag your kids magazine subscriptions? It's US$72 for four issues over the year, or US$134 for two years (eight issues).
7. Babybug, Ladybug & Cricket
Where to begin with these three beautiful magazines for kids? Cricket makes absolutely stunning magazines (it's won the awards to prove it) and we are Here. For. Them. Brilliant for budding writers, Cricket Magazine has been going strong for more than 40 years. Aimed at nine to 14-year-olds, it pairs contemporary and classic stories, poems and literature from some of the world's best writers. And as for those illustrations? They're so beautiful they make our heart ache. We're not forgetting the younger readers, though. Babybug is great for children aged six months up to three years with its stories, games and activities for parents to enjoy with their tiddlywinks. Plus Ladybug, aimed at those aged three to six.
How to subscribe: Alas, you can't enjoy print magazine subscriptions in Singapore to any of Cricket's titles. It's digital all the way – but don't let that put you off! New sign-ups can get a year's subscription for US$9.99.
8. Panda Junior
Produced by WWF-Singapore, Panda Junior magazine is Singapore's first magazine for kids that inspires them to take action for the environment. Young readers aged nine to 12 will love the features on both local and global environmental topics, as well as quizzes, competitions and at-home experiments. Oh, and guess what? Sign up for a year's subscription for kids and they'll get a free cuddly toy.
How to subscribe: 10 issues will set you back $93 (including that free toy!). You can also opt-out of the toy part or pay as you go too. Head to the site to find out more about these magazine subscriptions for kids.
9. High Five
If your teeny kids love reading and crafting, then High Five will be one of the best kids magazines out there. Plus the good news it's designed and written by early childhood experts for preschoolers, so you can be sure of inspiring and awesome content. It's a little on the pricier side of the magazine subscriptions scale, but that's because you get more bang for your buck. There are 10 issues a year, so your children can enjoy stories, puzzles, jokes, games and more pretty much every month. Ideal for kids aged from three to six, this magazine will help them become lifelong readers.
How to subscribe: Head to Nurture Craft's site and sign up for your magazine subscription. 10 issues will cost $95.
10. Adventure Box
Adventure Box is a fun read for kids aged six to ten. Each issue of this delightful kids' magazine features 68 pages of stories, fun and discoveries to excite your little readers. There are also puzzles galore, nature facts and did-you-knows, and a hilarious comic strip to keep the young 'uns coming back for more. Bayard Magazines, the publisher behind this title, also creates other great magazines for kids if yours are of a different age group. Our picks? Discovery Box for older, fun reads on science, history and more, plus Story Box for younger readers.
How to subscribe: Check out Bayard's magazine subscription offers for these titles on its site. For Adventure Box, you're looking at SG$96 for a year's worth of mags (10 issues).
11. The Week Junior
Trying to explain what's happening in the world to the kiddos? Let The Week Junior, an award-winning publication for kids between eight and 14 years old, help you out in that department. Each weekly issue covers current affairs in an objective and easy-to-understand manner, thus allowing readers to explore complex issues like racism, politics, and climate change succinctly. On top of the news, each edition also carries inspiring and uplifting stories from all over the world. You know this is something to subscribe to when over 98,000 families are reading it!
How to subscribe: Get the first six issues for free, before paying £35.99 for every 13 issues.
12. The Happy Newspaper
Technically this is not a magazine, but we love the idea behind this too much that we have to include it in this list! The Happy Newspaper is a colourful newspaper that shares only positive and happy news from across the globe for all ages. Each issue is based on a theme featuring poems, food, and illos. There's also a section dedicated to "Everyday Heroes", people who have been nominated by its readers. Not your typical newspaper, as it proudly proclaims – and we wholeheartedly agree!
How to subscribe: This subscription is posted every three months. Your first payment of £7.50 will be for one issue, which then auto-renews every quarter thereafter.
Get subscribing and get reading, kiddos!