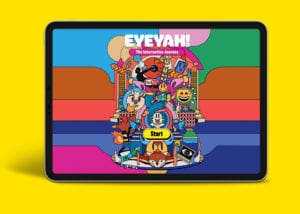 It's fun, it's informative and it's full of cool graphics: it's Eyeyah's online safety app!
Fake news, viruses and trolls… the internet can be a confusing and potential harmful place for kids, which is why we're loving this new app that teaches them how to stay safe online.
In today's digital age, we're no strangers to our kids having screen time, or us having to work out healthy limits to spend online. And don't even get us started on the device detoxes! What with all the cyberbullying, fake news and other internet nasties out there, it's hardly surprising so many parents around the world are concerned about their kids becoming addicted to tech. In fact, the UK government recently announced that, starting next year, every British school child will learn about internet safety and harms as part of the national curriculum. Hurray for kids living in Britain, but also hooray for kids living in Singapore, because moves are being made here too. Cue Eyeyah's awesome new internet safety app.
Free and fabulous
We know and love Eyeyah, one of Singapore's fastest-growing creative education companies, for its funky activity books that are jam-packed full of cool graphics about important topics. But now its cemented its place in our hearts even more due to the free app it's recently released in collaboration with Kingmaker. Aimed at parents, carers and teachers concerned about their child's use of devices, it hopes to get children talking about the web and how to stay safe online. And did we mention it's free?!
We're swooning hard over the cool graphics (they've even won awards) that 14 artists from seven countries, including Singapore, contributed to. The app takes around 10–15 minutes to complete and is made up of 12 scenes, with each one concerned with a different topic, including fake news, viruses, device addiction and online safety. There are fun interactive games too, such as finding the hidden emojis, deleting cookies hiding in a server farm and saving a device-addicted family.
Our kids love it!
The visual approach encourages young 'uns to uncover the meaning behind detailed illustrations and visual metaphors. We reckon kids aged from eight to 12 will get the most out of the app and, once they're done, it should open up the door to some cool discussions. It's been such a hit already that the app will be rolled out to Singapore schools as part of workshops on internet safety throughout the year. How awesome is that?!
The Eyeyah! app is available on the App Store and is only compatible for iOS devices. 
Like this story? Here's more we think you'll enjoy:
Apps to teach the kids coding
The clueless parents guide to online gaming
The best pregnancy and baby apps
Should you monitor your teen's or tween's social media?
Don't forget to subscribe to our weekly newsletter and follow us for fun moments on Instagram!