We've found some of the best early intervention centres in Singapore to help your little one get that extra support
If your child has special needs, a developmental delay or learning challenges, you're absolutely not alone in Singapore – yes it can be a long road to get the diagnosis and support you need – we know those waits to see local Child Development Units, paediatric specialists and good therapists too well. But day to day, we want an inclusive, supportive education for our little ones: and all children deserve this. Singapore has some excellent international schools providing learning support for kids primary age and above, but we all know that early intervention is crucial.
If you are a Singapore Citizen or PR, you can contact SG Enable to find out more about the subsidised Early Intervention Programme for Infants & Children (EIPIC) at government-funded centres. However, EIPIC is a holistic program, so if you're looking for a more targeted program, private therapy might be your best bet. If your child is on the autism spectrum, has been diagnosed with sensory processing disorder, attention-deficit hyperactive disorder, language delays, developmental dyspraxia, or has learning difficulties or a disability, these are the early intervention programs and schools to reach out to…
KidsFirst
This Early Intervention Centre in Tanglin that works with children age two to 12 years and is small but strong, with incredible support. A therapy-based program that runs five days a week in a school setting, we've been impressed by the lovely team of specialists, which includes education experts, a speech therapist, behavioral expert and occupational therapist. Therapy is provided consistently and intensively throughout your child's week – and if you've attempted multiple private therapies on top of preschool or school, you'll know how life-changing this can be. Children can join KidsFirst on a short, intensive period to assist integration into a mainstream school setting, or for long-term support. School readiness and life skills are a strong focus here: from helping your child potty train, to eating independently and learning how to socialise, the KidsFirst team works with children for who they are, with the real interest of the family at heart.
KidsFirst19 Tanglin Road, 5th Floor Tanglin Shopping Center, Units 10-11, 33-37 Singapore 247909; www.kidsfirst.co
ABC Center Singapore
Parents who want to get serious about an Applied Behavioural Analysis (ABA) Intensive Behavioural Program should definitely have a look at ABC Center Singapore. This US-based globally recognised program has been in operation for over 30 years and provides a broad range of services. There will be ABA services and early intervention programs for infants and toddlers who are on the autism spectrum (or look likely to be diagnosed as such), as well as a focus on school readiness and the teaching of independent living skills for teens and young adults. Kids will be encouraged to apply the skills they learn in therapy to their daily lives, and with ABC Center Singapore having three Board Certified Behavior Analysts (BCBA's) on hand, no matter how old your little one is, there will be expert guidance all the way.
There's also the EarlyPreps program: an early intervention preschool for children aged three to six years which is held in small groups in a lovely classroom-based setting, designed to help kids build the skills they need for future self-help and independence. We also love that ABC Center Singapore understands that parents and caregivers need support too: they are also given plenty of guidance by way of a free eight week training progam that also includes one home-based session.
Good news for Singapore citizens and PRs who have been referred to EIPIC: you may well be eligible for subsidised early intervention through the Enhanced PPIP (Pilot for Private Intervention Program) scheme.
ABC Center, 318 Tanglin Road, Phoenix Park Office Campus, #01-59, Singapore 247979, p. 94236248, e. [email protected]; www.abccentersingapore.com
The Growing Academy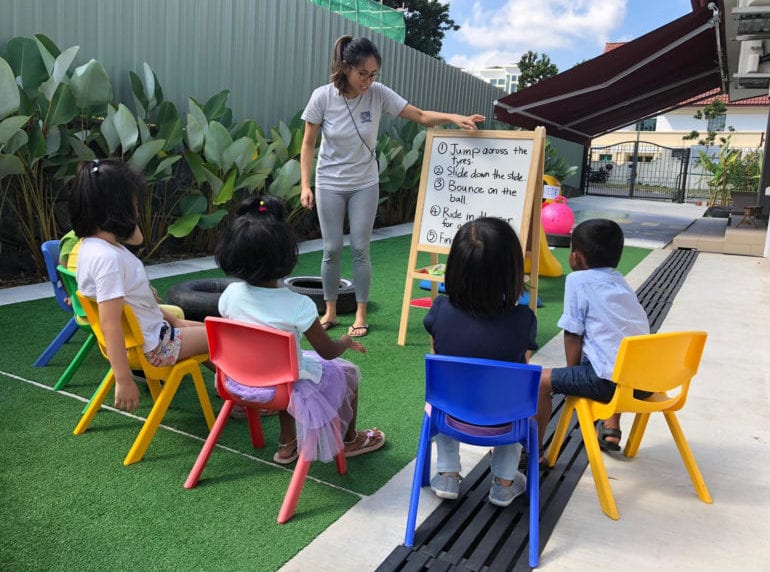 By incorporating principles of Applied Behaviour Analysis (ABA) and TEACCH into its programmes, The Growing Academy helps students from as young as 12 months to six years and beyond master skills and complex tasks through teaching methods like Discrete Trial Training (DTT). With its blend of academics and therapy being key in helping your child thrive, The Growing Academy is actually the first therapy school in Singapore to also offer childcare and therapy services under one roof. Its unique curriculum focuses on helping small students garner the skills they need to be able to happily transit back into a mainstream school, and with its small teacher-student ratio, you can be assured that your tot is getting lots of attention and care, while also having fun! Choose from a variety of programmes including Play Group for tiny people age 12 months to 24 months, the Kindergarten Programme for little learners age two-six years, or its After School Club for older kids age seven to 12 years.
The Growing Academy also offers additional support to children with its School Shadow Services (a collaborative working relationship with school staff and families to ensure your little one is getting all the support they need in the classroom). We love that The Growing Academy really does understand that each child is completely unique, and so a one-size-fits-all approach is not what this friendly group of experts provide. They will take the time to get to know your child AND you, and advise on the best course of tailor-made action for maximum success.
Our advice? Sign up today to try out a one time free trial lesson for the preschool programme (valid for first time students only).
The Growing Academy, 206 Ponggol Seventeenth Ave, Singapore 829680; thegrowingacademy.sg
KidzRock International Preschool
KidzRock offers a programme that's a game changer, as children with different learning abilities age three to six years old can access a whole day of preschool – not just a few hours, like a traditional Early Intervention Programme for Infants & Children (EIPIC) – and study a regular preschool curriculum in a lovely, intimate setting. KidzRock utilises Applied Behaviour Analysis, a strategy based on reinforcement and visual supports, and the teacher-to-student ratio is kept low at 1:3 for personalised learning. KidzRock offers both the Nurturing Early Learners Curriculum by MOE as well as the Carolina Curriculum for Preschoolers with Special Needs intervention programme for children from birth to five years old with mild to severe disabilities. We love that itteaches using a play-based and child-centred Creative Curriculum, and both local and expat children are welcome. Another bonus? Kids can access speech and occupational therapists through the preschool, and their therapy sessions can be integrated into their school schedule.
The Grandstand, 200 Turf Club Road, #04-11, Singapore 287994; p. 9854 5699; e. [email protected]; www.kidzrockintl.com

Think Kids
Think Kids is an affiliate of Think Psychological Services and an advocate of Applied Behaviour Analysis (ABA), which focuses on reinforcing good behaviour so that it's repeated. Made up of behaviour therapists, registered child psychologists and specialists in counselling, Think Kids only uses tried-and-trusted treatment methods to help kids from as young as 18 months to early adulthood reach their maximum potential. It offers group social skills training using age-appropriate structured activities, such as therapist-guided games, role-playing and discussions so that children are better able to understand themselves and others around them. One-on-one intensive ABA intervention can also be held in the privacy of your home. Consultations are strictly by appointment, so call ahead.
123 Penang Road, #03-13 Regency House, Singapore 238465, p. 6836 5536, e. [email protected]; www.think-kids.com
Bridge Learning
As the first private one-stop Diagnostic learning support and specialised intervention centre in Singapore, Bridge Learning provides specialised early intervention for children aged two to 12. The centre prefers not to use a label-focused approach and uses a cross- or non-categorical approach instead to help children who have mild or hybrid difficulties. If your little one has a range of learning challenges, Bridge Learning will be able to assess them through a pro-rated Dynamic Diagnostic Assessment (DDA). Its curriculum consists of core and elective programmes which target different areas of learning and makes use of adaptive technology to improve early literacy and school readiness. Parents can keep track of their children's progress through the Bridge Early Intervention E-Portal (BEE) where they can view learning assessments and recommended intervention activities they can do together with their kids.
20 Jurong West Street 93, Jurong West Sports & Recreation Centre #04-05, Singapore 648965, p. 9021 5988, e. [email protected]; www.bridgelearning.com.sg
Kaleidoscope
This therapy centre runs a play-based early intervention programme called, READY LET'S GO, that runs three mornings a week (Tues, Wed and Thurs). Children from two to four years old are grouped according to their learning ability. Each session is supported by a speech language therapist, occupational therapist or special education teacher who will help the kids develop skills needed for school readiness. Psychologists are also on hand for a consultation if the child encounters significant challenges. Parents are encouraged to participate in the programme through individual therapy support. Suitable for any child, whether they're already attending a mainstream preschool and facing social or developmental challenges, or if they've been diagnosed with a developmental disorder, this programme aims to support the child and help them develop the ability to participate in a group learning environment.
The Grandstand, #07-05/06, 200 Turf Club Road, Singapore 287994, p. 6468 8991, e. [email protected]; www.kaleidoscope.com.sg
Kindle Garden
This inclusive preschool in Enabling Village opened in January 2016 and has gained a lot of attention for providing a haven for local children on the autism spectrum, or who have learning difficulties and developmental challenges: about 30 per cent of Kindle Garden's spaces are allocated for children with special needs. Little ones from from 18 months up to age six are welcome, and the teaching team here is backed by occupational therapists and psychologists to give children specialist support. The space has been specially designed to provide accessible spaces for children: there are cosy spots for quiet time; open spaces to encourage social experiences; thoughtful design elements that help kids transition from one activity to another; and a sensory garden – all created with ease of use by kids of all abilities in mind (and that means wheelchair and pram access).
20 Lengkok Bahru #02-05 Singapore 159053, p. 6511 7660, e. [email protected]; www.kindlegarden.com.sg
Wee Care
Kids with mild to severe developmental needs are welcome at Wee Care, which is located in Tanglin and recommended by child psychologists at NUH and KK Hospital. Wee Care runs a mainstream preschool alongside its Early Intervention services to encourage acceptance and allow children of all abilities to learn alongside each other. We're impressed by the different options for families, from individual therapy (with parent or caregiver involvement encouraged) to group therapy and playgroups that work on attention span, self-control, language and communications, social skills, play and school readiness – all with the goal of rehabilitation and integration into mainstream schooling. If your little one is ready for a group setting, check out First Starts, its specialised preschool programme for kids with learning needs. You'll need to begin with a consultation with one of the in-house therapists so an Individual Educational Plan (IEP) can be set in place.
56 Tanglin Rd,#02-03 Tanglin Post Office Singapore 247964, p. 6836 1450, e. [email protected]; www.weecare.com.sg
Mighty Oaks Learning Center
Mighty Oaks is the brainchild of occupational therapist Suvi Pitkola, director of Kaleidoscope Therapy Centre in Turf City, which many parents of kids in speech or occupational therapy will already be acquainted with. Open to little ones aged two to six years old, Mighty Oaks is ideal for kids who are very able and not quite suited to a special needs school, but face challenges in a mainstream school setting – if your child has speech delay, sensory processing issues, needs help with fine motor skills and has trouble with social skills or managing their emotions, this might be the place for you. The high staff-to-child ratio (a maximum of 1:3), parent coaching and lovely facilities complete with a sensory gym and outdoor terrace with water and sand play make Mighty Oaks well loved, but what really makes the school stand out is its use of the DIR-Floortime model, which enables teachers to "investigate what is going on and provide nurturing interactions." Each student at Mighty Oaks has an Individualised Educational Program (IEP), to set out academic and developmental goals, while speech and occupational therapists from Kaleidoscope visit each week, which helps lift you out of the eternal therapy-school juggle!
312A Tanglin Road, Phoenix Park Office Campus, #01-02, Singapore 247976, p. 6736 2663/8181 8461, e. [email protected]; www.mightyoakslc.com

Nurture Pods
Nurture Pods believes every child has a right to access the mainstream school curriculum by teaching them how to function independently at home, as well as in a structured learning environment. Kids with learning difficulties will receive an individualised education plan based on the Treatment and Education of Autistic and Related Communication Handicapped Children (TEACCH) structured teaching programme by the University of North Carolina. This programme helps to develop their social, logical and developmental skills. There are also options for both individual and group-based learning of up to six in a group to help kids get accustomed to being taught together with their peers. Nurture Pods also offers occupational therapy services, as well as home based ABA therapy and art therapy. Parent participation is highly valued here, so the centre provides sessions that allow parents to get involved. Parents are also given plenty of support, including one-to-one training, plus reports and journals of each session. Staffed by qualified professionals, Nurture Pods is one of the few private early intervention centres that is certified by the Ministry of Social and Family Development as an Approved Institution for provision of Early Intervention Programs. If you have it, you can also make payment through your kiddo's Child Development Account (CDA).
Novena Specialist Center, 8 Sinaran Drive, #05-15, Singapore 307470, p. 6352 5938, e. [email protected]; www.nurturepods.com
All Hands Together
Founded by close friends and mums Yasodha and Gayathri, All Hands Together provides multi-sensorial learning experiences through its various programmes. In addition to the learning programmes, All Hands Together also has a playgroup for kids 18 to 36 months old and an early interventions programme offered to children of mental ages of three to seven years old. The lesson plans are based off mainstream preschools, but differentiated to suit each individual child. Students will be encouraged to be more comfortable in a group learning environment through a combination of one-to-one personalised learning, small groups to develop social skills and larger groups to develop school readiness skills. You also have the option to have speech and occupational therapy at the centre as well as holiday camps.
5 Stadium Walk, #04-09 Leisure Park Kallang, Singapore 397693, p. 8480 2569, e. [email protected]; www.allhandstogether.com
Rosebrook Developmental Centre
Tucked in an area with plenty of greenery and wide open spaces, Rosebrook Developmental Centre embraces play-based learning and uses a Heartworks in Motion approach to help children develop holistically. Their programmes help kids engage all their senses, so they're able to make cognitive connections with their everyday experiences. Rosebrook's community includes children with special needs and without. And all kids get the chance to run, jump and even take care of horses. One thing to note is that families who wish to join Rosebrook need to stick to a gluten-free and dairy-free lifestyle that the centre ascribes to.
104 Turf Club Road, Singapore 287997, p. 6463 0447; www.facebook.com/pages/Rosebrook-Developmental-Centre
Here's more resources you might find useful:
How to get your child assessed for learning difficulties, special needs or behavioural issues
Counselling for children and families in Singapore
Soek Ying Koh, mum to Ryan, and founder of Mustard Tree, talks about raising a child with autism
Children's books on diversity
Don't forget to subscribe to our weekly newsletter and follow us for fun moments on HoneyKids Instagram!