Dance, arts, performing, coding, soccer – these are the camps you'll need to keep the kids busy this Summer!
It's finally summer and there's just one thing on our minds other than relaxing on the beach. Once school lets out, it'll be a mad dash to make sure the kids stay occupied and active during the school holidays and don't resort to vegging out in front of the TV. That's why we're filling up our calendar with all sorts of indoor and outdoor activities, including all the exhibits and activities happening during Children's Season and, of course, all the cool camps! Read on for all the camps happening for all kinds of kids this summer, and keep this page bookmarked for more camps and some sweet discounts!
ALL-ROUNDER CAMPS
Ivy Camps USA
Future-leaders in the making can head to a first-rate American-style summer camp with Ivy Camps USA presented by GEMS World Academy (Singapore). With a curriculum designed by experts from various fields including Hollywood television production, international business, biomedical engineering, and entrepreneurship. Kids aged five to 12 years will get a chance to gain a comprehensive and hands-on education from the programme of their choice. Whether it's STEAM, business, performing arts or developing their leadership skills, they'll get the full low-down from inspiring, International Ivy-educated instructors. Packed with camp activities, innovative educational experiences, extra-curricular activities and a whole lot of fun, these two-week programmes are just the stimulation the kids need to inspire them to shoot for the stars. Meals will be provided and transportation is available.
When: 24 June – 2 August, 9am – 3.30pm
Where: GEMS World Academy, 2 Yishun Street 42, Singapore 768039
Cost: $1480 (2 week programmes including meals)
www.ivycampssingapore.com


Be one of the first 200 campers to sign up and snag an Early Bird Special of 10% off using the code "IVY10″. Fastest fingers first!
CIS Summer Camps
CIS has a full lineup of over 70 exciting camps led by experts, many of who are also teachers at CIS. Camps are divided into five categories – sport and wellness, creativity and performances, STEAM, global languages and multi-activity. Kids will have the opportunity to learn cool new skills, make friends and develop important life skills including teamwork and problem solving. This year, look forward to brand new educational camps like DJ Music Camp, Little Chefs, STEAM Machine, as well as camps that promote sustainable activities in the Planet Warrior camp and urban culture in the Urban Art Scene camp. Little thrill seekers can take part in Xtreme Adventure where they'll get to try a variety of indoor and outdoor challenges such as raft-building, bubble soccer, archery and even an escape room! These week-long camps are suitable for kids aged four to 14 years (and sadly not for us grown ups).
When: 17 June – 26 July 2019, 9am-3pm
Where: Lakeside Campus (West), Tanjong Katong (East)
Cost: $650
www.cis.edu.sg/holidaycamps
Discovery Camps
Bring out the best in the kids through a mix of fun learning experiences at Discovery Camps. Kids aged three to 14 years will get personalised attention from experienced teachers to get the best learning experience possible. Situated in three convenient locations across Singapore, wannabe Picassos and Tony Starks can pick from a range of different activities including 'Art Studio', 'Magic Math', 'Lego Robotics', 'English Explorers', 'Actor's Studio', 'Movie Maker' and 'Life Skills'. Can't decide? Go for a little bit of everything in the 'Multi-Activity Camp'.
When: 3 June-16 August 2019, 9am-3pm
Where: Novena @United Square, East Coast @Parkway Parade and SJI International School – Thompson Road (bus service available for this location)
Cost: $625
www.discoverycamps.com
Tanglin Trust School
Learn something new every day at Tanglin Trust School's holiday programmes, which are designed and delivered by Tanglin teachers. The camp offers inspiring activities for kids aged five to 10 years old such as craft work, yoga, technology and cooking, where they'll enjoy Tanglin's world class facilities while making new friends and having a blast. There's even infant and junior camps for bubba too!
When: 8-12 July 2019
Where: Tanglin Trust School, 95 Portsdown Road, Singapore 139299
Cost: Early bird: $650; Regular: $695
www.tts.edu.sg
SAS Summer Semester
Singapore American School is bringing kids aged three to 18 years old the best of summer education this June and July at 'SAS Summer Semester'. Sign up to four weeks of engaging activities centred around your kids' interest area, or mix and match options. Pick from literacy, computer skills, science, all things Chinese, physical fitness and more, and then top it off with door-to-door bus service, a staff of highly qualified SAS faculy, and scrumptious meals… summer here we come!
When: 10 June-5 July, 9am-3pm
Where: 40 Woodlands Street 41, Singapore 738547
Cost: $800 per week
www.sas.edu.sg/academics/summer-semester
The Grand Camp
The Grandstand's fun-filled summer special camp The Grand Camp is back with more activities for kids aged three to 12 years. From taekwondo lessons to Mandarin classes, to drumming lessons and gymnastics, there's just no time to be bored! Kids can build their own NASA space shuttle model and satellites, paint, pick up Korean traditional archery and wind down with free play at Kidzland. Sign up by 3 June to secure a spot!
When: various dates from 10-20 June
Where: 200 Turf Club Road, The Grandstand Singapore, 287994
Cost: $160-200 for one day camp
pages.blp.sg/thegrandcamp
ISS Summer School Discovery
Embark on an epic summer of discovery at ISS! Choose half or full day sessions jam-packed with adventure and fun. Whether it's 'Language Discovery' (English and Mandarin), 'STEM Discovery' (Science, Technology, Engineering and Math), 'Arts Discovery' (art, music, drama and crafts) or 'Discovery Adventures' (sports and activities), every day will be uniquely-tailored for kids to try out all sorts of fun activities and challenges. Suitable for kids aged four to 16 years old.
When: 1-26 July 2019
Where: ISS International School, Paterson Campus, 25 Paterson Road Singapore 238510
Cost: From $410 – $540
www.isssummerschool.edu.sg
ART & CREATIVITY
ARThaus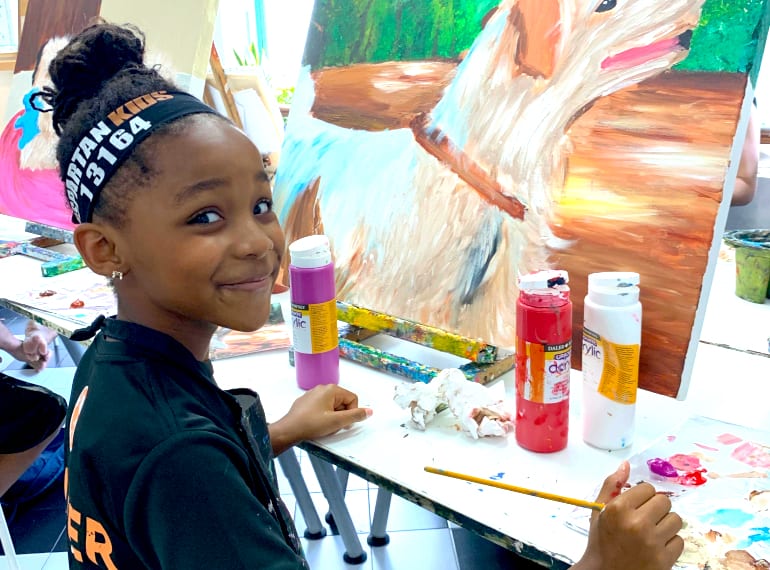 Encourage your kids to get in touch with their artistic spirit and explore creative self-expression at ARThaus this summer through inspiring and relaxing art workshops. Our advice? Sign up to one of ARThaus' year-round holiday programmes for a personalised art session with one-on-one instruction for the little ones AND you. Choose from a five day holiday programme, or 'go big or go home' and create your magnum opus on a three day canvas programme. We're also lovin' the look of art jam. The best part? You get to arrange each session around your schedule and have the kids taught according to their level and ability
When: various dates throughout the year
Where: 901A Bukit Timah Road, Singapore 589619
Cost: $68-$315
www.arthaus.com.sg
Creative & Performing Arts Holiday Camps at Centre Stage
Founded in 1999 as a space for kids to explore the boundaries between imagination and reality, Centre Stage School of the Arts is the best place for budding actors to shine. Sign up to the Creative Arts Adventure Holiday Camps for an all-in-one programme crammed with all things arts including drama, musical theatre, dance and arts and crafts taught by specialist teachers from all performing arts background including touring productions. Also look out for the special interest performance camps happening throughout the summer holidays including "Play in a week" or "Film in a week" where kids get to be part of their favourite stories or musicals, including The Lion King and The Little Mermaid. Centre Stage is celebrating its 20th anniversary this year so keep an eye out for more interesting things happening throughout the year!
When: 5 day camps: 1 June-16 August 2019
Where: 15 Woking Road (Waterloo), one-north, Singapore 138694
Cost: from $50-$455
www.centre-stage.com
British Council's Summer Study Camp
If you're looking to ramp up your kids' English language skills, then check out the British Council's Summer Study Camp for all the fun and learning in one camp. Campers aged four to 17 years will cover new topics every week, including 'Monster Body Parts' and 'Dinosaurs' for the kiddies, plus 'Fantastic Fables' and 'TV Fame' for the older ones. Add to that a brand-spanking new 'Summer Study Camp Plus' programme for Primary and Secondary students that promises an afternoon of cool activities and adventure, and you've got yourself the perfect boredom buster this school holiday season. New friends and new memories guaranteed!
What: 17 June – 30 August 2019, British Council Summer Study Camp: 9am – 1pm; British Council Summer Study Camp Plus: 1pm – 5pm
Where: 30 Napier Rd, Singapore 258509
Cost: British Council Summer Study Camp: $589 – $736 per week; British Council Summer Study Camp Plus: $432 – $540 per week
www.britishcouncil.sg

Get a 20% discount off the British Council's holiday programmes when you register for Term 3 and 4 of the English enrichment course at the same time.
Dance at the difference
Spin, twirl and dance your way into the summer at Dance at the Difference where tiny dancers can dress up as princesses, superheroes or their favourite fairy tale characters and strike a pose. Sign up for three or five day camps packed with face painting, arts and crafts, games, storytelling, dress up and, of course, dancing! Look forward to the mini showcase performance at the end of each week and check out our full review of Dance at the Difference to see just what makes this boutique dance studio for kids up to age seven years so great.
When: 5-9, 12-16 August 2019
Where: 203A Thomson Rd, Goldhill Centre, Singapore 307638
Cost: 3 day camp: Early Bird $200; Full Price $250; 5 day camp: Early Bird $325; Full Price $400
www.danceatthedifference.com/summer-camp
Stage Camp by SRT
Get little ones to take to the stage this June with SRT's Stage Camp for kids aged four to 12 years old. This Summer, SRT is diving into the wonderful world of Roald Dahl (and we're not ashamed to admit we're BIG fans) with age-appropriate camp activities for different age groups. Whether they're embarking on a thrilling adventure with the cunning Fantastic Mr Fox, mixing up something truly miraculous in George's Marvelous Medicine or chilling with the revolting Twits, there's plenty for the kids to explore.
When: 24-28 June 2019
Where: The Loft, #04-03 Havelock II, 2 Havelock Road, Singapore 059763
Cost: $300
www.srt.com.sg/stage-camp
Impressions Holiday Camp
Can't get enough of the Dempsey community? Get the kids immersed in it in the Impressions Holiday Camp and get stuck in with arts, food, nature, sports and DIY project. This exciting holiday camp has been catered specially towards kids aged four to 12 years old and has activities to suit every little camper's interests. Pick from half-day, full day and full week camps to get the best experience for your kiddos!
When: various dates, 9:30pm – 4:30pm
Where: 73 Loewen Road #01-16, Singapore 248843
Cost: $680 for full week , $160 for a day, $98 for half day
www.impressionsenrich.com/holiday-camp

We've snagged a special deal for all our dear readers, just mention "HoneyKids" to bag a $30 discount off all camp fees!
PositiveLeePeilin
If your kids are suckers for a themed camp, and are partial to wild stories then PositiveLeePeilin will be right up their street. From French cooking to sewing, PositiveLeePeilin is bringing kids unique experiences centred around different themes. They could hop on a magic carpet for A Whole(some) New World, make their own Ugly Dolls and sew their own tutus – whatever narrative they're picking, they're sure to love the whole experience.
When: various dates in June and July
Where: various locations
Cost: $68 – $128
www.positiveleepeilin.com/workshops
With Autumn
Sign those little crafters up for a Chinese culture and crafts camp! With Autumn has partnered up with Haha Chinese for a three-day workshop so little ones can learn handcrafted textiles, weaving, how to carve a Chinese seal, block printing on fabric, and even a sewing bootcamp. The kids will be making their own handcrafts in no time!
When: 24-26 June, 10am – 4pm
Where: 245 South Bridge Road, Singapore 058794
Cost: $480
www.withautumn.com
SPORTS
CUFA
Want to learn soccer from professional coaches and experienced players? CUFA's action-packed holiday camps are great for kids aged four to 13 years old. They'll learn the meaning of teamwork while having fun, making friends and getting busy with problem-solving skills. Pick up football in a fun, action-packed and professional environment, and get some fresh air into those lungs!
When: 24-28 June, 1-5 July, 5-8, 13-15 August 2019
Where: 36 Swiss Club Rd, Singapore 288139
Cost: 5-day camps: non-members $375, members $425; 4-day camp: non-members: $340, members $300; 3-day camp: non-member $255, member $225
www.cufa.com.sg/cufa-camps
SuperDayCamp
For a camp that will get the kids aged 12 and below moving while improving their social-cognition and confidence, send them to SuperDayCamp. These one-day camps incorporate Finnish education into three themed camps – skills, tricks and competition – to challenge the kids in a day of non-stop fun and games. The camp grants them full-day access to SuperPark so they can stick around to let the fun continue until closing time!
When: Every Mon-Wed in June and July, 9am – 3pm
Where: 3 Temasek Boulevard, Suntec City Mall, #02-477 (North Wing), Singapore 038983
Cost: $150
www.superpark.com.sg/super-day-camp

Sign up to three camps and save 10%!
Sport4kids
Get the kids up and moving with an exciting lineup of sports activities at Sport4kids. Whether the kids love team sports like soccer and basketball, or want to push their limits with swimming and karate, they'll be sure to have a ball of a time. That's not all: kids will also get to stretch their creativity with Mandarin and arts and craft lessons. 
When: various dates in June, July and August 2019
Where: Turf City, Bukit Timah
Price: $520 weekly, $115 daily
www.sport4kids.sg
SCIENCE, CODING AND TINKERING
Newtonshow Camp
Newtonshow has been knocking the socks off kids with SCIENCE for over 10 years in Europe, and for two years in Singapore. We're mega impressed with how this awesome science holiday camp manages to bring something new to the table with every camp season with its themed science camps. This summer, Newtonshow is offering two fun-filled themed camps for kids aged four to 12 years: 'It's (not) Rocket Science' where kids will get a hands-on experience of space exploration, rockets and all things extra-terrestrial; and get kids ready to wave their wands in 'Harry Potter 2.0', where they'll learn science through magic! Potterheads who want more magical science action can sign up to Singwarts, the first ever Harry Potter school in Singapore, with door to door bus service.
When: various dates from 3 June to 9 August
Where: Locations at 887a Bukit Timah Road, 9 Mohamed Sultan Road and 229 Joo Chiat Road
Cost: from $80-$630
www.newtonshowcamp.com

Use code "HONEYKIDS" at checkout to snag yourself a discount of $50!
Saturday Kids
Get kids excited by what they can do with technology at Saturday Kids! Cultivating self-motivated learners who are curious, inventive and resourceful, kids from Saturday Kids are ready to take on challenges through coding and problem-solving. Its holiday camps come with buckloads of fun – from designing their very own mobile app to games programming, as well as building and programming robotic structures. Kids will be able to challenge and invent new technologies: cool, huh? Choose from five day camps or take on creative coding challenges through the flexible drop-in option, Explorer Pass, where kids can learn when they like, where they like, and what they like in a self-directed manner. Holiday camps are suitable for children aged five to 14 years old, while the Explorer Pass is suitable for kids aged seven to 13 years old with prior Scratch experience.
When: Summer Camps: 1 June – 2 Aug; Explorer Pass: Year round (selected dates/timings)
Where: Parkway Centre 1 Marine Parade Central, #08-03, Singapore 449408; Bukit Timah Plaza, 1 Jalan Anak Bukit #02-41, Singapore 588996; Thomson Plaza, 301 Upper Thomson Road #02-15, Singapore 574408; Orchard Central 10 Square, 181 Orchard Road, #10-01 Singapore 238896
Cost: 3-hour workshops: $150; 5-day holiday camps: $590-$660; Explorer Pass: $90 – $520
www.saturdaykids.com


HoneyKids readers enjoy 5% off regular prices with the code "HONEYKIDSCANCODE" (applicable only on 5-day holiday camps and not stackable with any other ongoing promotions).
SG Code Campus
Get your kids into coding at SG Code Campus with its structured curriculum that places dual emphasis on a foundation of computer science concepts as well as real-world application. With Singapore's largest and most qualified full-time instructors, Code Campers age seven to 19 years are sure to get inspired to pursue their path. Campers who are just starting out in the world of code can learn block-based programming to explore game design, the Internet and mobile programming at the Basics coding camp. Pre-teen learners age 11 to 12 can head to the newly launched Junior Python camps to pick up one of the world's fastest growing programming languages. Teens who are serious about coding can check out the Principles coding camps to really get into the world of coding with Python, JavaScript and C++ and code to solve real world problems. There's a coding kinda camp for all!
When: various dates in June and July
Where: Marine Parade Campus, Parkway Centre, 1 Marine Parade Central #03-04, Singapore 449408; Bukit Timah Campus, King's Arcade, 559 Bukit Timah Road #02-01A, Singapore 269695
Cost: from $395
www.sgcodecampus.com
Nature Keeper Camp
Return to Mother Nature in this one-day camp at Bukit Timah Nature Reserve. Kids can commune with nature through nature walks, games and hands-on activities – all while learning about protection and conservation of our environment and heritage. We're all about how it doesn't hurt the wallet either. Online registration opens on 24 May at 12.30am so bookmark that page, people!
When: 14 and 21 June, 9am – 3pm
Where: Bukit Timah Nature Reserve
Cost: $25
www.nparks.gov.sg
Like this story? Here's more we think you'll enjoy:
Fun water sports for kids: kayaking, surfing, dragon boats and more
Go island-hopping around Singapore
Short escapes from Singapore
Affordable activities that won't bust a hole in your wallet
Don't forget to subscribe to our weekly newsletter and follow us for fun moments on HoneyKids Instagram!