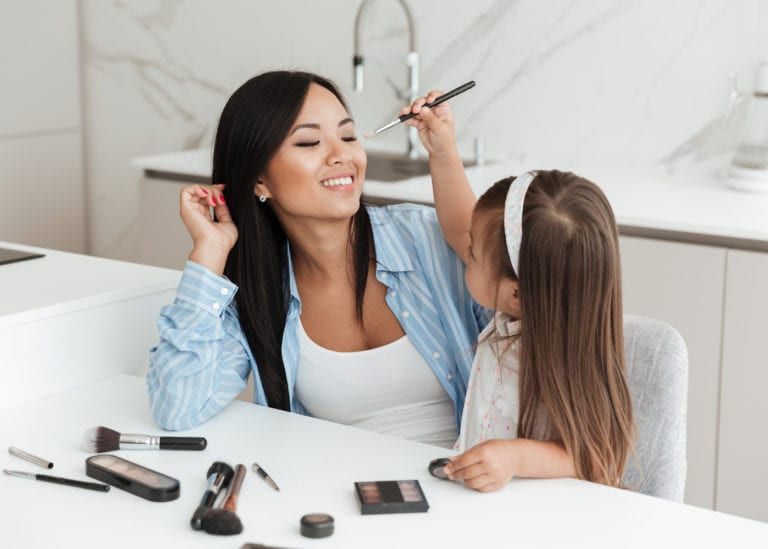 With a newborn at home, gone are those precious 45 minutes to get ready…
It's been a few days since you've properly washed your hair and you're longing for five minutes to do more than just splash water on your face to freshen up. With a brand new bub at home, time spent getting yourself ready to go out pretty much goes out the window, which is why we're always keen to learn beauty hacks and hints. We've got some make-up and beauty tips for mums. Get yourself looking and feeling just a tiny bit put together in no time!
Fake it 'til you make it
Concealer is a girl's best friend and the best investment you can make as a new mum. Here's to no sleep for the next 18 years, so it might be time to start covering up those eye bags with some industrial-strength stuff. We like the NARS Radiant Creamy Concealer or tarte's Shape Tape Contour Concealer.
Here's our make-up and beauty tip for mums: forget trying to use three different brushes to achieve that flawless finish. All you need is your ring finger to dot and blend (gently!), and then watch the magic happen. You'll be transformed, almost as if you've been holidaying in Bali for three days when it only took you 30 seconds to get prepped.
Different strokes
Unless you're #blessed with full-bodied eyebrows, you may need to lightly feather on some eyebrow pencil and get the unruly things in shape. Go with a pencil and spoolie combo, like Anastasia Beverly Hills Brow Whiz or Benefit's Goof Proof Eyebrow Pencil to make it easier on yourself. All those gel pots require time and precision that you just don't have right now. Just remember: in order for your eyebrows to look natural, they should be sisters, not twins. Now that's a make-up tip I wish my mum told me!
Swipe on, swipe off
Swipe on some red lippy – which takes all of two minutes, if you're being exceptionally careful – as a bit of a mood brightener. Kat Von D's Everlasting Liquid Lipstick is both smudge- and budge-proof. It's exactly what you need, especially if the little one is being restless and accidentally headbutts you in the face while they're strapped into the carrier. Think: no stains anywhere! We also like Fenty Beauty's Stunna Lip Paint for its stay-put qualities. Of course, no one will see it behind the face mask… but it will make you feel better!
Rosy and flushed
Put some colour back into your life face with a handy stick cream blush. Nudestix's Nudies Bloom All-Over Dewy Color Blush is easy to swipe on to your cheekbones and tap and blend, or use the handy blending brush on the opposite side. This is so easy to use, and it's multi-functional, too. You'll be ready to go in next to no time!
Tame the mane
Got a greasy head of hair that's not been washed in a few days? Here's a beauty tip worth your time: try Living Proof's Perfect hair Day Dry Shampoo. Aim for the roots and spritz in short, sharp bursts, then let it sit for two minutes. Then run a brush through your mane to distribute the product evenly and remove that ashy grey powdered look. Style your hair as you normally would… or invest in a handful of hair bands to add a pop of colour to your look.
Top image: Shutterstock