Should we just stay indoors this time of year? Or resort to wearing a mask? We explain PSI, precautions to take and choosing an air purifier
It's not quite time to leave the island yet but The Haze is back. We've been waking up recently in the unhealthy zone and it isn't just the result of a pizza dinner. If you've been getting headaches in the afternoon, a dry throat, coughing or itchy skin, you're most likely feeling the effects of the poor air quality – and children and asthmatics are more likely to suffer from the smoke in the air. But do we need to admit defeat and stay indoors at this time of year? Here's how to understand PSI and the  precautions to take so you and your children can breathe easy… 
What really causes The Haze
Can you smell smoke in the air? Periodic forest fires in Sumatra, Indonesia, sometimes lit illegally, are the culprit. A cheap method of clearing land, fire is used for deforestation, often to make way for plantations for the palm oil industry. Just one of the devastating environmental effects is the hazardous smog that spreads across Singapore, Malaysia and beyond.
World Wildlife Fund Singapore, in conjunction with People's Movement to Stop Haze (PM.Haze), and the Singapore Institute of International Affairs (SIIA), have called for this unsustainable method of deforestation to cease. The We Breathe What We Buy campaign has been launched to raise awareness that our choices as consumers can help reduce the demand for palm oil and paper products that are produced irresponsibly. We can be part of the solution: look for Certified Sustainable Palm Oil (CSPO) and FSC certified or 100% recycled pulp and paper options when shopping for your family, and think about taking the pledge to demand  sustainably produced palm oil.
More acronyms to learn: AQI and PSI 
Air Quality Index (AQI) is a measure for the level of pollutants in the air. See www.aqicn.org to check real-time readings in Singapore.
In Singapore, our variant of Air Quality Index is known as Pollutant Standards Index (PSI). The National Environment Agency (NEA) calculates the PSI by taking an average reading over 24 hours of six pollutants: particulate matter (PM10), fine particulate matter (PM2.5), sulphur dioxide (SO2), nitrogen dioxide (NO2), ozone (O3), and carbon monoxide (CO). The pollutant that wreaks the most havoc during haze episodes is fine particulate matter: PM2.5. This refers to fine particles of 2.5 microns or smaller – up to 30 times smaller than the thickness of  a strand of hair.
How haze affects us
The haze can cause particles in the air to get trapped in our lungs that are difficult to eliminate. People most at risk are those with impaired lungs, heart problems, and allergies such as asthma. The NEA suggests that pregnant women also reduce their exposure during Haze episodes. Healthy people that spend a lot of time outdoors can be affected too. Air quality is considered 'unhealthy' once the PSI rises above 101. The NEA advises that when the PSI levels are in the high end of moderate to 'unhealthy',  we can limit the effects by "Reducing outdoor activities and physical exertion". "Healthy persons should reduce prolonged or strenuous outdoor physical exertion. The elderly, pregnant women and children should minimise prolonged or strenuous outdoor physical exertion, while those with chronic lung or heart disease should avoid prolonged or strenuous outdoor physical exertion."

What precautions to take
If you're concerned you can wear an N95 mask outdoors, especially if undertaking strenuous and prolonged activity. These marks are said to block out 95% of small particles in the air you breathe, and are available at clinics, pharmacies, and major supermarkets. However, young children, pregnant women, and the elderly should avoid using these masks due to the respiratory effort involved in using them.
The safest way to escape the haze is to remain indoors as much as possible and reduce exposure. Keep windows and doors closed.
Make sure everyone in the family is drinking plenty of water – if you're coughing, your airways may be inflamed from all the dust particles in the air.
If you wear contact lenses, opt for your glasses. Contacts can aggravate any burning or itching sensations in the eye caused by air particles.
Use lots of moisturiser to help prevent itching!
Investing in an air purifier
Air purifiers reportedly help remove pollutants and allergens swirling around, making air cleaner to breathe, but you need to make sure you buy the right one for the job as not all of them are equipped to deal with conditions created by The Haze. Air purifiers built with HEPA, or High Efficiency Particulate Air, filters are capable of removing 99.7% of particles that are 0.3 microns or larger, making them better at managing the Haze than UV, Carbon or Photocatalytic filters.
Other considerations:
Selecting a model with an inbuilt fan will mean the machine can suck in air and clean it more efficiently. The downside is that it can be noisier. Check out the decibels in store before you buy.
While a small air purifier will do the job for smaller rooms such as a bedrooms, a large living room, for example, demands a bigger unit so be sure to check how much ground the model can reasonably cover.
Placement matters when deciding where to put the unit. Locate the air purifier where the most air can pass through it freely.
With some tender loving care, your air purifier will care for your family more effectively. Change filters and clean the electrostatic collection plates regularly.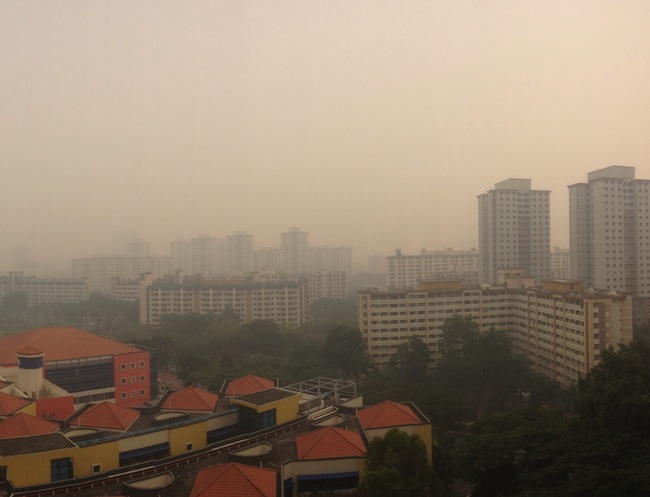 Tefal Intense Pure Air
We all know Tefal for its pots and pans, but this French brand has now made a foray into home care products with this hi-tech purifier. This state-of-the-art number filters air through an impressive four layers including a pre filter to capture dust and hair, a carbon filter to eliminate odours, a HEPA filter to eliminate pollen, PM2.5 particles and dust mites, and a patented and exclusive NanoCaptur filter, which is made up of porous granules that absorb and destroy formaldehyde. This chemical is a carcinogen emitted by furniture varnish, paint, cleaning products and even some scented candles – sometimes the air indoors isn't as clean as we think! Available from leading department and electrical stores, including Harvey Norman, Best Denki and Courts (from $399).
Dyson Pure Cool™
If you're a fan of Dyson's intelligently designed appliances, this purifier fan is one to add to the collection. It has a precisely calibrated air intake and high-efficiency HEPA filter, to capture 99.95% of harmful ultrafine particles – as small as 0.1 microns! This super-quiet, space-saving number keeps the family cool while clearing the air and circulating it around the room. Activated carbon removes toxic odours from formaldehyde and benzene, and a nine-hour sleep timer makes this perfect for night-time air purification for little ones. Impressive! $999. Click here for Dyson stockists in Singapore.
Hitachi Air Purifier
Hitachi's range of purifiers are equipped with an allergen-free HEPA filter to eliminate bad air particles. They also have an eco-mode to help you save 23% more energy (compared to its silent mode). Hitachi air purifiers are available at Harvey Norman (from $399 onwards).
Honeywell Air Purifier
Honeywell's medical-grade air purifiers use high-grade True HEPA filters, similar to those in hospital operating theatres. They also contain an activated carbon pre-filter to reduce odours. Available from Amazon (from $99.99 onwards).
Maier Air Purifier
Maier's BioHEPA hybrid air purifier has a 7-filter system, and comes with automatic sensors to detect odours, dust and allergens. There are indicator lights to tell you how polluted the air in your home is. It also has a UV lamp to destroy microorganisms like germs, viruses, fungi and bacteria. Maier air purifiers are retailing at various stores around Singapore. View this link for more info. 
NOVITA Air Purifier
With a 4-step filter system (a washable pre-filter, a HEPA filter, a carbon filter, and a built-in ioniser), the NOVITA air purifier cleans air effectively while trapping micro-particles and other airborne chemicals. NOVITA air purifiers can be found at Harvey Norman (from $239 onwards) and Courts (from $299 onwards).
PHILIPS Air Purifier
The PHILIPS air purifier comes equipped with a dedicated sleep mode, to keep air clean while you sleep. It has a 3-step filtration system, consisting of an anti-bacterial pre-filter, an activated carbon filter, and a HEPA filter. PHILIPS air purifiers are retailing at Courts and Harvey Norman (from $229 onwards).
SHARP Air Purifier
This one contains high-density plasmacluster ion technology and a True HEPA filter that helps remove airborne particles quickly. Its narrow structure takes up little space and they run very quietly. SHARP air purifiers are retailing at Harvey Norman (from $149 onwards) and Courts (from $199 onwards).
Main image photography: Choo Yut Shing