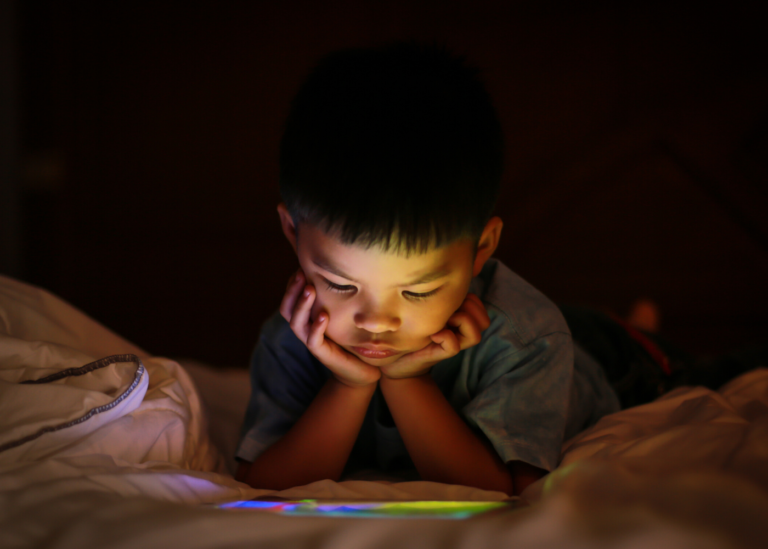 With an increased dependency on screen time, find out how using a digital device for prolonged periods can affect your kids' eyes.
Since the lockdown started, our kids have been spending more and more time looking at their screens. Well, we can't really blame them because they're using it for homeschooling purposes at the moment – though there are ways to limit their screen time with the help of apps. But let's be honest: we're quite certain that after lockdown restrictions are lifted, society will rely on technology more so than ever in light of the pandemic. Who knows if digital interactions between one person to another become the norm? And if so, how can we protect our kids from prolonged screen time? Well, read on for some valuable tips on how you can help protect your little ones' eyes (and yours, too!).
Your questions, answered
What is myopia?
According to Mayo Clinic, myopia or nearsightedness occurs when "the shape of your eye causes light rays to bend incorrectly, and focuses images in front of your retina instead of on your retina". This means that objects further away from you appear blurry, while objects near you appear clearly.
What is the risk of my child developing myopia?
A local study done by the Singapore National Eye Centre (SNEC) revealed that myopia is expected to spike in the next two decades due to increased dependency on screen time and a sedentary lifestyle – especially during the lockdown that we're going through right now.
But even before the pandemic, an interview conducted by the Straits Times with Associate Professor Lee Shu Yen, a senior consultant and deputy head of the surgical retina department at SNEC, revealed some unfortunate news… Prevalence of myopia in Singapore in kids between the ages of seven to nine-year-olds is one of the highest in the world. Yikes!
How can I tell if my child might be developing myopia, or some other eye problem as a result of prolonged screen time?
Worried your child might be developing myopia? Holly Rossington, an orthoptist with the Sandwell and West Birmingham NHS Trust, shares what you should look out for: "Your child might complain of headaches, or may say things look 'fuzzy' when looking far away." Particularly, experts at SNEC suggest squeezing at least two hours of outdoor time in your kids' schedules each day. Why? Because natural light can cause your body to release dopamine, which helps inhibit myopia.
But how can I achieve that under lockdown?
Holly has some tips that could help. "Reduce screen time by doing other activities and remember to take regular breaks," she advises. "If your child already has glasses, ask for advice from the dispensing optician, orthoptist or ophthalmologist that is monitoring them, as their glasses may need to be updated." The folks at SNEC also have a few recommendations. Does your little one love books? Switch to audiobooks or podcasts. And if they're reading, opt for a place with good lighting, and watch TV from a distance of at least three metres away.