Just. Don't Ask. Image: Jelleke Vanooteghem via Unsplash
Have you ever asked someone if they're pregnant, only to realise you've made a mistake? Amanda, our Honeykids Lifestyle Writer, was on the receiving end of this, and she's here with a PSA to stop this cringey moment from happening again.
I went to a shopping fair recently supporting small businesses in Singapore. I was with a friend and spotted an old acquaintance at one of the booths, so I went over to say hello. As we approached, she pointed to my stomach and said, 'Oh, I'm so happy for you – is this your first baby?'
The shock hung in the air…
I am not pregnant. My third child just turned three years old. My heart sank as I looked down at my tummy, slightly bloated and soft. Like many mums, losing the baby weight hasn't come easily, and everything just sits a little differently now. And that's ok! I am exceptionally proud of what my body has achieved in producing three healthy babies. I am usually pretty happy and confident, but now and then, insecurities creep in, as they do for most of us. Having someone ask that question in front of other people was absolutely mortifying…for so many reasons.
The pregnancy question – Why you should never ask it
What if I was pregnant and not ready to tell people? If I wasn't able to think of a cover-up or lie quickly enough, she could have just announced some of my family's most special news in the most un-special way. What if I was pregnant but unsure if I wanted to keep the baby? What if I had been pregnant, was recovering from giving birth, or had just lost the baby? Or, as is the case here, what if I was not pregnant, and she just body-shamed me in a humiliating way?
Do. Not. Ask.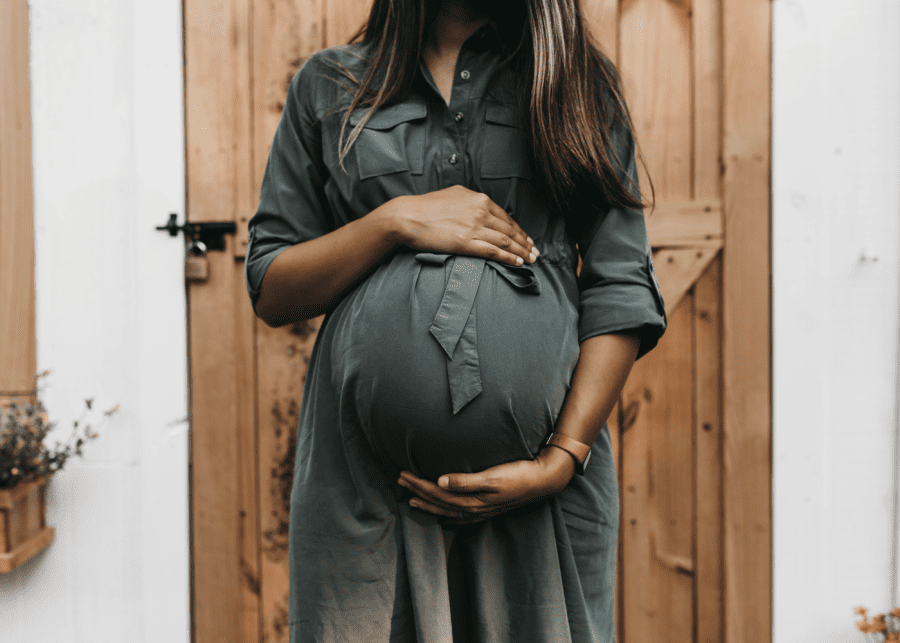 I know I'm not alone in being the unwelcome receiver of this question. I know there'll be people out there who have been the ones regrettably asking this question to others. I just came here to say – do not ask. Never, ever ask. Not even if the lady looks like she is carrying octuplets and could give birth right in front of you at any minute. Do not ask, even if she is your friend or colleague. Just don't. If she wants to share news about her body and her baby with you, she will. If you can't think of anything to start a conversation with, stick with: "How are you?" Listen to her answer, and go from there.
So, how do you reply to this question if you do end up in this situation?
So what was my response? I'm not going to lie; this experience pressed my buttons. I lifted my head, looked her in the eye and said, "I'm leaving now". I did not give her an answer to her question. I think my response was enough to let her know that the answer was really none of her business. Luckily I was around good friends, and I used the moment to bring a smile to those around me. We agreed that the question is just a no-go and out of line, then laughed at the ridiculousness of it all.
When we went for afternoon tea, I claimed the last treat on the plate for my 'food baby' and patted my little mum-tum. I did not let a random comment steal my confidence or ruin my special afternoon with my friends. Instead, I went home, opened my laptop, and wrote this. Know that if you've ever been on the receiving end of a moment like this or felt embarrassed by other people's comments or opinions, they are out of line, and you're not alone! As Taylor says, shake it off, and spend your time with people who make you feel good – that's what I do, and it works.