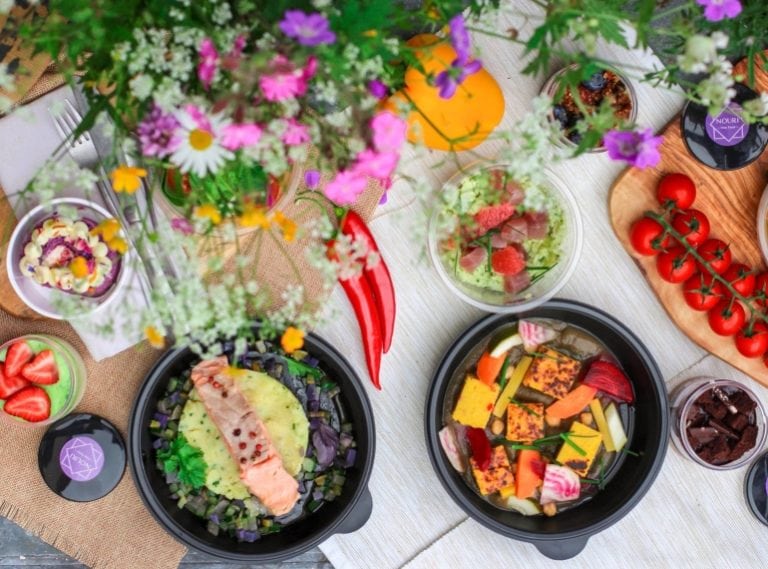 Singapore has taken huge steps when it comes to gluten free fare. We've scoured the island for the best places to find gluten free dining, takeaway and ingredients.
Going gluten free, whether by personal choice or medical necessity, is never simple, but it's especially challenging when you call Asia home. Things have evolved in a big way in Singapore in the past few years, but the level of understanding of the issue and the effort made to cater for it varies wildly. We've had experiences that range from sheer ignorance ("yes, it has egg") to an overwhelming urge to drop down on one knee and propose to the chef. The general rule is 'check once, then check again' to be sure of what you're putting in your mouth, and when you find a business that genuinely knows its stuff, support the hell out of it!
The good news is, there are plenty of options, and we've done the hard work for all you GF-ers out there. Whether you want to broaden your options for dining out while also ticking the all-important kid-friendly box, or test out your shopping list in some new places (organic is always a good place to start), here's our rundown of the best gluten free options in town.
Eating out
Tiann's
A bakery with no gluten and no refined sugar is as close to heaven as a coeliac or gluten free-er can get. The savoury waffles are soft and tasty, and the desserts are dainty but delicious. Like everything else on the menu, the gorgeous range of ice creams and sorbets is made with love in-house.
Tiann's, 71 Seng Poh Rd, Tiong Bahru, Singapore 160071
The Living Café
The sighs of relief from this lovely café are audible all over Bukit Timah, as diners find the menu marked up with gluten free, nut free, vegan, vegetarian, and raw food dishes. This is the place to go for healthy versions of pizza, 'cheese' burgers, lasagna, and brunch favourites such as pancakes and breakfast burritos. The cafe also caters for events and runs cooking classes, and there's a handy shop stocking supplements, organic food, homeopathic remedies, and other goodies.
The Living Café, 779 Bukit Timah Road, Singapore 269758
Kitchen by Food Rebel
The focus of this cafe is high quality healthy food, much of which happens to be gluten free. It also caters to other diners such as vegans and dairy free folks, and all dishes avoid MSG, artificial colourings, additives, and flavourings. You'll find a strong range of cakes that are free of gluten and refined sugar, hearty breakfasts, and damn tasty lunches. All this is served alongside good coffee, smoothies, and even gluten free beer and organic French wine. It's not the cheapest eat in town, but if you've been on the gluten free train in Singapore for a while now, you're probably used that.
Kitchen by Food Rebel, 28 Stanley Street, Telok Ayer, Singapore 068737
Guzman Y Gomez
Mexican food fans, rejoice. Guzman y Gomez have all your gluten free lunch and dinner options sorted. You're spoilt for choice with their hard and soft shell tacos, nachos and salads. With vegetarian and vegan options available too, check them out at one of their six outlets islandwide including Asia Square, Raffles Place (Chevron House) and the newly opened Tanjong Pagar Centre.
Guzman Y Gomez, various locations; see website for details
Fat Saigon Boy Express
This 'contemporary Australian Vietnamese' spot is a lunchtime fave at HoneyKids HQ – the gluten free options are marked up on the menu, and there are plenty of them to keep you satisfied. Vermicelli noodles, rice bowls, salads and rice paper rolls hit the spot at a reasonable price.
Fat Saigon Boy Epxress, Icon Village #01-13, Singapore 079717
Cocowhip
If you're feeling uninspired by your usual breakfast options or have an afternoon sweet craving but don't want to overindulge, Cocowhip needs to be on your radar. This is the only gluten free soft serve you'll find on our red dot that's also dairy and refined sugar free, while ALSO being vegan friendly (is there nothing it can't do?). Try it in original or Cacao, Matcha, or Maqui berry. Get your hands on this tasty little treat at Sarnies.
Cocowhip, available at Sarnies Telok Ayer, 136 Telok Ayer St, Singapore 068601
The Butcher's Wife
Yup, The Butcher's Wife caters to a gluten free crowd with its delicious European comfort food of grilled stuffed squid, roasted pork belly and braised beef. Nestled in one of the hippest neighbourhoods in Singapore, Tiong Bahru, pop by after a playground run for brunch or reserve a table for a date night with all the wining and dining and none of the gluten.
The Butcher's Wife, 19 Yong Siak St, Singapore 168650

Beriwell
Beriwell serves up acai soft serve and refreshing health smoothies to boost your day. Beat the heat and enjoy a gluten free superswirl while you're at it!
Beriwell, 19 East Coast Road #01-01, Singapore 428746
Kind Kones
Kind Kones is the new kid on the block (Forum the Shopping Mall to be exact) to deliver freshly churned, all-natural nut and coconut-based ice cream. You'll find a wide range of gluten-free and kid-friendly flavours to choose from including sorbets with creative flavours like dragonfruit banana and pineapple mint, or a scoop of charcoal vanilla or salted choc chip ice cream. Psst, even the cones are gluten-free!
Kind Kones, 583 Orchard Rd, B1, Singapore 238884
Honourable mentions: raw food, poké, pizza, Mexican, Cantonese, soup, and top-notch mod Oz
They don't shout about being gluten free, but the raw, plant-based approach at Afterglow by Anglow means that many of the dishes are naturally so. Anything salad based usually works for a gluten free-er, so the new poké trend is a winner – we like A Poké Theory for its inventive ingredients, and Aloha Poké for a little lunchtime trip to Hawaii. Grain Traders does tasty, healthy lunch bowls with a selection of rice, quinoa or salad bases, and the gluten free chocolate avocado brownie is rather scrummy indeed. If you feel that life isn't worth living without pizza, Aussie pizza chain Crust is your saviour with gluten free bases available – just check that the sauces and toppings you've chosen are also gluten free.
For an authentic Mexican fix with a fun vibe, Lucha Loco and Super Loco serve their tacos on corn tortillas, and in a genuine first for Cantonese food in Singapore, Summer Palace at the Regent Hotel offers a gluten free menu (who'da thunk it!). A chain resto that marks up its menu with gluten free items is a rare find in Singapore, so we're fans of The Soup Spoon, which has a good range of options. Lastly, a special shout out goes to Chef Rishi Naleendra at Cheek By Jowl – with no notice, we set him the near-ridiculous challenge of adapting his dinner tasting menu to a gluten free/dairy free/pregnancy friendly shadow of its former self, and he delivered in spades, all with a friendly smile. Cheers to you, Chef Rishi!
Eating in
Ryan's Grocery
Inspired by their son Ryan's food intolerances, a Singapore couple opened this store in Bukit Timah to cater for those of us in desperate need of good food to enjoy at home. Stocking an excellent range of Australian organic meats, plus fruit, veggies, dairy produce and pantry items, you can get everything you need for a feast at home. The gluten free range is broad, with cookies, crackers, chocolates, chips, sauces, pastas, and baking mixes galore. And, if you don't feel like browsing the store, stock up online for home delivery!
Ryan's Grocery, 29 Binjai Park, Singapore 589831
Brown Rice Paradise
If you're getting your gluten free bake on and need to source that one obscure ingredient, you're likely to find it at Brown Rice Paradise. We've had many a successful mission here for raw buckwheat groats, cacao nibs and pomegranate molasses, while also picking up a good haul of gluten free snack bars and cookies, and some organic skincare and baby products to boot. Just be prepared to part with some serious cash.
Brown Rice Paradise, #02-35 Tanglin Mall, 163 Tanglin Rd
SuperNature
Another great one-stop shop to fill your pantry with gluten free snacks, cooking and baking ingredients, frozen foods, and fresh daily produce. The flagship store is in a handy location at the Forum (plus a smaller outlet at Paragon), but they'll also deliver.
SuperNature, #B1-05/09 Forum The Shopping Mall, 583 Orchard Rd
Little Farms
The gluten free range at Little Farms seems to grow with every visit and this store packs a punch with its organic produce and other goodies too (and they provide free delivery for online orders over $100). If you visit their Valley Point or Holland Village outlets, you're in for a treat with their cafe – we can highly recommend an almond milk flat white with gluten free granola and coconut yoghurt.
Little Farms, various locations at Valley Point Shopping Centre, United Square Shopping Mall, Tanjong Pagar Centre and Holland Village @ Holland Piazza
Four Seasons Organic Market
This little treasure trove is a great source of ingredients for baking and cooking, gluten free snacks, and organic goodies such as skincare. We are having a mild love affair with Raglan Coconut Yoghurt and the gluten free Bounce Protein Balls.
Four Seasons Organic Market, Great World City and Parkway Parade
Online-only stores
Glutenfreesg does exactly what it says – caters for the gluten free community in Singapore (along with other dietary needs such as dairy free, egg free, Halal, and more). They even sell toaster bags to prevent cross contamination, freshly baked goods, and alcohol, and the site offers lots of useful tips and recipes.
iHerb is a favourite international site for nutritional supplements, but it's also quite handy for packaged gluten free goods such as pasta, oats, snack bars, cookies, and plenty more. We're fans of US brand Mary's Gone Crackers, and not just for the cute name!
With its selection of gluten free goodies expanding almost daily, head online to RedMart if you can't make it to a physical store. They've got a pretty impressive selection and delivery is super quick. We love that you can get food for the regular folk, as well as the GF crew all in the one place.
For a happy gluten free birthday, anniversary, baby shower, or just a much-needed sweet treat
For a decorated cake (of the standard or ice cream variety), some macarons or muffins, Delcies Desserts and Cakes is your go-to. You know you're in good hands when a menu lists every possible allergen, and they even consider diabetics and babies in their guidelines.
Prepping for a party? Oh My Goodness makes party platters laden with delish baked goods for all occasions that are free from gluten, dairy and refined sugar without compromising quality, taste or texture. Better order extra because guests will be cleaning the plate faster than you can blink!
Finally, a few little gluten free gems to enjoy at home…
For gluten free bread that doesn't suck, look for the SwissBake multi-seed loaf in Cold Storage and Market Place. Slice it up and freeze it and you've got toast that doesn't feel like a compromise! Other notable gluten free bread purveyors include Sasha's Fine Foods (formerly known as The Barbie Girls), Baker & Cook, where the gluten free bread is baked fresh on certain days and sold frozen on others, and the fruit loaf from Manhattan East. Cold Storage and Market Place have a decent range of gluten free products in the Wellness4Life sections (we're suckers for Kez's Melting Moments), and in the freezer section you'll find Amy's range of gluten free and dairy free products. The Amy's chocolate cake is a winner when heated up and served with a dollop of ice cream (and maybe some chocolate sauce. Just sayin'), and it's also available on Redmart.
Tai Sun's range of nuts is always a winner, and is widely available in supermarkets, convenience stores and pharmacies across Singapore. Bob's Red Mill's oatmeal is great for a hearty breakfast (in large packs or ready-to-go cups from most of the stores and supermarkets mentioned above), and Marks & Spencer has a small range of gluten free goodies such as blueberry muffins and coffee walnut cake. Don't pay a fortune for special pasta – grab San Remo's gluten free spaghetti, penne or spirals. It's honestly the best we've tried and is available in plenty of stores for a fraction of the price of most other gluten free pastas. And when you have a hankering for a good quality pasta dish but don't have the time or energy to make it yourself, order one from PS. Cafe Petit (delivery via Deliveroo). The pasta and sauce are served separately, so you can quickly cook your own gluten free pasta at home and throw the tasty sauce on top!
Looking for fellow gluten free folks?
To tap into the local gluten free community in Singapore, try these Facebook groups: GlutenFree.SG and Nutritional and Natural Health in Singapore. You can't go wrong when you're among GFFs!
Top image: Sarah Dubler via Unsplash
Like this story? Here's more we think you'll enjoy:
Nuggets be gone! We've found the places in Singapore with yummy, healthy kids' menus
Gut health: why it's important and how it can help you feel better
Guide to Wet Markets In Singapore
First aid kit for children: everything you need in your Singapore home
Don't forget to subscribe to our weekly newsletter and follow us for fun moments on HoneyKids Instagram!