Telunas
HoneyKids keeps coming back to Telunas Private Island – find out why this little slice of paradise is a hit (did we mention it's three hours away by boat?)
If, like us, you're always dreaming of your next family holiday and you're looking for that magical combination of beautiful beach, relaxation and a quick escape from Singapore, then you need to know about Telunas Private Island.. We've shared our tips on travelling to Telunas with a baby, but this time we have two little boys with us, and we want to be on a beautiful beach in Indonesia by lunchtime. Let's start living the dream.
Psst: You could win a stay at Telunas Private Island for a family of four by taking part in our HoneyKids reader survey! Share your opinions with us and you could be hanging out here with your fam…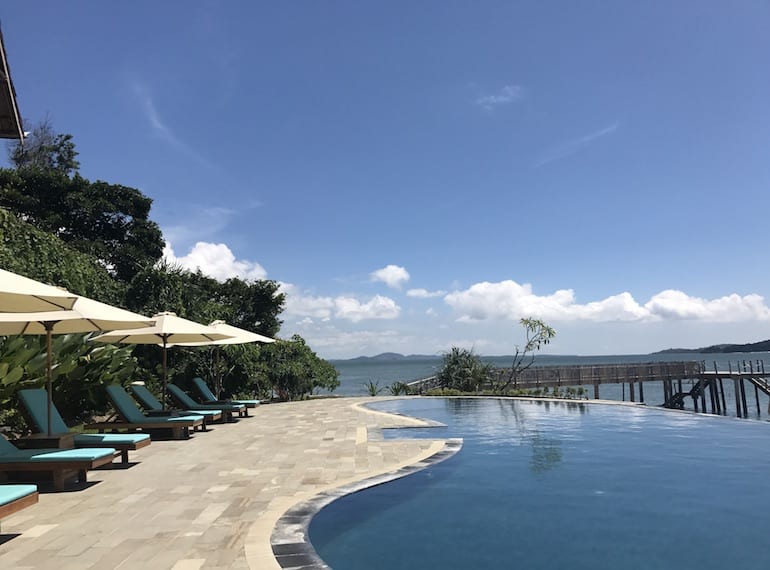 Prepare for a digital detox
Don't even think of bringing the work laptop, because A, you're on holiday, and B, Telunas Private Island is a wi-fi free zone. Imagine: you can just be together without all the digital distractions. The fact that there was a beach to enjoy IRL without being able to capture the moment on Instagram seemed to strike terror in one young couple I met, but frankly, a three-day digital detox is one of the best things that ever happened to me.
The massages
Yes you do need a divine massage in an open-air hut over the water. Book your massage as soon as you arrive, because they are, unsurprisingly, very popular.
The good times
This vacay is all about watching the sun rise over the water, spending hours playing at the beach, chillaxing by the pool, reading on the balcony of your overwater villa and catching the stunning sunsets together. Telunas is for letting everything else in your crazy busy life slip away… and really, you'll get into the swing of that quick smart. There are cooking classes and village visits, and if you're after a bit of adventure, grab a kayak or a paddle board. I opted for the chillaxing and massage approach.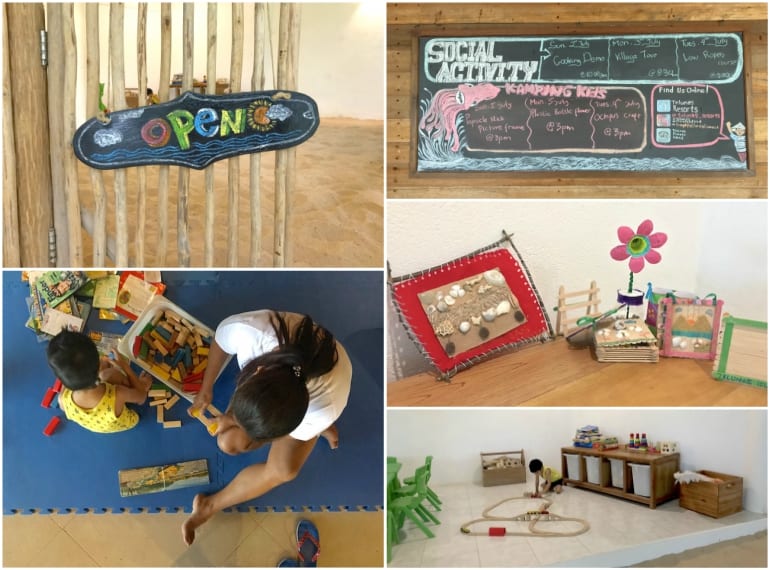 What's in it for the kids?
Hermit crab hunting, sandcastle building, splashing around in the calm waters and running up and down that boardwalk… need we say more? The staff at Telunas Private Island are the loveliest bunch: happy to sit down with little ones to play with building blocks, grab the guitar for an impromptu sing-along, or bring out a board game. They have infinite patience, and clearly love kids.
But what seals the deal is THE KIDS' ROOM. This great little space has its own massive sand pit where the kiddos can play supervised and join the activity of the day. Our boys made flowers out of plastic bottles one day and went crab hunting the next. Use their time in the kids' room wisely and go for that massage we talked about.
The food
I often wish there were more local dishes on offer when vacaying in resorts around South East Asia. I'm here for the local food! Telunas Private Island serves a compact menu, and its take on Nasi Uduk, literally 'mixed rice', was our fave way to start the day. But what really got me hooked was the superb, house-made sambal. Yes, you can buy a massive container to take home. And yes, I begged for the chef's recipe.
The home from home
Did you see those over-water villas? Our five-year old is still drawing pictures of our Telunas villa and talking about our summer holiday on 'the island'. There is, however, a steep ladder to access the children's room on the upper level, so keep this in mind if you have little ones who are too big for a cot but aren't ready to safely climb up and down to a loft. Mattresses can be brought in if the safest option is to sleep at ground level.
THE NEED-TO-KNOWS…
How to get there:
It's less than an hour on the ferry from Singapore to Batam, then 90 minutes on a long boat to Telunas Private Island.
Book with Batam Fast from Harbourfront (Singapore) to Sekupang (Batam). Email [email protected] or Tel. +65 6270 2228. Select the 11.10am or 3.10pm departure and check in at Harbourfront terminal an hour before your ferry departure. You'll be greeted at Sekupang by the Telunas team, and there's a short walk from the international to the domestic ferry terminal. If you've brought the grandparents request a ride and the team will help.
For your return trip:
Purchase the 12.30pm departure from Sekupang (Telunas boat departs Telunas Resorts at 9.15am). Late departure is available upon request. For late departure, please purchase 5.10pm ferry departure from Sekupang (Telunas boat departs Telunas resorts at 2.00pm).

Visa info:
Check if you require a visa to enter Indonesia! Singapore is amongst several countries whose citizens can enter Indonesia without a visa for 30 days. If you do require a visa on arrival, you can purchase one at Sekupang International Terminal for US$35/person for 30 days or US$15/person for 7 days (paid in USD cash, exact change and crisp new bills required). SGD is also accepted but at a high exchange rate.
Other tips:
If you intend to check in your luggage, prepare a SGD $1 tip for luggage porters when entering Indonesia. If you check-in luggage with BatamFast, tip the Indonesian terminal staff.
Sit near the ferry doors so you can get out faster and through immigration. Because we all know what waiting in a queue with kids is like.
And here's a hot tip: alcoholic beverages are available at Telunas Private Island, but you can BYO, without corkage! Bring that bottle of bubbly for a sunset tipple, but remember, only 1L is allowed per person. Pack them in separate bags to avoid a hassle at immigration.
Photography (top image): Selina Altomonte