Love the idea of a chilled-out holiday by a beautiful beach? Travelling with a baby? Always on the hunt for an easy weekend away close to Singapore, we checked out Telunas Private Island to see if it gets the HoneyKids tick of approval!
In need of an easy family getaway from Singapore? Much rather jump on a ferry than do another schlep to the airport with a long list of survival tips for flying with kids? We hear you. So HoneyKids team member Lindene bundled up her little family and hopped over to the stunning Telunas Private Island in Indonesia to see whether a beach holiday close to home is all it's cracked up to be.

We've all been told how amazing the 'easy weekend trips' from Singapore are, and we've imagined sunning ourselves in a different exotic location every week while our loved ones back home furiously throw their shoes at our Facebook posts. But the reality is, you still need to take annual leave to make the effort and the expense worthwhile, and there's a decent chunk of time spent in transit. Travelling to Telunas Private Island is not as simple as clicking your heels, but it's certainly more relaxing than most family holiday journeys: a leisurely 50-minute ferry ride from Harbourfront to Sekupang (on the north-western tip of Batam), then 90 scenic minutes on a long boat, and you're there. Literally, stepping onto the jetty of your beautiful weekend home in the Riau Islands, with nothing left to do but turn off your phone.
Aaaand relax…
The downside of Telunas? No wifi. The upside of Telunas? No wifi. And no TV. While wandering around it struck me that this was life as it should be: families happily chatting, playing in the pool, and ACTUALLY LOOKING AT EACH OTHER instead of a screen. This is a true retreat for anyone in need of a digital detox, and let's face it, who isn't?
Aside from rediscovering the facial features of family members, what do people on Telunas? Simply relax: read on the gorgeous white sand beach, enjoy a reasonably priced in-room massage – mine was excellent ­– or contemplate the sand between your toes over a drink in the bar. For a little more action, there are daily scheduled activities such as cooking and traditional weapon-making demonstrations (a new dagger, anyone?), village tours, bonfires, and boat trips to Telunas Beach Resort just across the way. Plenty of families also grab a kayak for a leisurely cruise around the island, or opt for a stroll across it. The walk is easy, but city folk should be aware it's not a highly organised Singapore-style trail with a signpost at every turn! Head out at low tide for the slight castaway feeling you get as your feet hit the beach on the other side of the island… then wander back along the rocks to the civilisation of a G&T.
Just chillin' in our over-water bungalow… 
After our little 'trek' we got back to relaxing, which was our goal for the trip (with a crawling eight-month-old baby, relaxation is always a "goal"). The rustic but beautiful over-water villas at Telunas are designed for chilling out: think comfy chairs, a separate living room, a loft bedroom for the kids to hide out in, and a stunning view. (The ladder to the loft is steep, so best for older kids only.) But there's plenty of space downstairs for travel cots and couch-crashing if needed, and the staff are happy to provide extra mattresses.
Real smiles!
The team at Telunas is another big highlight: they're a lovely bunch. Nothing is too much trouble and big friendly smiles abound. The chef personally offered to make special food for our baby daughter, and other staff eagerly awaited her arrival at mealtimes so they could play, giving us a few precious quiet minutes to enjoy our meals.
Did someone say BYO booze?
The food here is simple, with both local and Western dishes, and it's served during set times so it's worth packing snacks. Telunas also happily allows BYO wine, and will store it in the communal fridge for you. We loved the honesty system for beers and soft drinks: grab whatever you like and write it in the notebook. Touches like these really make you feel like you're among friends, rather than just another big 'family-friendly' resort.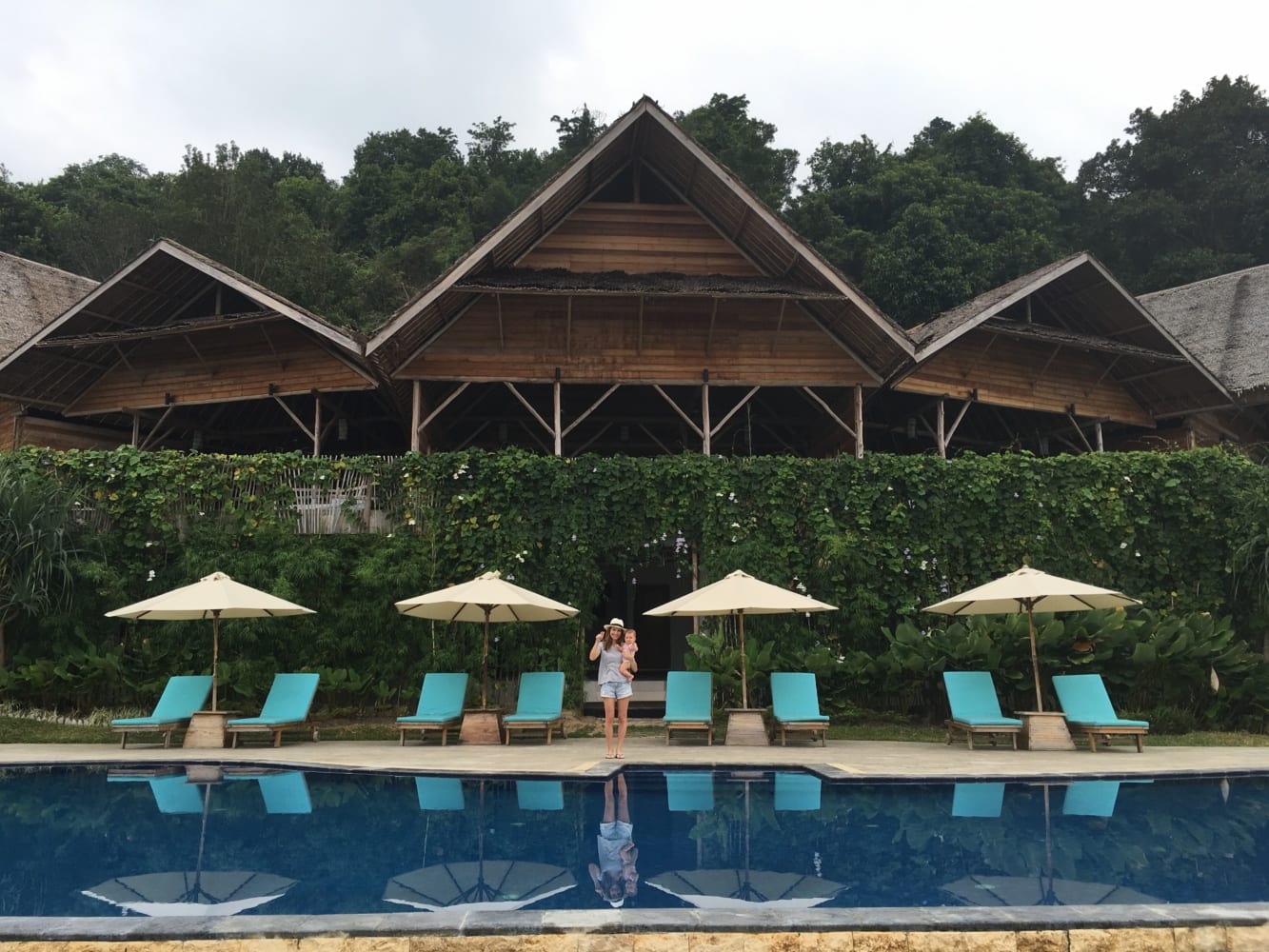 A feel-good stay
Another lovely feature of Telunas is its social impact mission. In everything they do, they aim to 'do good' by having a positive impact on local communities through employment, sustainability projects, and facilitating Singapore school groups who come to help and learn about life in the surrounding villages.
After a long weekend at Telunas, we certainly felt that we'd done some good for our little family. Watching the sunrise from the balcony on our final morning, with no noise but the slowly moving water under our villa, we felt rejuvenated, connected, and grateful to have such easy access to this beautiful little pocket of the world. And absolutely no urge to Instagram it.
www.telunasresorts.com/private-island
Photo credits: Mark Cleary.
The writer stayed at Telunas Private Island courtesy of Telunas Resorts.