Chen Lei
"Teething. Don't you just love it?" said no parent ever...
Parenting rarely goes by the book (if ever) so despite having read reams of info on 'teething', and probably having heard your mummy friends lamenting the woes of this challenging topic, nothing EVER prepares you for the reality. But while it's hard to prepare a parent for the reality of watching little ones red-cheeked and howling with discomfort, we can arm you with a mini-guide to teething remedies for bubba. This one is for them AND you! And remember… this too shall pass. And in the meantime? Wine helps (you, not baby!).
Is my baby teething?
Of course, as with all things baby, the age at which your little one begins to sprout teeth changes from bubba to bubba, but generally most babies will start teething by around six months. First to appear? Probably those bottom two fronties followed by the top two front teeth. Signs to look out for that may indicate your child is growing a set of pearlies include:
Drooling (more than usual)
Chewing on objects (hopefully not your nipples)
Irritability or crankiness (theirs not yours)
Decreased appetite
Sore or tender gums
Low-grade fever
Rubbing or pinching cheeks
Rubbing and pulling on ears
Are teething gels, liquids and powders safe to use?
As of September 2016 (and last updated in January 2017), the Food & Drug Administration (FDA) advises against using any homeopathic teething gels, liquids or tablets. This news came after it was revealed that many of these remedies contain an unregulated form of belladonna (deadly nightshade!) – a toxic plant that can be potentially dangerous and cause heart problems and drowsiness.  The FDA now advise that all homeopathic-branded teething treatments should be off-limits.
Furthermore, the FDA also advise in its latest update (May 2018)  that the use of benzocaine gels, sprays, ointments, solutions, and lozenges for mouth and gum pain can lead to a condition called methemoglobinemia. This is an ingredient in most of the teething gels, liquids and capsules, and so are also best avoided.
Remedies to try for soothing sore gum
Gum massage
The old fashioned ways are sometimes the best ways of all! All you need is a clean finger and apply pressure onto sore gums. Massage gently but firmly (an oxymoron if ever there was one, we know).
Rubber teether
Sophie Giraffe has been a staple 'teething emergency kit' item for over 50 years and for good reason. Made of 100% natural rubber (BPA and phthalate free), this squeaky oh-so-cute toy is a big hit for bubbas. Hot tip: buy two… you WILL lose one out of a stroller at some point.
Cold spoon
A spoon chilled in the fridge is pain relief heaven for sore little gums. Remember though: fridge only! Putting it in the freezer could go horribly wrong if it sticks to delicate skin! This is also best used as a remedy before your little one has any teeth through, as there is a danger of chipping one of their sparkly new pegs otherwise.
Chilled foods
If your baby has already started solids, something wonderfully chilled will help soothe gum pain. Cold purees and yoghurts are a good bet, and mesh feeders are the perfect accessory.
Breastfeeding
This is not a fix for all babies, and in some cases the sucking motion may aggravate your tiny tot even more (which in turn can lead to a nursing strike). Other bubbas will get a whole lot of comfort from being close to you and nursing  – do be prepared for the odd nip when the teeth do come through!
Frozen milk pops
If you are breastfeeding then frozen breastmilk popsicles are another good bet for easing aggy gums. Use a Zoku Mod Pop Mold for the process: they're easy for your tot to hold onto and chew.
Cold washcloth
A clean, cold wet washcloth is another old fave for teething babies. Go a step further and soak the cloth in breastmilk or chamomile tea.
Teething jewellery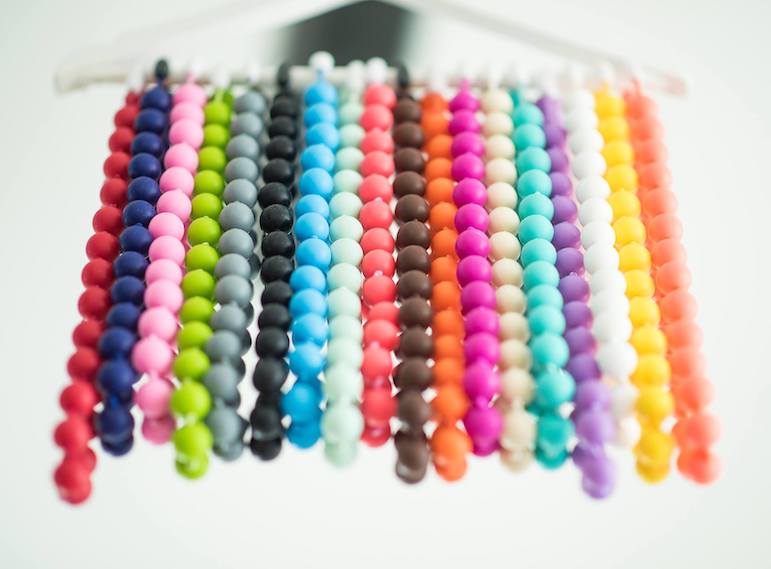 While you might not feel good after being awake for four nights on the trot with a teething baby, at least you can look good with this remedy. Teething jewellery! Check out our guide to the funkiest and prettiest picks in Singapore!
Cold fruit 
Chilled fruit in a mesh feeder is not just a delish snack opp, but can also help those tender gums feel a tad better.
Chilled teether
It does what it says on the box! There are teethers aplenty in baby stores all over Singapore. Pick one, pop it in the fridge and then let your baby gnaw away. Make sure to choose one that is Bisphenol-A (BPA) and Phthalate-free. Try this Ice Bite Telephone Teether for novelty factor, or this simple but effective Pigeon Cooling Teether.
Traditional teether
Not all teethers need to go in the fridge to provide relief for sore gums. There are plenty of fabric and textured numbers that do the job nicely. We rather like this 100% natural latex Oil and Carol Brucy brocoli teether for persuading small people that greens are good! Picking a brightly coloured, jangly teether is also good for distraction and chewing: we like this traditional First Years Fruity Teether and this fabric Munchkin Teether Blanket.
Vibrating teether
Multi-textured vibrating teethers are a good option for dribbly, drooly, teething bubbas. Plump for something like this Bright Starts Vibrating Teether, available from Robinsons.
Teething mittens
We all know that babies love chewing their hands, but to ramp up the chewability factor, why not pop a teething mitten on them to help with teething woes? Plus this one makes for fun photos to bring out at their 18th birthday party.
Teething biscuits
Snacktime and chew-time all rolled into one: try whipping up a delish batch of teething biscuits! We are rather partial to sharing these easy sweet potato, chamomile and oat biccies by My Kids Lick the Bowl with our own little ones.
Baltic amber teething necklace
While there's no scientific evidence that amber necklaces work for teething babies, we've met many a mum who swears by them (including a fair few at HKA HQ). Make sure you buy genuine Baltic Sea amber if you are going to try one of these, as this is the active ingredient needed for there to be any kind of effect. Do not let kiddos wear these unsupervised, and never for nap or bedtime. Make sure to also buy one that has a knot between each bead – we bought our own stylish amber necklaces from Health Tree (shipping takes around three weeks).
Like this story? Here's more we think you'll enjoy:
The best cookbooks for weaning and toddler-friendly recipes
Nursing and breastfeeding pillows we love
How to swaddle and wrap your baby
Carriers and wraps for baby wearing
Don't forget to subscribe to our weekly newsletter and follow us for sneak peeks and fun moments on HoneyKids Instagram!