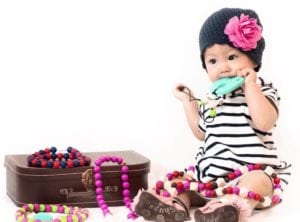 Photography: Ana B
Keep curious little hands and mouths busy while you stay stylish with these chewable jewellery picks...
If you're tired of looking like a frazzled mum thanks to a teething baby, then we say brighten up your day – quite literally – with a funky piece of jewellery. And we're not talking jewellery that you can only wheel out when your tot isn't around to pull, break and generally ruin either. We've been checking out (and wearing!) toxin-free necklaces and bangles that don't just add a pop of colour to an otherwise dull day, but chompable picks that tiny teethers can chew happily and safely. Yep, we're loving our teething jewellery right now…
Ana B Beads
Ana B Beads (pictured above) specialise in customised handmade teething jewellery: think pretty teethers in the form of snazzy necklaces and bracelets. Each piece is assembled from lab-certified FDA-approved food grade soft silicon beads and the range is non-toxic, free from heavy metals, odourless and tasteless, which makes them completely safe for bubbas to chew on. www.anabcollections.com
Jambu Beads
Made from 100% non toxic, BPA and food grade silicone as well as natural, untreated beech wood, Jambu Beads are not only safe for babies to chew on, but look pretty snazzy too. These super durable necklaces and bangles are designed and made right here in Singapore, and come in heaps of lovely colours, shapes and sizes. Oh, and they're waterproof: super important when you have a tot dribbling all over you.
www.jambubeads.com
Peachtree Jewellery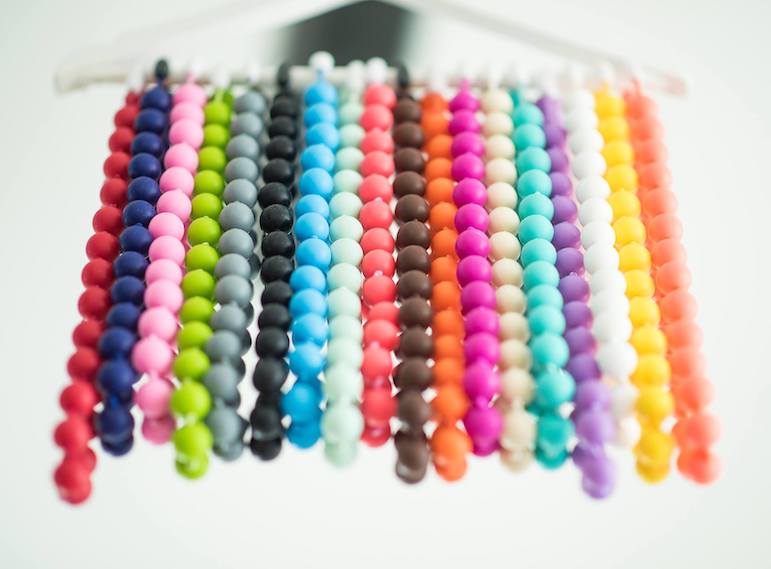 If it's a big pop of colour you're after then chewable jewellery doesn't get much cooler than the gorgeous collections by Peachtree Jewellery. Created by a mum for mums, these child-friendly options are durable and practical in every way, while completely free of nasties. These beauties are made using 100% non-toxic food grade silicon, are dishwasher safe and perfect for little gums and emerging teeth that need something to chomp on. We've long been sporting our own bright blue chunky number for years now, and always get compliments when we wear it.
www.peachtree.com.sg
Gumigem
If you're a fan of Dragon's Den, you might have seen this UK-based brand looking for investment back in 2015. Since then it's gone from strength-to-strength with a variety of stylish teething jewellery designs in a huge range of colours to choose from. Jewellery is made from silicone and is entirely BPA, PVC, lead, latex and phthalate free, as well as chunky, fun and dishwasher safe.
www.gumigem.co.uk
HaaKaa
Available on Redmart and Pupsik Studio, New Zealand created and designed HaaKaa has a different kind of teething necklace for mums that certainly provides a great chew for baby, and a talking point for mum: a giant cookie teether made with safe, natural, non-toxic and eco-friendly silicon. It's been designed with ridges that gently massage sensitive gums, plus you can also chuck it in the freezer for extra cooling relief boost for little ones.
www.haakaa.co.nz
Warning: teething jewellery is designed to be worn by an adult and should never be used as a toy. Adult supervision is required at all times.
Top image: Ana B Beads via Facebook
Like this story? Here's more we think you'll enjoy:
Potty training 101: tips from the experts
How to take a mum-time moment
Join a book club! And if you can't, create your own
Swimwear for mums: how to look cool at the pool
Don't forget to subscribe to our weekly newsletter and follow us for sneak peeks and fun moments on HoneyKids Instagram!