We check out The Rock School and and discover how to scale a wall in 12 Steps
Kids climbing the walls? This is where they can do it for reals: The Rock School is Singapore's first climbing centre designed, constructed and dedicated for kids aged 4 – 14 years old. At first our kids thought we were going somewhere to shred guitars and bang drums, but when we entered the awesome space at 850 New Upper Changi Road, Bedok, Green Day dreams quickly gave way to the desire to be Spiderman.
Kids are natural climbers and rock climbing optimizes this energy while building physical and mental strength. In fact, rock climbing is one of the best sports to develop your child's psychomotor skills – movement, coordination, balance, manipulation, dexterity, grace, strength, speed. Want to know what's involved before you go.
Here's 12 steps to get you and the kids prepared for indoor climbing. Plus some courses so you can try it out: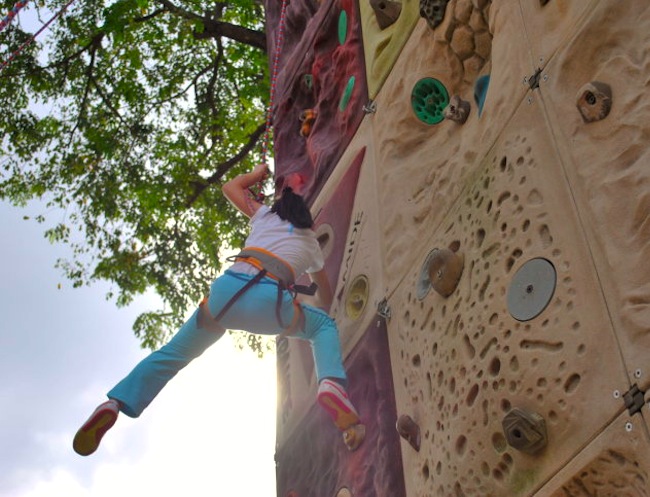 1. Pair Up Team up with an experienced climber who knows how to set the course, fit your gear, talk climbing speak, tie knots and belay.
2. Set The Course Your climbing instructor will climb the course first using bolts and quickdraws to safely reach the top. They will set up anchors and put a top rope in place before rappelling to the bottom of the course.
3. Choose your Route Decide on your approach to the rock face with your instructor. They will help select a crag suitable for your skill level. Routes tend to have pre-determined difficulty ratings. Work out steps in your minds eye up to your finish point.
4. Get Your Gear On Safety is the most important aspect of rockclimbing. Have your instructor assist you in properly putting on harness then decide if a helmet, gloves and chalk bag are needed. Make sure all your sizing is correct.
5. Tie In Your instructor will teach you about figure 8 knots and how to attach the rope to your harness. The other end of the rope will attach to your instructors belay device.
6. Double Check Always do a second assessment of safety gear and make sure everything is in place between you and your instructor.
7. Chalk Your Hands This will help you maintain a firm grip. The adrenaline might be pumping a bit and this can make for sweaty palms. If you're wearing a chalk belt you will be able to dip your hands in as needed.
8. Communicate It may sound silly but following protocol is standard: Say "On belay?" to your instructor when you're ready to start climbing. Listen for them to respond with "Belay on." Then you should say "Climbing," and your instructor will respond, "Climb on." If you feel like you may fall, trust the rope and tell your instructor "Take", and they will tighten the rope to lessen the distance. Push away from the wall and put your feet in front of you to catch you. If you have a fear of falling try a practice fall.
9. Take Your Time You're ready to start climbing! Use your arms to balance and use your legs to support your body weight. Your legs have bigger muscles and are better at supporting you than your arms. Try to keep your body close to the wall and make smooth movements with precise, deliberate foot placements.
10. Enjoy Have fun knowing that your mind and body is working together to achieve something amazing! Heights are not for everyone but there is an exhilaration that comes with scaling them.
11. Descend When you've reached the top of your climb sit back in your harness and put your feet in front of you. When you are ready to be lowered, yell down to your instructor "ready to lower." They will say "lowering", and slowly let the rope out through their belay device. Keep your feet out and push off or walk down the rock.
12. You've done it! When you're back on the ground, stand up and untie your figure 8 knot to un-hook. This is a good time to chat through with your instructor how you did on the climb and the choices you made.
Now if you're ready for the real thing, The Rock School offer these courses so you can come and try it out: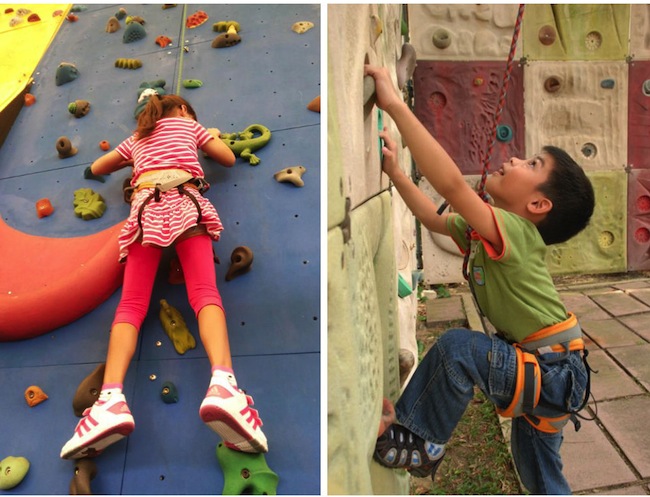 A,B,C's for Climbing (Fun Climb)
A workshop for beginners aged 4 to 14 where kids can be introduced to sports climbing in a safe and fun environment. With the support of friendly and experienced Rock Guides, the little ones will learn basic climbing techniques as well as get hands on both top-rope climbing and bouldering! Duration: 2 hours Cost: $30
Double Up (Parent-Child Workshop)
This is a great way for mum and dad and the kids to spend time together. With assistance from Rock Guides, you and your little one will be scaling new heights together. Conducted once a month. Duration: 2 hours Cost: $58/duo
Step Up Programme (Beginners + Team)
If your little one tried an introductory class, loved it and wants to do more then they can go for the Step Up Programme. This course is aimed at furthering climbing skills through games and other activities. It goes deeper in covering the technicalities of rock-climbing such as optimising handholds and climbing positions and how to problem-solve obstacles you might encounter. Duration: 4 classes of 1.5 hours each, or 12 classes of 1.5 hours each Cost: $150 or $380
Pebbles
These sessionsare designed to keep climbing affordable and accessible for climbing enthusiasts who are already equipped with basic climbing skills. During Pebbles time, there will be layers and spotters on standby as young climbers explore the walls and boulder areas on their own. Highly recommended for independent climbers and graduates of the Step Up (Beginners) programme! Duration: 8 Pebbles classes of 2 hours each Cost: $160 You can also book instructors for a private one on one climb at $25 per hour. And the ultra fun bit – if the kids really get into it they can have a customized birthday party here too!