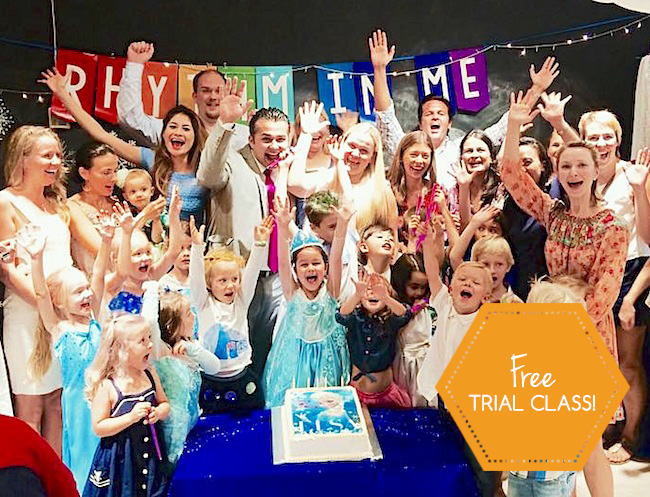 Sign up for a free trial and get a 50% discount on registration
Does your tot swing their little hips whenever a cool tune comes on the radio? Does your budding Demi Lovato regale you with endless renditions of 'Let it Go' complete with costume and actions? But as soon as you skype granny for a performance they clam up faster than a vegetarian at a barbecue? Rhythm in Me is your nutcracker. Their fabulously talented team will deftly build your child's confidence and give them oodles of opportunities to let their talent shine! We were lucky enough to experience the Rhythm in Me magic first hand with our kiddos last week and you can too with their exclusive offer of a FREE trial class for HoneyKids readers! Simply quote HoneyKids Asia when you book.
Energy is Infectious
From the moment you walk through Rhythm in Me's brightly decorated doors, you instantly know you're in for a rollicking good time.  The motto emblazened across the wall "Sing! Dance! Celebrate!" is a good indication of what's to come. Our kids race over to the pre-class play area, don fluoro disco wigs and mingle with other classmates. The ice is melted before class has even started! Then the effervescent Grace rounds up the troupes for the fun to begin. She's a singing, dancing multi-instrument playing one gal band, and the children's smiling faces reflect her warm glow. The vibe is super happy and you simply can't help but be swept up in the fun. 
One Stop Shop for Family Edu-tainment
What we LOVE about Rhythm in Me is that it's an all-inclusive edutainment venue catering for the whole family. Mini-Movers are babies from 6 months to 2 years, Walkie Talkies are 2 – 5 year olds, Scallywags and Zumba Kids are bigger kiddos aged 5 -7 years, and Family Makes Music is everyone! And for those working parents out there, it's nice to know helpers are welcome. The sessions are all about exposing kids to music, movement and tempo using a wide variety of instruments, games and activities.  The theory behind it is that while your child gleefully joins in the fun, cognitive skills and dual side brain activity are subliminally developing in the background. Creative Genius!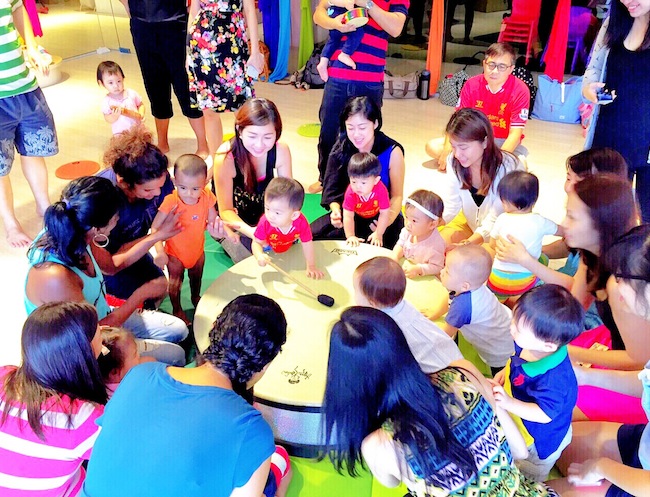 Interactive Fun
The clever clogs at Rhythm in Me ingeniously engage kids by offering them choice. From selecting from a stack of plush brightly coloured cushions, to choosing from a vast array of african design drums, to snapping up glitzy pom poms, and picking their very own song to sing on the microphone to the class, it's all about their preference. And don't we all love to be masters of our own universe!  The result is a class where ALL the kids are actively participating and having a total blast.
It was absolutely mind-blowing to witness every single kid leap up to the microphone, whisper their song of choice to Grace on the piano and then belt out their tune to an supportive audience. Not a shrinking violet in sight! We also went a little gaga when the lights went down and the disco lights flashed on for a studio 54 moment. We'll be back for sure.
The Most Rocking Parties
Not only can you sign up to one of these invigorating classes, Rhythm in Me also run the most interactive part-ays in town. They're masters of invention so can create an individually themed party, from disco, to makeover, to superhero, to soccer, to zumba, to diva or arty party. The only limit is your imagination, and parents will love grooving along too. Outsource to the Rhythm in Me studio or host at home or your local park. Here are some options:
Premium package: food, beverage, entertainment, decoration, and set up – $888 for 20 children (additional child $28)
Deluxe package: food, beverage, entertainment, decoration, set up and goodie bag – $1088 for 20 children (additional child $38)
Outdoor/alternative venue party starting at $450 for 20 kids and entertainment provided!
Exclusive Offers and Parties
Rhythm in Me are offering a free trial class for the first 35 people who sign up. Simply quote HoneyKids Asia when you book. Not only that but if you sign up for a series of classes on the trial day you will get 50% off on registration + 1 coupon for an free trial class (use it yourself or give it as a gift). If you're not within the first 35 people to register for a trial class, don't worry – you will still get a discounted trial class at $20 instead of $45 and benefit from the same registration offer.
To book trial classes email [email protected] or call 6377 1106.

Rhythm in Me Studio, Depot Heights Shopping Centre 108, Depot Road, #02-01, Singapore 100108
This post is sponsored by Rhythm in Me Studio