How to Choose an International School
Choosing a school in Singapore is becoming increasingly challenging and time consuming, simply because there are brands everywhere – high end, middle end, different shapes and sizes – and they all have one thing in common: they are all GOOD.
Education is a very personal subject.  At the end of the day we all want the best for our pumpkins but as parents, we all have different priorities. There is no "ultimate guide to choosing a school," but there are factors we should all consider. Read on for an overview of the super seven factors to consider on how to choose an international school
1. Personal priorities
This is number one because it's personal and it will look different for every family; factors such as religion, size, ethnicity, and ethos to name a few. Personal preferences that are fundamentally important to us as parents should always be the starting point.
2. Finances
If school fees are paid for, please pass go, collect $200 and move onto factor 3  now, sit back and breathe a sigh of relief. For those not on a full expatriate package, please sit down and read carefully!  School fees increase year on year anywhere from 3 – 8 percent.  A five to six year stay in Singapore could see an overall increase of as much as 40% of the original tuition fees paid on day one. Look at the hidden costs also such as development levy / infrastructure fees, books, laptops and school excursions.  School trips of a 10 year old nowadays are slightly different to what they were 30 years ago; no longer are we witnessing day trips to the zoo. Our little 10 year olds go off to places such as Perth, China, and Vietnam for up to 5 days and it is slightly more expensive than a ticket to the Singapore Zoo.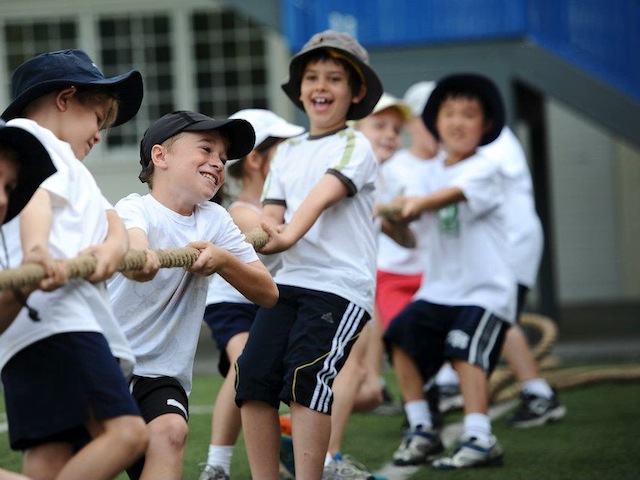 3. Curriculum
So now we get to the nitty-gritty of PYP, MYP, IGCSE, IBDP, AP, BNC, NSWBOS. In all honesty, a lot will depend on the age and character of your child as to what curriculum you think will be most suitable. For younger children, curriculum may not be as important as the environment. For older children (12 years plus), curriculum starts to take pole position behind the finance factor. During your school search questions on the Music, Arts, PE, and Language curriculum, include the resources and tools your child will be exposed to, and the length of time allocated to these subjects.
4. Values
A question important to some and not to others: what is the School's ethos and values system?  Hopefully the teachers will tick the boxes with basic foundations of English, Math, Science & Language, but what about the values that will be instilled in your children?
5. Facilities
Before you get too excited about the Olympic size swimming pool, running track & sports field, not to mention the theatre that makes Broadway look small, ask how much time your child will be exposed to these facilities.
6. Support Systems
When our little five-year-olds begin their school career, who knows what academic, social or emotional difficulties they may face in the next three to five years in school?  Does the school have a counseling/support system to assist children when challenges may arise?
7. Lease of Land
Whilst this may not be a deciding factor on whether your child attends a particular school, it may affect where you choose to live. It is a question that remains unasked a lot of the time. How long is the land leased for? And when the lease is up, where will the school relocate?
Finally, be open to the unknown and to change; wait lists, debentures and priority status' might result in your first choice school being an unrealistic one. Have a plan B and a plan C, and be mindful no matter how much research we all do, ultimately whether the school is the right school will only be determined once our poppets have started.
This article was contributed by HoneyKids education partner JSJ Consulting. JSJ Consulting provides international school placement advice for families relocating to or residing in Singapore.
Image credits: GEMS World Academy Singapore, Stamford American International School, NEXUS International School.